Staff
Liz Bergeron – Executive Director and CEO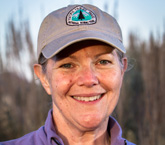 Email: LBergeron@pcta.org
Phone: 916-285-1846
On October 1, 2001, Liz Bergeron became the Executive Director of the Pacific Crest Trail Association (PCTA). Although the position was new to her, the world of charitable, nonprofit organizations certainly was not. Quite the contrary, Liz brings more than ten years of nonprofit administration and fundraising experience to her PCTA post.
Prior to joining the PCTA, Liz served as Developmental Director for the Stanford Home for Children, Development Director for the American Red Cross, and Development Director as well as Interim Executive Director for the Sacramento Society for the Blind.
Liz earned a B.A. in Government from California State University Sacramento and an M.A. in Philanthropy and Development from St. Mary's University of Minnesota. Her credentials, however, don't end there – Liz is also a past board member and president of the California Capital Chapter of the Association of Fundraising Professionals.
Originally from Southern California, Liz moved to Sacramento in 1989 to pursue an internship with the California State Legislature. Along the way she fell in love with the area and decided to make it her permanent home.
Today, if you're looking for Liz you can expect to find her either out campaigning to protect, preserve and promote the Pacific Crest Trail, or hiking sections of it. Of course, if you don't happen to bump into Liz on the trail, feel free to drop her an email by clicking here, she'd love to hear from you.
Mike Dawson – Trail Operations Director
Email: MDawson@pcta.org
Phone: 206-463-9087
As Trail Operations Director, Mike is responsible for implementing PCTA policies related to management of the trail, managing the PCTA trail maintenance program, coordinating land protection activities, and providing public information. "I am highly motivated to help make the PCT the best possible trail and the PCTA the best possible steward of this important resource," says Mike; and with 21 years of experience as a Regional Representative for the Appalachian Trail Conference (ATC), and later as the Director of Trail Management and Protection for the Pacific Northwest Trail Association, he certainly brings a wealth of relevant experience to the task.
While at the ATC, Mike was responsible for the management of 390 miles of trail and the Central and Southwest Virginia regional office.
Mike lives in Vashon, Washington with his wife Tina. His interests include backpacking, canoeing and restoring old cars.
Teresa Fieth – Finance and Human Resources Director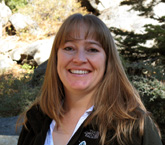 Email: TFieth@pcta.org
Phone: 916-285-1848
Teresa grew up in North Dakota where she spent many weekends with her family hiking, sledding, and skating on ponds.  In 2000 she graduated from California State University Sacramento with a B.S. in Business Administration with a concentration in accounting.  After graduating, she worked for a startup telecommunications company and then for Sacramento's Capital Public Radio.  Teresa joined PCTA in 2005 as the Accounting Manager and has grown with the organization.  Working with the PCTA team has made accounting more fun than she could have imagined.  In her free time, Teresa loves camping and spending time outdoors with her family.
Angie Williamson – Development Director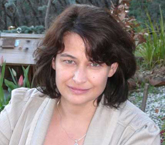 Email: AWilliamson@pcta.org
Phone: 916-285-1849
Angie Williamson brings more than twelve years of experience in the field of not-for-profit management and fundraising. Prior to joining the staff, Angie worked as a special projects consultant for PCTA since 2002.  She is excited to join the team full-time to help the organization protect the PCT. In her consulting work with other organizations, she has led numerous projects to support board development, Capital Campaigns and capacity building.  She is a former Administrator of the Association of Fundraising Professionals California Capital Chapter and a former Director of the BoardLink program at the Nonprofit Resource Center.  Angie is a member of the Association of Fundraising Professionals and serves as the Membership Chair for the California Capital Chapter. Angie lives in Grass Valley, California and enjoys hiking, snowshoeing, and kayaking.
Ryan Brizendine – IT/Data Technician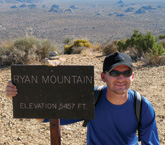 Email: RBrizendine@pcta.org
Phone: 916-285-1847
Ryan has worked at the PCT for several years providing assistance in fundraising, website development, and information technology.  Camping and backpacking as a child, along with working at the PCTA has brought him closer to the outdoors and its importance for everyone now and in the future.  In his spare time he enjoys golfing, hiking and biking in the summer time, and snowboarding in the winter.
Jenna Cangialosi – Development Assistant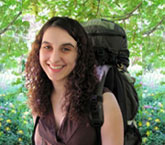 Email: JCangialosi@pcta.org
Jenna Cangialosi is our Development Assistant. After completing an internship in development with the Montana Food Bank Network, Jenna immediately fell in love with the rewarding work of the non-profit sector. She loves working for an organization that shares her passion for maintaining public lands. She holds a B.A. in Mathematics from Cornell College and  enjoys spending her free time in the outdoors especially jumping and riding horses cross country.
Shari Hansen – Annual Fund Manager
Email: SHansen@pcta.org
Phone: 916-285-1851
Shari has always wanted to work for an organization that shares her passion for the outdoors.  As luck would have it, she encountered some trail magic and joined the PCTA as Development Associate in February, 2008.  A graduate of California State University, Sacramento, Shari has worked in development for KVIE Public Television, the Sacramento Society for the Prevention of Cruelty to Animals and Millennium Advantage.  She loves hiking the PCT but enjoys any trail that allows her to spend quality time with her family.
Jack Haskel – Trail Information Specialist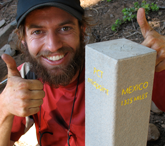 Email: JHaskel@pcta.org
Phone: 916-285-1846
As the Trail Information Specialist, Jack is honored to help people experience the trail. He is a thru-hiker (Pacific Crest Trail in 2006; Colorado Trail in 2008; Continental Divide Trail in 2010) and a weekend warrior. Jack is a second generation PCT hiker and has been obsessed with backpacking since childhood. He received a Bachelor of Arts in Nature and Culture from U.C. Davis and is a Wilderness First Responder and LNT Master Educator. Jack previously worked in the outdoor industry (guiding, publishing, retail) and devoted years to backcountry and international travel. He started at the PCTA in 2011.
Merrit Hoeh – Volunteer Programs Assistant
Email: MHoeh@pcta.org
Phone: 916-285-1838
Merrit Hoeh spent two years in the AmeriCorps program before joining the PCTA. She served with The Nature Conservancy and Friends of the Columbia Gorge, providing public education and outreach as well as leading volunteer and youth stewardship crews. Merrit was born and raised in Gillette, WY, where she took full advantage of its bountiful nature and wide open spaces. She has spent the past ten years living in and exploring various areas of MO, ID, MT, WA, OR, and CA. She obtained a Bachelor of Science in Biology with a focus in Ecology, Evolution, and Systematics from Missouri State University. Merrit enjoys botanizing, gardening, music, biking, road trips, and cheese.
Tammy Marsh  - Accounting Assistant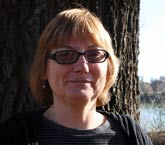 Email: TMarsh@pcta.org
Phone: 916-285-1837
Tammy joined PCTA in August, 2012. After working for a large corporation for 10 years, she decided to use her accounting skills in a more meaningful way and has now been working in non-profit accounting for 11 plus years. Tammy enjoys spending time in nature and believes everyone should have the opportunity available to them. When she is not at her desk, you will find her at a yoga class or on a long walk.
Leslie Sabin – Executive Assistant
Email: LSabin@pcta.org
Phone: 916-285-1852
Leslie was happy to join the PCTA in 2007 as an administrative assistant, after spending two years in corporate office jobs. She graduated from Lewis & Clark College in Portland, Oregon with a B.A. in Philosophy. As a native to northern California, she has spent a great deal of time hiking and camping in the northern Sierra Nevada with family and friends. Leslie tries to get out on at least one trail work project per year, and she volunteers for Big Brothers Big Sisters of Greater Sacramento, where she has been trying (so far unsuccessfully) to get her "little sister" interested in hiking.
Jennifer Tripp – Trail Operations Manager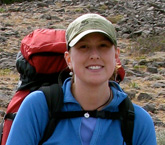 Email: JTripp@pcta.org
Phone: 916-285-1853
Jennifer started with PCTA in 2007 as Coordinator of Volunteer Programs to help PCTA's Regional Reps build and grow their volunteer programs. Before coming to the PCTA, Jennifer worked in Michigan for the North Country Trail Association, another long-distance National Scenic Trail, as Director of Development and Communication and has a background in business and communications. When she's not at home with her two cats, Puck and Bean, Jennifer enjoys hiking, traveling and, in general, exploring.
Dana Hendricks – Columbia Cascades Regional Representative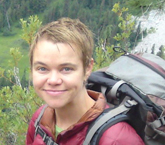 Email: DHendricks@pcta.org
Phone: 541-374-2402
Dana's trail crew experience includes several seasons leading volunteer crews for organizations including AmeriCorps, the Appalachian Trail Conservancy, and American Hiking Society. Before opening PCTA's Columbia Cascades regional office in 2007, Dana spent a season training AmeriCorps and Landmark Volunteers. Her resume also includes five seasons as a camp counselor, naturalist, environmental educator, and backcountry youth trip leader; and she has a Ph.D. in Philosophy from the University of Oregon.  Dana has solo-hiked much of the PCT through Oregon and taught college courses that focused, in part, on natural resource issues in the Pacific Northwest.
Ian Nelson – Big Bend Regional Representative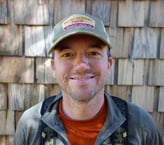 Email: INelson@pcta.org
Phone: 541-778-3252
Ian joined the staff in 2005.  Before that, he had served as Associate Regional Representative in the Mid Atlantic Regional Office of the Appalachian Trail Conference. Over the years Ian has also been a trail crew leader for the Student Conservation Association and has taught environmental education. Ian graduated from Virginia Tech with a degree in Forestry and Wildlife Resources with an emphasis on wildlife science. When not hiking or maintaining trails, Ian enjoys traveling both in the U.S. and abroad. He is an avid birder and an ultimate frisbee fanatic.
Justin Kooyman – Northern Sierra Regional Representative
Email: JKooyman@pcta.org
Phone: 530-414-3422
Justin came to PCTA in 2008 after working as the Seattle Program Manager for the Student Conservation Association (SCA), managing the Seattle Leadership Conservation Corps, and SCA's National Conservation Crews in Washington. Prior to that, he served as SCA's Southwest Program Representative. His work history also includes time spent as a biological science technician for the U.S. Forest Service and as a teacher, naturalist and assistant director for Westminster Woods. Justin holds a BA from UC Santa Cruz in Environmental Studies. Outside of work, Justin loves being on the trail and spending time in the backcountry hiking and climbing.
Anitra Kass – Southern California Regional Representative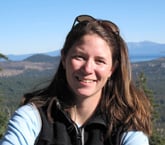 Email: AKass@pcta.org
Phone: 951-257-4100
Anitra joined the PCTA staff in 2009 after spending two seasons working for the Colorado Fourteeners Initiative. Anitra has her Bachelor's degree and a Masters in Kinesiology and Recreation Management from James Madison University in Virginia.  She is a Triple Crowner having hiked the AT in 2004, the PCT in 2005 and the CDT in 2007. Anitra has also worked in the classroom as a teacher in Hesperia and Apple Valley, CA.  Anitra and her father have spent time volunteering with the Southern California Trail Gorillas on various projects.
Bob Woods – North Cascades Regional Representative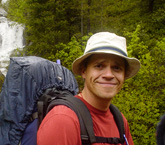 Email: BWoods@pcta.org
Phone: 206-999-0710
Bob has over a decade of experience working with our National Scenic Trails System. Before joining PCTA, he was the Regional Representative for the Continental Divide Trail Alliance in New Mexico. He also spent many years Volunteer Coordinator for the Florida Trail Association. Bob spent several seasons as a Ranger with the Oregon State Parks and has a background in Parks & Recreation. When he's not out hiking on the PCT, Bob also enjoys fishing, paddling a canoe, painting, and just being outside.
Daniel Carmin – Communicator Design/Production
Email: DCarmin@pcta.org
Daniel has been an artist since childhood and received "old school" training as a designer and production artist in the 1970s. He graduated from Platt College in 1999, and took a position creating advertisements for the Los Angeles Times and the Los Angeles Daily News. He went on to work for a full-service advertising agency and later became a freelance graphic designer. He started doing design work for the PCT Communicator in 2002 as a volunteer and then happily transitioned to contractor status in 2008 so he could devote more of his time to PCTA projects.
Mark Larabee – Communicator Managing Editor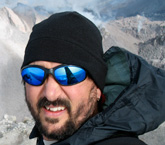 Email: MLarabee@pcta.org
Phone: 503-880-5987
Mark Larabee is a nationally recognized journalist who spent the last 25 years as a newspaper reporter and editor, most recently for The Oregonian in Portland, Oregon. In 2007, he was part of team of reporters who won the Pulitzer Prize for breaking news. In 2005, he spent four months researching a 13-part series about the Pacific Crest Trail, which included a month-long hike across Oregon. Other than hiking, he spends his free time surfing, rock climbing, mountain biking and back country skiing. He lives in Portland with his wife, Carol Sim, and their yellow lab, Hallie.