Poodle-Dog Bush, Eriodictyon parryi, is common in parts of Southern California. Touching it can cause a significant allergic reaction.
This pretty purple flowered plant has been rearing its ugly head in the San Gabriel Mountains. Reports from the PCT are that the plant is widespread and sometimes unavoidable in the Station Fire and other burn areas. Turricula is a fire follower that thrives in disturbed soils. It does especially well along the PCT.
Various reports from 2012 hikers have bad Poodle-Dog Bush on the PCT starting around either mile 419 or 421 or 425 and extending through Messenger Flat at mile 430.6. To avoid Poodle-Dog Bush, some hikers are detouring off the PCT either at the Mill Creek Ranger Station [mile 418.8] or Mount Gleason Rd [mile 421.4] or the dirt road at mile 425.1 [follow the dirt road 4/10 mile S to Mount Gleason Rd] and then following Mount Gleason Rd to Messenger Flat. [Major work has been done to remove Poodle-Dog Bush and we think that hikers can stay on the PCT instead of alternating off of it.]
Touching the plant can cause anything from a mild rash and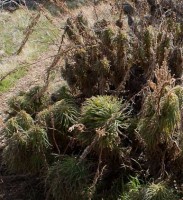 blistering to severe respiratory distress. It is a contact dermatitis and can be transmitted in the same way that poison oak is transmitted. For many people, symptoms are worse than a reaction to poison oak. Symptoms generally appear hours or days after touching the plant. All contact should be avoided.
Unfortunately, long sleeves and pants do not fully protect travelers. You may contaminate yourself by touching clothing that has been in contact with the plant. Regardless, it is recommended that you wear long sleeves while traveling through the area.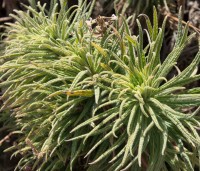 Poodle-Dog Bush has a rank, pungent smell. Endemic to the region, Poodle Bush is in the
Hydrophyllaceae family. Many trail users would be familiar with related plants such at Yerba Santa, Eriodictyon sp., and Phacelia.
More information