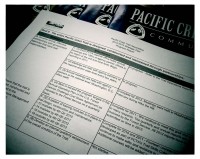 This spring, join us in updating the Pacific Crest Trail Association's strategic plan. We're seeking input from our members, donors, partners, volunteers and from all those who use and enjoy the Pacific Crest Trail. Please provide your thoughts, through this online form, before March 15.
Our strategic plan helps guide our activities and focus our work. The plan manages our growth and allows us to make thoughtful decisions on what opportunities to embrace, and what to decline. Read about us and our work.
The mission of the Pacific Crest Trail Association is to protect, preserve and promote the Pacific Crest National Scenic Trail as an internationally significant resource for the enjoyment of hikers and equestrians, and for the value that wild and scenic lands provide to all people.
The current strategic plan is available for your review:
Thank you. Your input is appreciated.