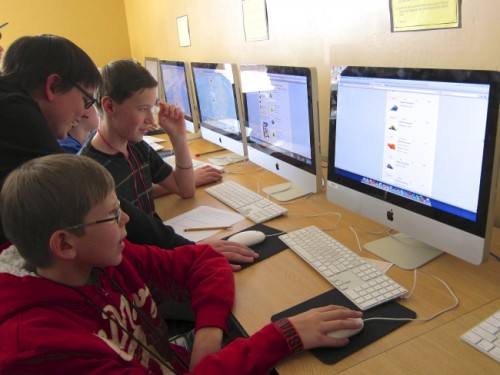 Chalk up Tehachapi, Calif., as one of the best trail towns. Middle school teacher Christy "Rockin" Rosander is creating lesson plans and teaching a ten-week course about the Pacific Crest Trail. We're right alongside her in hoping that more teachers will do the same.
Two classes of 20 5th graders are learning, studying and working on projects related to the PCT. The pictures speak for themselves. So far this inaugural "PCT Class" has learned about the trail and our trail culture, how to use a map and compass, read landscapes, deal with common emergencies and choose suitable gear.
Tehachapi is not far from the Pacific Crest Trail, near the southern end of the Sierra Nevada. Hundreds of thru-hikers stop to rest and resupply in town.
Christy says that her goal "is to have a resource that anyone could teach from for 5th grade through high school. To teach the class you would not have to be a hiker. The lessons are also State Standard based so it is not just extra fluff." We think that she's creating the next generation of PCT supporters while improving the lives of her students. The PCT inspires an active lifestyle and a connection to nature that's lacking for many.
The class is called "tHInK outsidE" – a play on the word "HIKE." Visit thinkoutsideresources.wordpress.com for the blog about the course and the upcoming teacher resources.