Having the opportunity to thru-hike the PCT is for the exceptionally fortunate. No one owes you any favors. Leaving your trash for someone else to deal with is outrageous. Thru-hikers: step up your Leave No Trace ethics. Be role models.
We received this letter from Deb Schweizer of Inyo National Forest.
Let me acknowledge first that I understand that the thru-hiking community should not be judged by a few bad apples and that many thru-hikers do their part to be responsible stewards of the lands they enjoy.
I was having a great hike, until…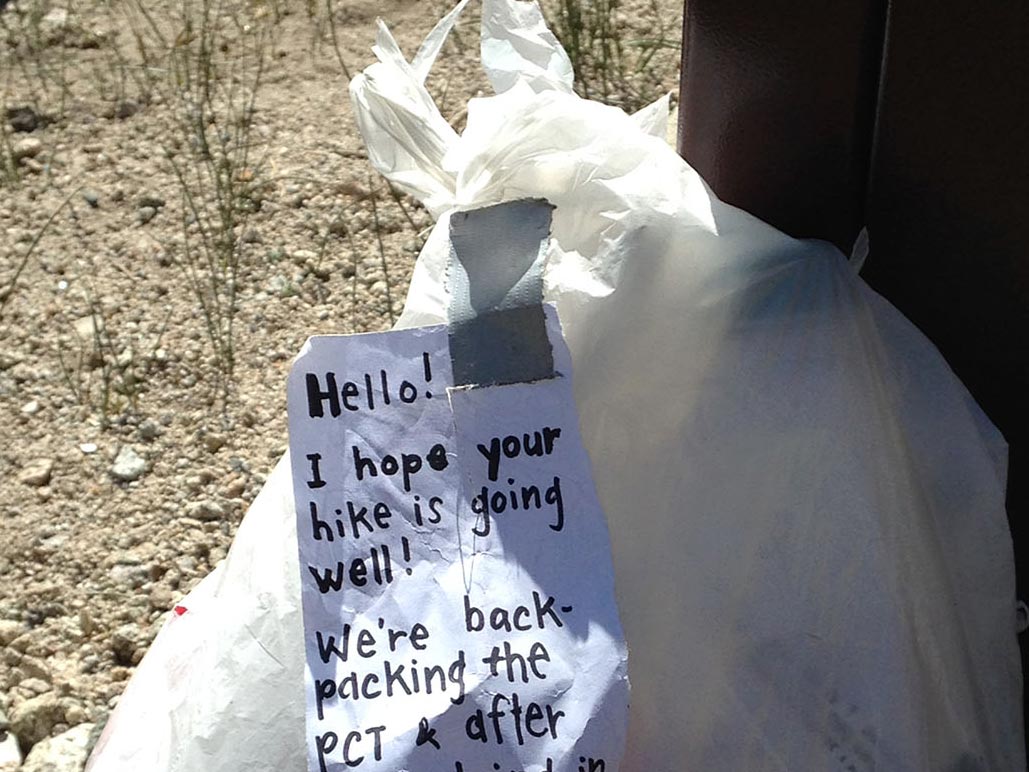 My husband and I went for a short backpack up to Kearsarge Pass this weekend to just dust off the packs and check the snow levels. It was a beautiful hike and we were on our way back when we came across a bag of trash with a note attached near Lower Pothole Lake.
I am not going to say it ruined my hike, but it did certainly put a damper on it. Here was a bag of trash in the beautiful John Muir Wilderness that some PCT thru-hiker thought it was OK to ask someone else to pack out for them.
As an AT thru-hiker and someone who has logged over 6,000 miles backpacking over the years, I was offended. Thru-hikers receive no special privileges because they choose to take on long-distance hiking. If anything, they should be leading by example by demonstrating the ethics of Leave No Trace hiking and backpacking and by living the concept of self-sufficiency core to the Wilderness idea.
As an employee of federal lands for 15 years, I was disappointed to see a thru-hiker so wantonly disregard the laws and policies put in place to protect our wildlife, the scenic integrity, as well as other hikers' experiences. In fact, the trail-head sign states:
"Store your food in a bear canister. A bear's life and your safety may depend on it. All food, trash, and toiletries must be stored in approved bear canisters."
Perhaps because people don't see the immediate connection between their actions and the habituation of wildlife, they don't understand how much these little actions add up. I have witnessed the slow change in wildlife's behavior and I have seen a bear euthanized for becoming too familiar with people and their food. It's heartbreaking.
Please share with these thru-hikers: you diminished my hike through your carelessness. More importantly, you effectively demonstrated your disregard of the beautiful lands that belong to the American people.
Sincerely,
Deb Schweizer
Public Affairs Officer
Inyo National Forest