The brush was so thick in places it was a green tunnel that was nearly impassable. It gets that way every three or four years in the most troublesome places in Southern California, where abundant sunlight, heat and a little rain conspire to turn the low mountains into a greenhouse.
Safe to say the work around here is never quite done.
On the first weekend in May, I joined a Trail Gorillas crew and some of the scouts from Troop 555 out of Palmdale to clear a two-mile stretch of the PCT in the Angeles National Forest at mile 500. Here, the manzanita, scrub oak and mountain mahogany grow like weeds. Grasses take over the tread in sandy soil. And rain washes down the trail, leaving ruts that need to be repaired.
Pete Fish, legendary head of the Trail Gorillas, helped organize the work party and served as chef for the hungry PCTA crew. While Pete made the cowboy coffee – that should be famous cowboy coffee – I suspect that his wife, Joyce, made the brownies.
At 84, Pete is still hard to keep up with. When he wasn't hoisting a chain saw, he was mentoring the scouts and encouraging them to be safe and have fun. He warned them of ticks and snakes and told them about tool safety and protecting their eyes and skin from sharp sticks and thorns.
This section of trail near Atmore Meadows was Pete's first assignment when he joined the maintenance brigade back in the 1990s. He said he was handed a beat-up pair of loppers and borrowed a dull Pulaski from the local fire department and set out alone.
"It took me seven years to clear this area the first time," he said with a chuckle. I wasn't sure if he was joking. After grunting and sweating all day, I certainly found little to laugh about. But I learned about dedication.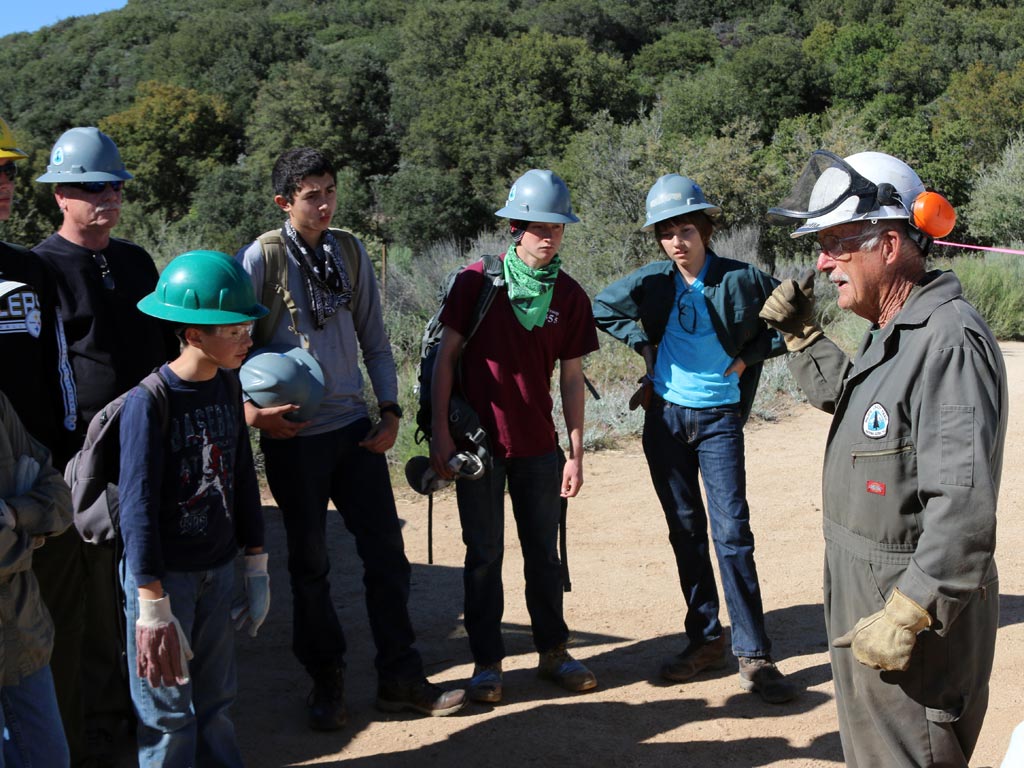 Jim Richter, the Trail Gorillas' new chief for Section E, said thick brush and constantly sloughing sand are his biggest problems in the area. His crew covers about 110 miles of the PCT from Agua Dulce north through the Antelope Valley and Tehachapi Mountains to Highway 58.
Jim has been leading the crew here for just over a month – hence the dedication lesson. He moved to California in 2005 and started section hiking the PCT, finishing in 2014. He was on a climbing trip in the Chimney Creek area, and was hiking on the PCT toward Spanish Needle when he came upon a large tree that was blocking the trail.
"It was a big tree, about three-feet in diameter and it was going to be unsafe for the horses and a real pain – the hikers were just going to have to go around it," he said. "I thought, well maybe I better call the PCTA and tell them about it so they could do something about it. It kind of mushroomed from there."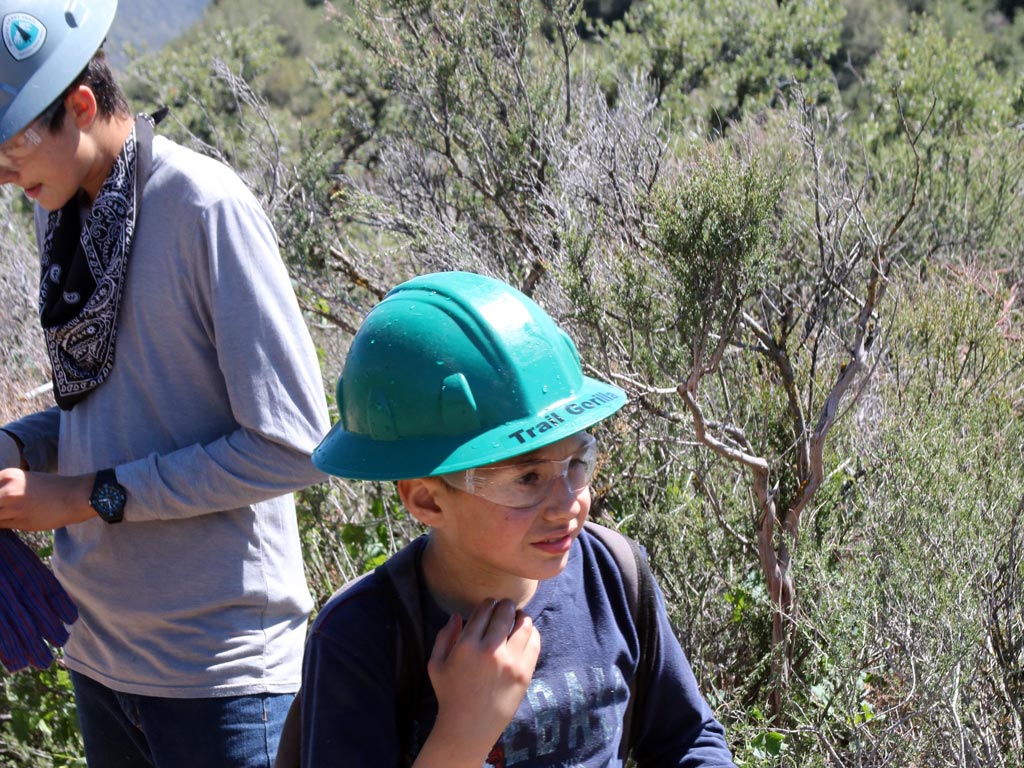 The Trail Gorillas asked him to be a scout since he did so much hiking. Then he attended a recent Trail Skills College and volunteered for a project.
"I realized they needed somebody for Section E and it was close to my house," he said. "I'm contemplating retiring in a year or two and it will be nice to have something to take up even more of my time. I tend to, when I get into something, go in full bore. It's fun. I have always liked working hard."
And work hard we did. Using long-necked brush saws, Jim and his crew mowed through a couple of miles of thick brush. They cut tunnels into the vegetation, where several of us, including the scouts, could stash the mounds of debris.
Nine scouts and three adults showed up on Saturday morning for a day of trail work. Scout Master Garth Woolstenhulme said Troop 555 includes about 24 scouts. His college-aged son once belonged to the troop and Garth stuck with it. He said they enjoy backpacking and hiking. It was their second time helping with PCT maintenance. And while he wants the boys to work hard, he lets the older scouts lead the younger ones and doesn't push too much. "They have to have fun," he said.
Life Scout Aaron Turk, 15, said he had a great day on the trail. He said he hopes to thru-hike someday.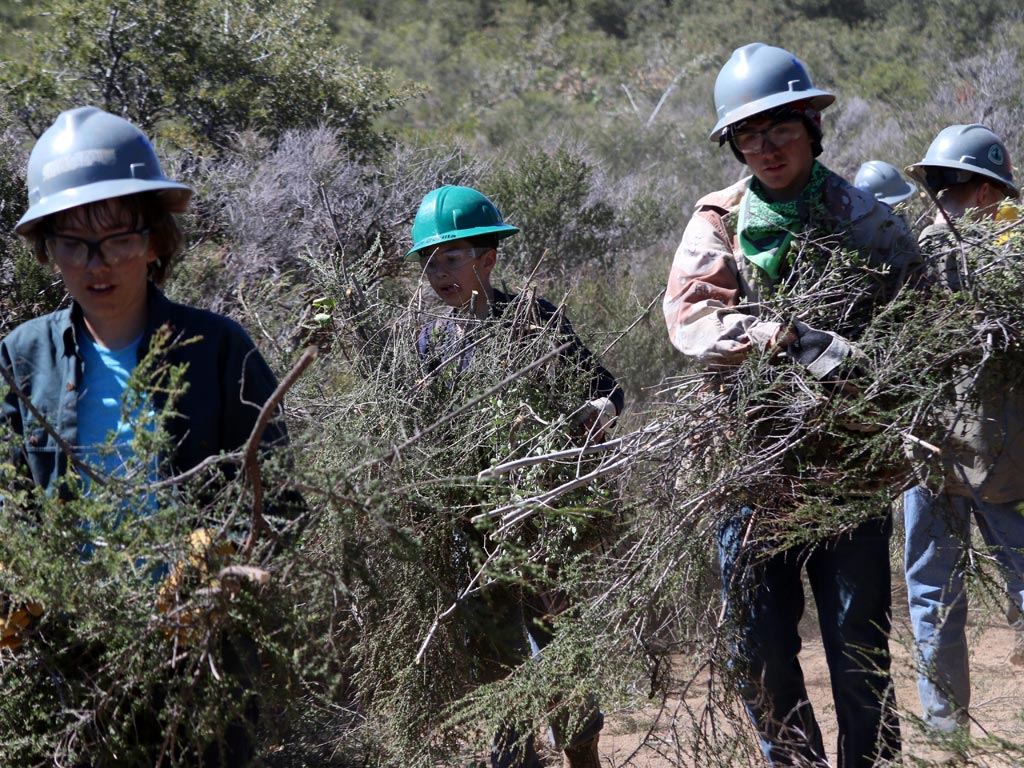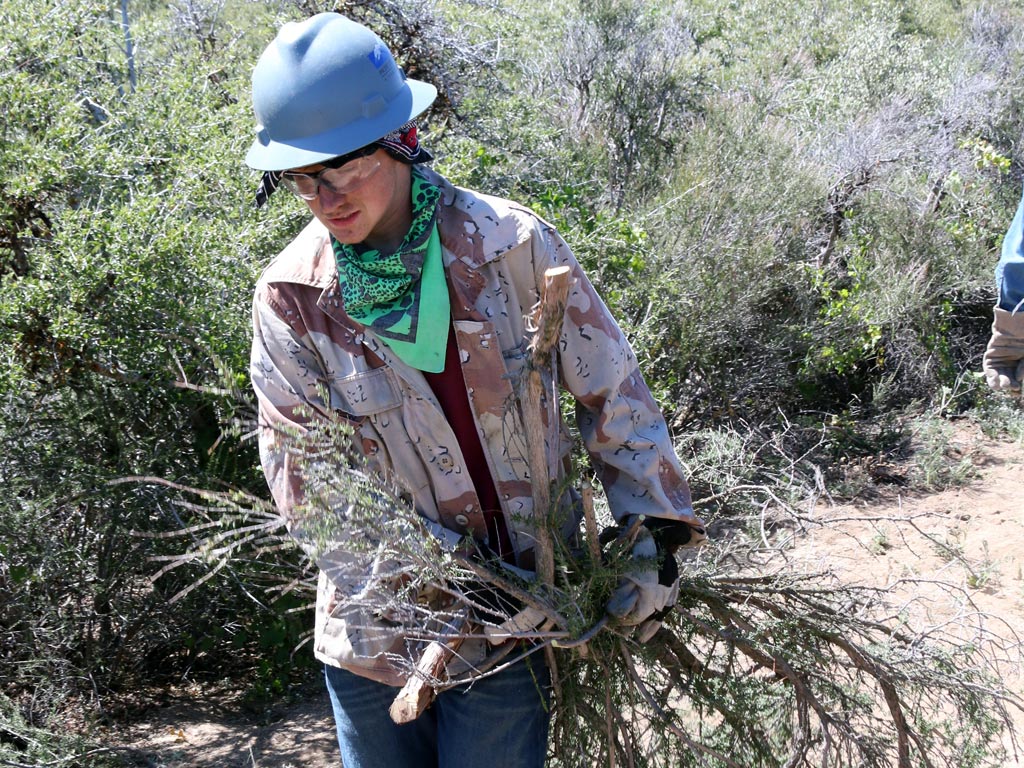 "I had the opportunity to go out and work with the Trail Gorillas and become part of them for just a day," he said. "It's difficult but rewarding. If you ever get to meet a hiker, they really talk to you sometimes about how effective you are and how much they appreciate what you do for the trail."
Jonathan Nelson, 14, said the day of work was payback for all the hiking his troop does throughout the year. "I really enjoyed today because I got to help out the Pacific Crest Trail. It's a really rewarding process."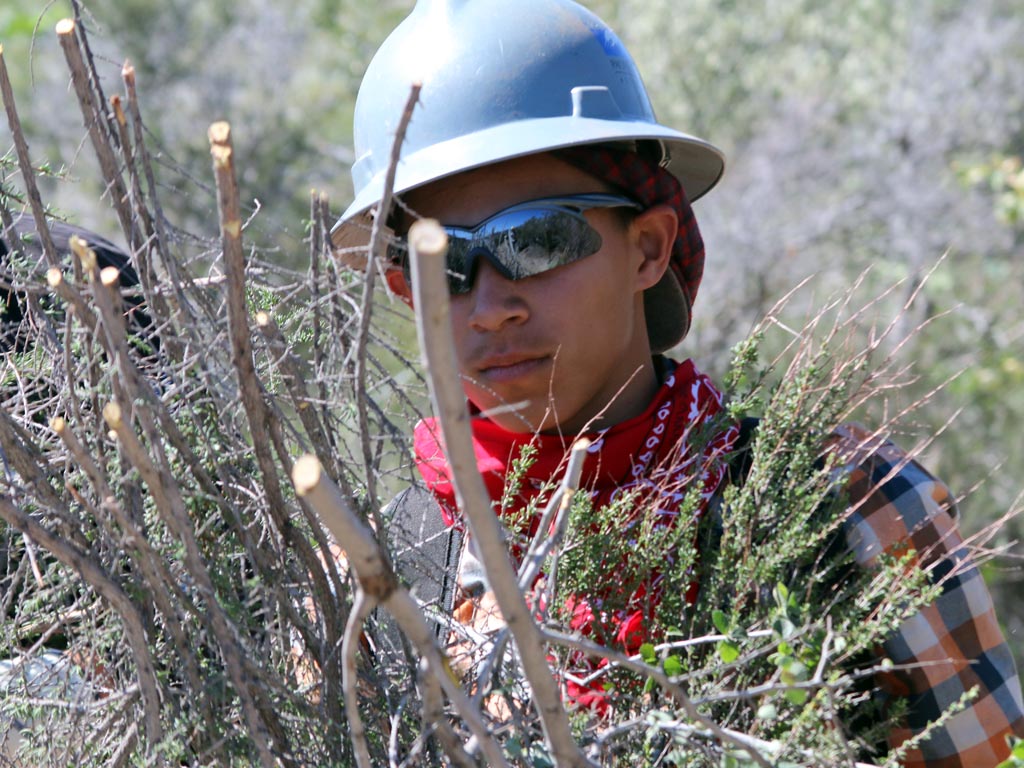 Michael Keith, 12, said he enjoyed working with the seasoned trail crew. "It was probably the most I've ever done working here and hiking and it was the funnest," he said. "So I think I'll probably help here, I don't know when, but I'll try to if I can.
I'll probably hike this trail, Mexico through Canada, and it will probably be fun if I do it."
Toby Keith, 14, said it was his first time on the Pacific Crest Trail. "It's a benefit for me because someday I'll being trying to hike all of America's highest-level trails all the way through," he said. "It was a bit tough. I really enjoy coming out here. I like getting out of the house. I like adventuring."
As I drove out of the mountains and across the Antelope Valley, I reflected on my own time in the Boy Scouts and the lessons I'd learned decades earlier about hard work on behalf of others. A lot has changed since those days, but much has stayed the same. Troop 555 reminded me of times gone by. These young men worked extremely hard alongside a group of dedicated PCTA regulars. I was simply happy to be a part of it. Times like this truly help build future stewards for the PCT.
***
Want to pitch in on the PCT? The Trail Gorillas and other PCT stewardship groups have projects scheduled all along the trail. Visit our volunteers' page at www.pcta.org/volunteer and find a time and place that works for you.