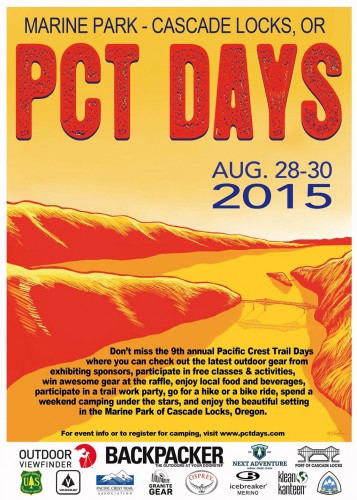 The 9th annual PCT Days takes place August 28-30, 2015 in Cascade Locks, Oregon! It's sure to be a fun weekend celebrating the Pacific Crest Trail. Join friends old and new for a few days of camping on Thunder Island, classes, a gear fair, hiking and more. This event is put on by Outdoor Viewfinder – for more information, visit www.pctdays.com.
Visit PCTA at the event
While you're at PCT Days, be sure to say "hi"!
Last year, PCTA's booth was a hub of fun stuff, but really the chance to test your skills at our crosscut saw demo was the biggest highlight. Maybe we'll be doing that again this year? Come see.
Saws or not, we promise you'll get: excellent advice, a chance to connect and get involved with our outstanding Mt. Hood Chapter volunteers, a special membership drive (sign up or renew at the event and get a free copy of the Only the Essential DVD), and great shopping for PCT merchandise at our pop-up store.
Camping registration for PCT Days is open
Reserve your campsite now! Click here for camping information.
Camping is free for: 2015 PCT Thru-Hikers, event volunteers, sponsor reps, and anyone under 18 accompanied by a legal guardian.
Join the 2015 Bridge Walk
To celebrate the experience of being on the Bridge and to call attention to the need to improve its pedestrian safety, PCTA has in recent years helped sponsor a free Bridge Walk event in late summer.  Normally, hikers, bikers and horseback riders users must share the bridge's narrow lanes with cars and trucks, numbering up to 10,000 per day in summer. Bridge Walk is a peaceful half hour where motorized vehicles are not allowed, so people can linger and enjoy the bridge's breathtaking views. This year's event will take place on Aug. 29 at 8:30 a.m. in conjunction with the PCT Days festival in Cascade Locks.  There is an ongoing initiative to improve pedestrian/equestrian/bicycle safety conditions on the bridge.
Please, no pets. Use extreme caution with children. Meet at the Bridge of the Gods PCT trailhead area, near the tollbooth. Parking is available in the school lot, in the Marine Park, and on WaNaPa Street downtown. Following the Bridge Walk event, enjoy the PCT Days festival occurring on Thunder Island in the Marine Park. For more information, contact [email protected].
Take a look at PCT Days 2014
See you at PCT Days! For event news, please visit www.pctdays.com. It will be updated regularly.