As the PCT traverses the Soda Mountain Wilderness in Southern Oregon, it rarely crests above 5,000 feet. This section of trail affords outstanding views and takes in some of the region's mixed coniferous forests as it passes well-known Pilot Rock. Some winters at elevations below 5,000 feet, minimal snow may accumulate on the trail. While not necessarily ideal for the overall snowpack of the region, the lack of heavy snow allows for some early season trail maintenance. Wet soils are not conducive to tread work, but a warm winter's day following a major wind and rain event can present an ideal opportunity to survey potential winter trail damage while removing blown-down trees.
Wednesday, Feb.11 was just such a day.
We had near record wind and rain during the first weekend of February. As a result, I was anxious to see some of the trail near my home and office when clearer skies and warmer temperatures arrived the following week.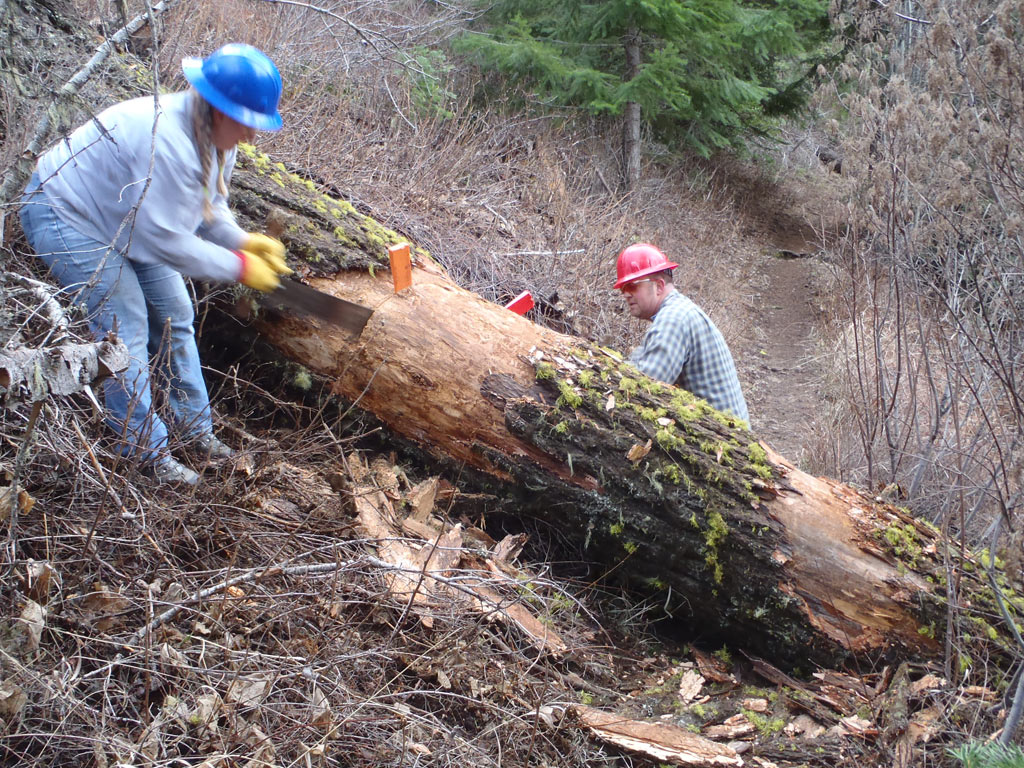 I reached out to Gabe Howe of the Siskiyou Mountain Club to discuss the club's plans for PCT maintenance in 2015. The club has taken on maintenance of the trail through the Soda Mountain Wilderness the last couple of years. Gabe has built a strong contingent of volunteers excited to work with crosscut saws in the wilderness. Gabe told me he had a few folks lined up for some early-season log-out, so I joined him and four volunteers, all of whom had volunteered for both the PCTA and SMC in the past.
We met in Ashland and were shuttled to the PCT by Will Volpert, one of Gabe's SMC board members and the proprietor of Indigo Creek Outfitters, an Ashland based river rafting and outfitting company. We got on the PCT at the Pilot Rock Trail, a short and popular PCT access point within the Cascade-Siskiyou National Monument at the edge of the Soda Mountain Wilderness. As we worked our way north on the PCT toward Pilot Rock, we cleared several blow downs along the way, including one particularly stubborn Douglas fir that took more than three hours. While working with a crosscut saw is hard work, using the traditional hand tool is a satisfying experience, particularly once you have rolled the round off the trail.
PCTA needs new muscle for early season trail crews. Want to help? Check out our volunteer page for a project in your area.