Many thanks to everyone who joined us last week in Ashland, Oregon, for our Trail Dirt Live event. PCTA staff and board members enjoyed the opportunity to meet and mingle with local guests as well as a few who traveled hundreds of miles to attend.
PCTA Executive Director and CEO Liz Bergeron and Trail Operations Director Mike Dawson gave an update on what the PCTA has accomplished over the past year with the generous support of all of our members and volunteers. Regional Representative Ian Nelson highlighted trail maintenance and protection projects underway in the area. He also presented longtime volunteer Mike Tillinghast with the Big Bend Regional Maintainer of the Year award.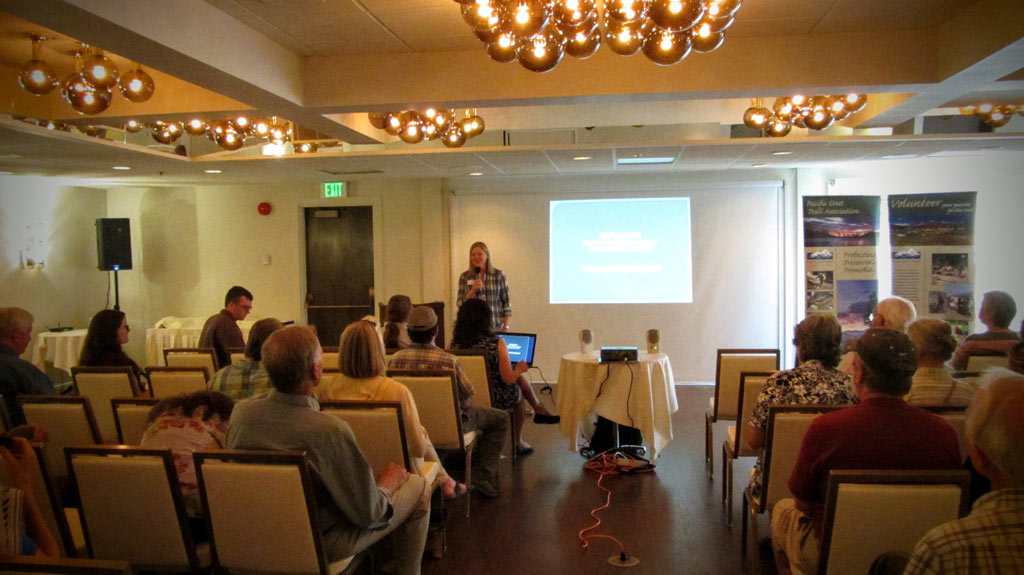 Mike, an Ashland resident, has spent the last decade with the PCTA's Lyons' Pride crew, a volunteer group that works the trail in the mountainous Northern California region. A 2010-2012 section hiker, he recently said his time volunteering is what inspired him to want to hike the PCT from end to end.
"Mike is every crew leader's dream, all smiles and makes all projects fun," wrote Lyons' Pride leader, John Lyons, in nominating Mike for the award. "He spends extra time showing the newbies the proper way to carry and use trail tools and checks their progress with details they may have overlooked. Having completed the PCT, Mike is always willing to share and compare notes with hikers he meets while working on projects. I am proud to have Mike Tillinghast as a member of the PCTA crew."
We truly enjoyed the chance to spend an evening with Mike and other passionate PCT fans.
For those of you in the Seattle area, save the date – Saturday, Oct. 24 – for our next Trail Dirt Live event.