You made 2014 one of the best years ever for the trail.
On Saturday, April 11, PCT members, volunteers, partners and supporters gathered in Sacramento, Calif. for our annual meeting and open house. We recapped the year's successes and challenges, socialized, shared trail news, and recognized your hard work and dedication to the trail. Some people even left with door prizes.
We also announced the results of the PCTA board elections. PCTA members elected Anne Ewalt (Seattle, Wash.), Jim Newman (Rancho Santa Fe, Calif.) and Don Ralphs (Los Angeles, Calif.) to the board. After serving three years as board chair, Barney Mann handed the reins to incoming board chair John Crawford (La Jolla, Calif.). We also said thank you to Christy Corzine (Weed, Calif.) who completed her board service after nine wonderful years with us.
The 2014 PCTA Labor of Love of Award was presented to Lauren Cole Norton. Lauren, owner of Third Space Media, volunteered her time to create the design for our Wild microsite. Her outstanding design work and target marketing efforts showcased the PCT while connecting those inspired by Wild to the PCTA's mission to protect, preserve and promote the trail.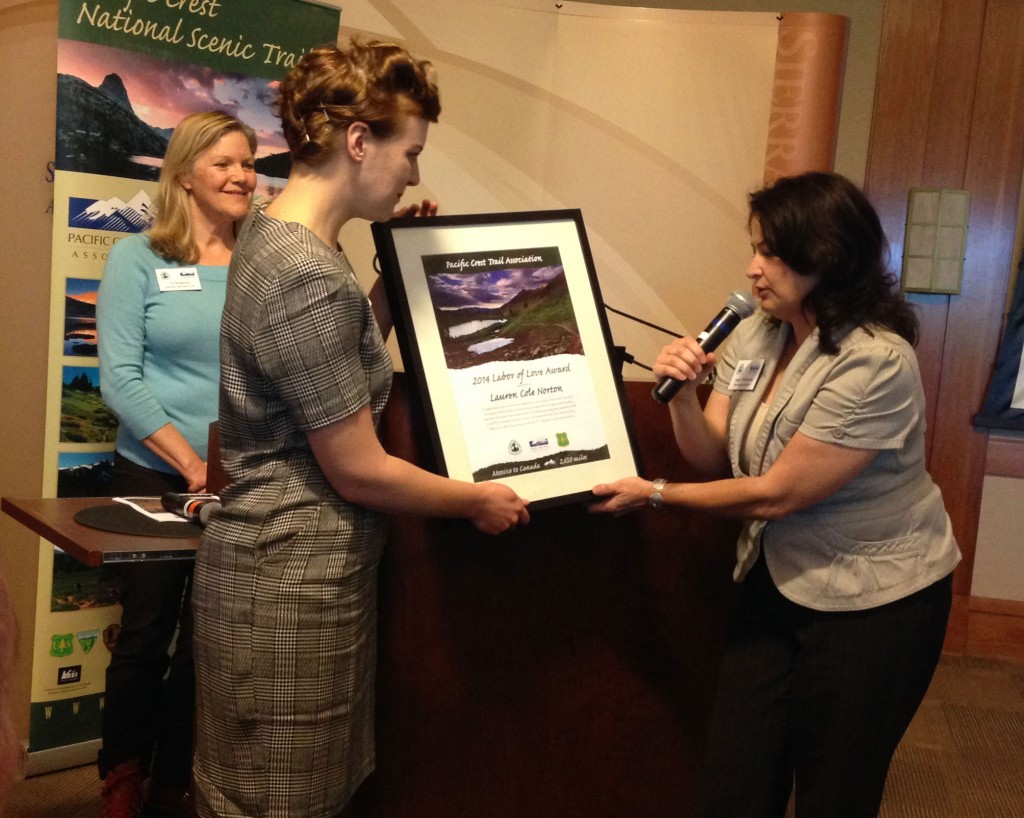 To bring these highlights to you, we captured the meeting on video. It's full of interesting PCT updates and we hope you take the time to watch it. Our 2014 Annual Report is also available. In it, we recap the year in numbers (an outstanding 81,703 volunteer hours given and wildly generous $1,764,363 donated), tell stories and share examples of people who truly love the PCT, and reflect on the year. To really dive into our program details, our Year-End Program Review is also live. This document, created for our agency partners, is also filled with accomplishments that you helped make possible.
We understand that not everyone was able to attend the annual meeting but we hope to see you on the trail or at an event in the near future. Thanks again for playing such an important part in the magic of the Pacific Crest Trail.
Annual Meeting video
2014 Annual Report and Year-end Program Review
Dive in and check out past documents, and more, in our extensive collection of financials, reports and plans.