Art and the PCT make a perfect match. Composers have graced the world with their music written on the trail. You've shown us amazing drawings and paintings over the years as well.
But I have a soft spot for photographs. Images of trail landscapes, plants and animals one might encounter and hikers and horseback riders who venture out to roam in these wild and beautiful places really capture the trail in the moment. I love how light, color and scenery dance together, inspiring me to get out there.
So I take great pleasure in announcing the 2016 Photo Contest winners:
1st Place: Kat Davis, for a photo of hikers descending from Mather Pass. The photo was entered in the Human Spirit category
2nd Place: Eric Estrin, for a photo of an unusual ice formation near Pinchot Pass. The photo was entered in the Trail Majesty category
3rd Place: Eric Barlevav, for a photo of sunrise reflected in Summit Lake. The photo was entered in the Trail Majesty category.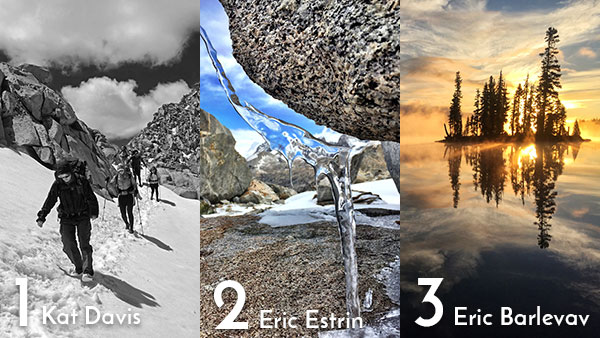 Congratulations! These winners will receive prizes provided by LEKI.
Putting together the PCTA's annual photography contest takes a lot of work by a team of people. But it's joyous work because it illustrates your amazing vision of what the trail means to you and shows it off to the world.
You submitted an astounding 1,250 photos in five contest categories this year: Trail Majesty, Human Spirit, Trail Work, Equestrian and Flora and Fauna. Our volunteer judges must go through all of them and decide category winners then pick the overall top three. Because of the quality of your work, these are tough decisions to make. Many thanks to the judges: Lee Terkelsen, David Thurber, Roger Gong and Madelyn Serpa. This contest would not happen without your keen eyes and tireless dedication.
Also, thanks to all of you who submitted photos to this year's contest. Even if your photos did not win, you are volunteers for the PCTA. We'll use your images throughout the year to illustrate the association's magazine, calendar, website and other publications. Your pictures help tell the story of the trail. Promoting the trail brings the support it needs, inspiring volunteers and paying for trail maintenance and protection activities. Promotion is a vital part of the PCTA's mission.
Finally, many thanks to our photo contest sponsor LEKI for its support and for providing great prizes for our winners.

I hope you enjoy the slideshow that includes our contest winners and category winners. And thanks for all you do for your trail. It's a work of art.