The PCT features prominently in Bill Meyer's life. His is a love affair with the wilderness that spans almost half a century. Even Bill's honeymoon, 43 years ago with his wife Nadean, was a PCT hike. Speaking from his home in Spokane, Washington, Bill, a former property inspector and property manager said, "The PCT always invigorates me. Getting in the mountains makes the adrenaline rush and the spirit soar and you don't want to quit. The scenery, solitude, and mountains make you just feel great."
So when Bill was diagnosed with Parkinson's Disease, a disease with no known cure, it was a severe blow.
"I was hiking in Glacier National Park in September 2009 with a long-time friend and I just could not keep up. That's when I knew something was wrong. I was diagnosed with PD soon after in November 2009, that's when my tremors began.
"Parkinson's is a degenerative disease in which cells in the brain start dying and you start running out of dopamine – and your brain can't tell your muscles what to do," explained Bill.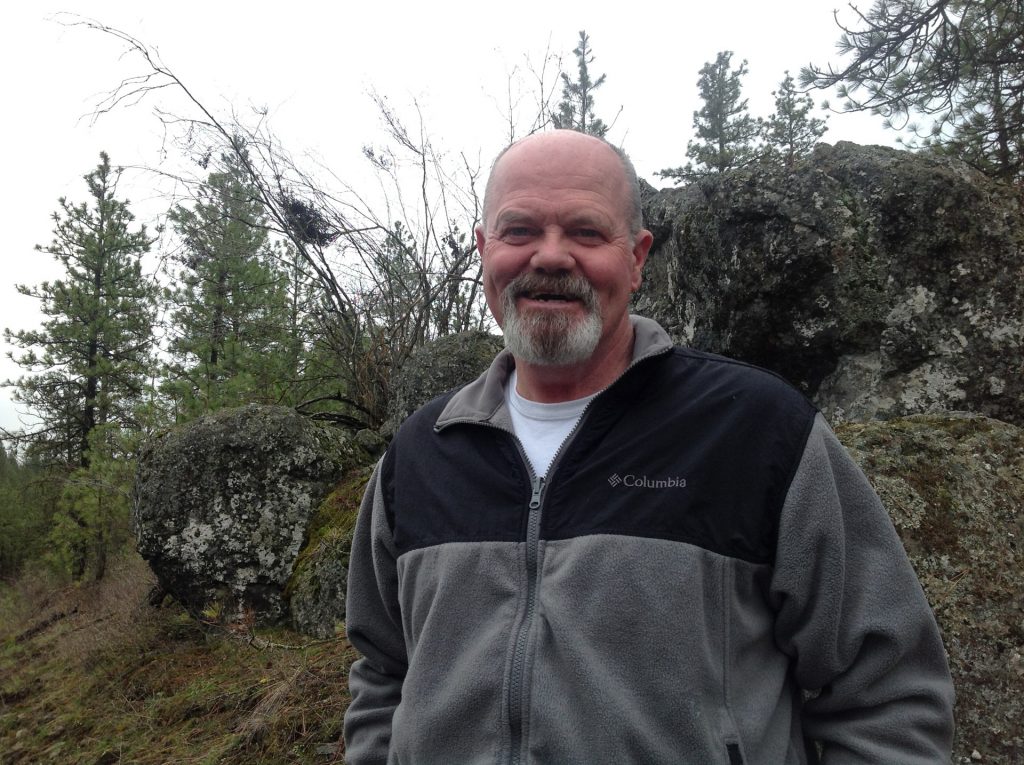 But Bill resolved not to let the disease deprive him from getting out into the wild and doing what he loved most. He continued to hike, albeit more slowly, bolstered by the knowledge that for people living with Parkinson's, exercise may be one of the most powerful tools to fight some symptoms and to slow the disease's degenerative nature. Exercise tends to minimize some of the primary and secondary symptoms of Parkinson's. Though exercise is not a cure, it can help maintain muscle tone, function and flexibility, and improve overall mobility.
Said Bill: "Nadean and I did a lot of walking, short day hikes and I finally started biking again."
Yet, the inexorable progress of the disease began to take its toll. No amount of willpower could overcome the tremors and balance issues he was experiencing, so hiking became increasingly difficult.
"The first few years after diagnosis, we were both working on health issues, Nadean's thyroid cancer and me trying to control tremors and various medications that often made me nauseated."
Bill opted for a surgical procedure known as Deep Brain Stimulation – an option reserved for patients with severe or quickly debilitating Parkinson's disease. A surgically implanted, battery-operated medical device called a neurostimulator—similar to a heart pacemaker and approximately the size of a stopwatch—is implanted to deliver electrical stimulation to targeted areas in the brain that control movement, blocking the abnormal nerve signals that cause tremor and PD symptoms. The procedure was a success.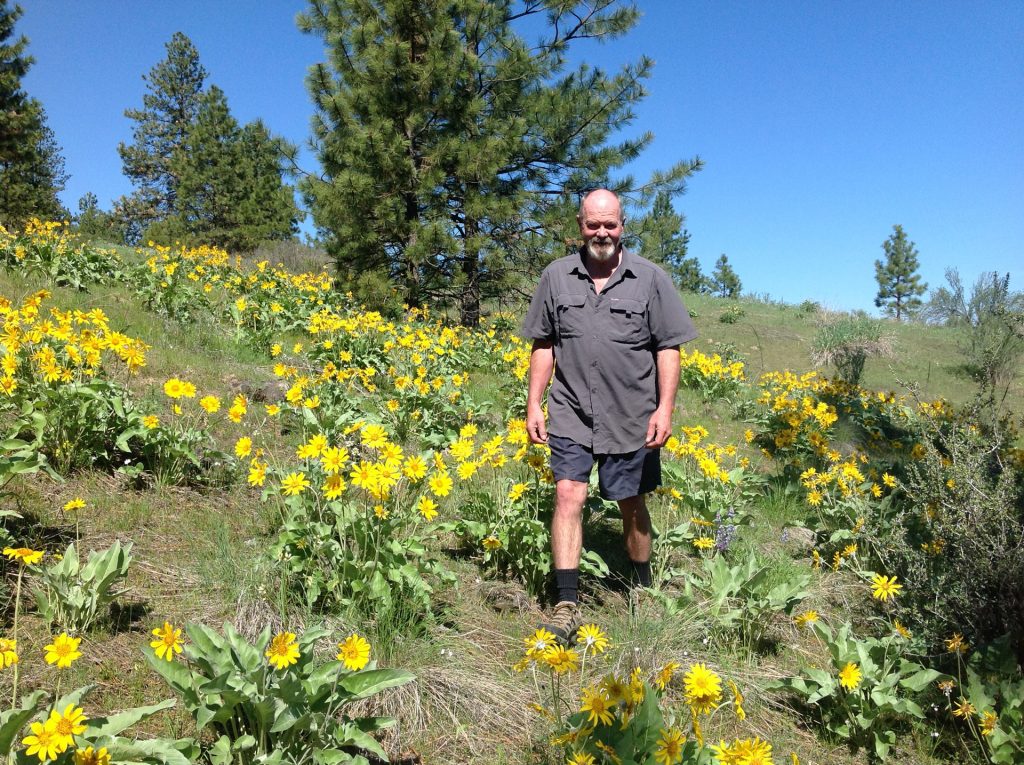 "It wasn't until after my deep brain stimulation surgery that I decided to try and get back into the backcountry," Bill said. "Off I went to hike the Enchantments in the Central Cascades on a five-day trip, Nadean hiking in to the first camp and then being our trail angel.
"I'm a very lucky person," he continued. "Medical advances over last 20 years have made Parkinson's symptoms bearable. Exercise can reduce symptoms by 30%. Deep Brain Stimulation has controlled about 90% of my tremors and allowed me to reduce my medications by half."
But as happy as Bill was for the medical advancements that allowed him to do activities that otherwise would have been impossible, the procedure is not without its drawbacks, not least the batteries that are themselves implanted making carrying a heavy load on the back difficult and painful.
"I made some custom shoulder pads to help keep the pressure off my battery/generators above my collarbones," said Bill.
Bill got to thinking about how he could continue his passion for hiking the PCT without the burden of shouldering a heavy pack. That's when the idea hit him.
"I'd seen mule teams and equestrians often enough over the years while hiking – why not do it myself? But I realized if I was going to do it by mule I would need support people. The project just evolved from there."
Fast-forward six years. Bill is planning a mule-supported PCT hike that will raise money for Parkinson's disease research, increase awareness of Parkinson's Disease and increase awareness of the PCT. His journey will reinforce how activity can relieve Parkinson's Disease symptoms and how even adventures on the PCT are within reach for people with the condition. The trip will also demonstrate the opportunities the PCT offers to diverse groups. And if that's not enough, Bill and his team will also be doing a camp assessment along the way for the PCTA.
On Aug. 20, 2016, seven fellow "Parkies" (as Bill calls his fellow hikers who live with Parkinson's Disease) and a support team of five – including an embedded reporter – a plan to set off southbound from Stevens Pass to Snoqualmie Pass.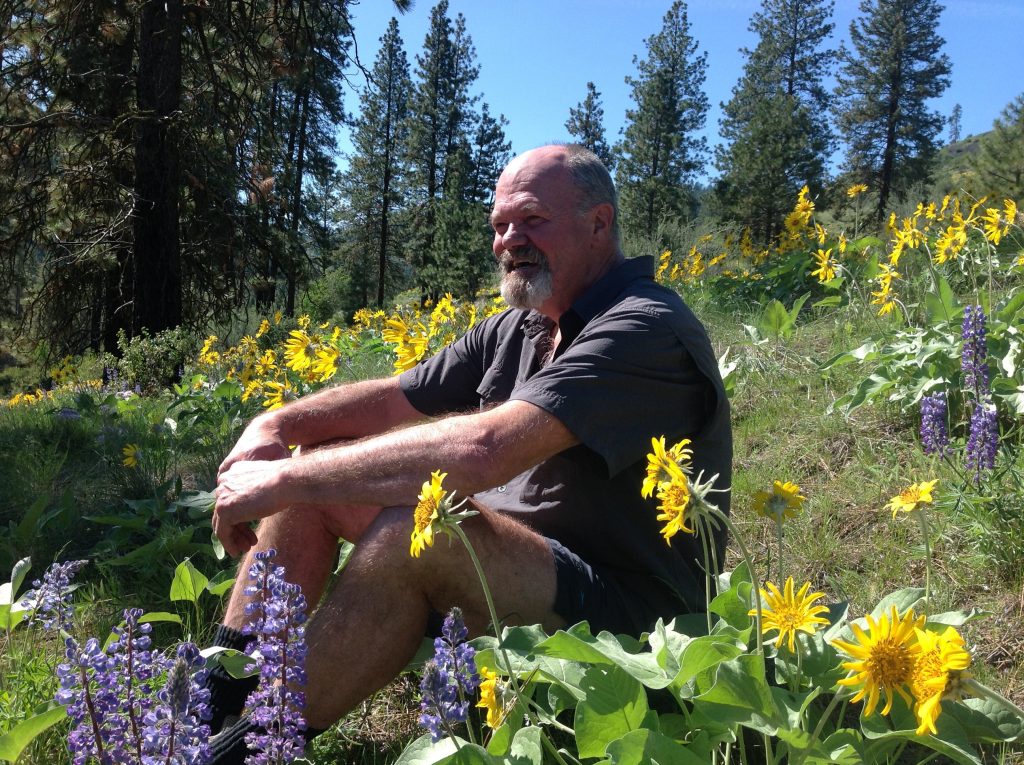 The team's website reads: "The trip will be pack supported with two wranglers and several mules. We will average 9.25 miles with approximately 2,000-foot elevation gain per day and a total of 72 miles."
Bill is living life to the full no matter what obstacles come his way. Speaking with Bill this week is speaking to a man with a mission.
"Now I am training with walking, biking or day hiking almost something every day to build stamina for the Pass-to-Pass trip."
Unfortunately, this time round Nadean won't be going. Bill added, "Nadean will be a trail angel – her battle with thyroid cancer prevents her going along."
Bill and his team are already getting a lot of attention for their adventure. Bill has submitted an abstract to the World Parkinson's Congress and will present at their conference in Portland, Oregon, soon after the expedition.
Whether it's giving back to the PCT through his philanthropy (Bill made a significant generous donation to several urgent PCTA projects last year) or embarking on a new PCT adventure, Bill's approach to life is simple and direct: it's now or never.
"I wanted to do this while I still can," he said, "and I always wanted to do some philanthropy and give back to the trail. Why wait for five years to do these things – I might not be around in five years."
Go online to www.passtopass.org to learn more about Bill's trip.