It makes sense that the folks at Crux Fermentation Project, a popular small-batch brewery in central Oregon, felt a kinship to the Pacific Crest Trail.
Given that PCT travelers are staple customers — especially during the summer months when trail hikers and horseback riders flock to the Cascades — they wanted to celebrate the trail in a very real, authentic and human way.
What better way to celebrate than to brew a craft beer named after the trail?
Crux founder and brewmaster, Larry Sidor, is a big fan of porters, calling them the ultimate comfort beer.
"Every time I have one, I wonder why my last beer wasn't a porter," Sidor said recently. "When brewed well, a porter has a smoothness combined with layers of complexity that never disappoints. I think we achieved that and more with PCT Porter."
The beer not only celebrates the trail. As PCTA sponsors, the brewery is behind the association's efforts to maintain and protect the trail for future generations.
PCT Porter drinkers will enjoy the beer and the packaging. The bottles, cans and carriers include artwork from the trail journals of PCT thru-hiker and supporter Kolby "Condor" Kirk. We featured Kolby's amazing journals in the summer 2012 issue of The PCT Communicator.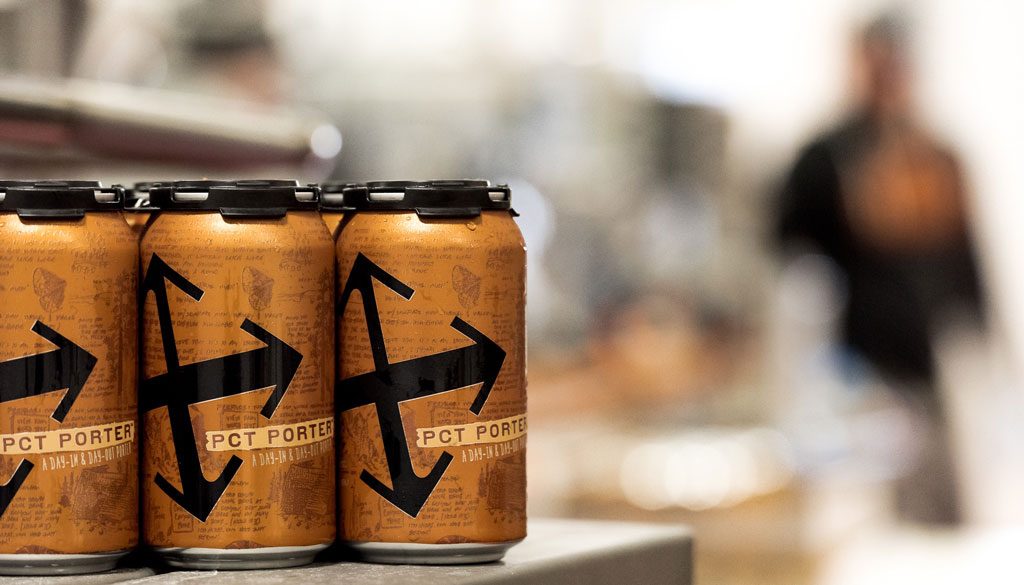 Larry said the wanted packaging imagery to convey the human experience of the trail so that people drinking the beer might gain a deeper appreciation for the trail. Online research for PCT hiker blogs and journal entries quickly led them to Kolby, a Bend resident. It turns out that Kolby was a fan of Crux and loved the idea of celebrating the trail experience in a collaborative way.
"I'm honored that my journal artwork is featured on the PCT Porter can," Kolby said. "To me, the label represents so many great things about Bend and the Pacific Crest Trail. It provides a visual reminder of how important the PCT is in my life and how it needs to be protected for generations to come."
Crux Fermentation Project's beer is distributed in all three PCT states, as well as in parts of Idaho and Colorado.
"The more PCT travelers we've met at our tasting room and the more stories we've heard, the more we've understood the trail's significance and felt a greater need to support it," Larry said. "It's an important historic asset to our friends and community."