This article by Mike Zawaski originally appeared in the Winter 2013 edition of the PCT Communicator magazine. It has been edited again, and we are republishing it because we think the information is relevant to today's conditions in the PCT high country. Please be safe out there.
If it has been a big snow year – or even if it hasn't – chances are you will encounter some snow along the PCT. While climbing snowy peaks may not be your thing, it is very common to hike a long, gentle, dry trail for hours only to encounter a short section of snow at a mountain pass.
Anyone contemplating a trek on the Pacific Crest Trail should consider that it's not uncommon to encounter early-season snow in the High Sierra. The Sierra snowpack can last well into summer on the PCT.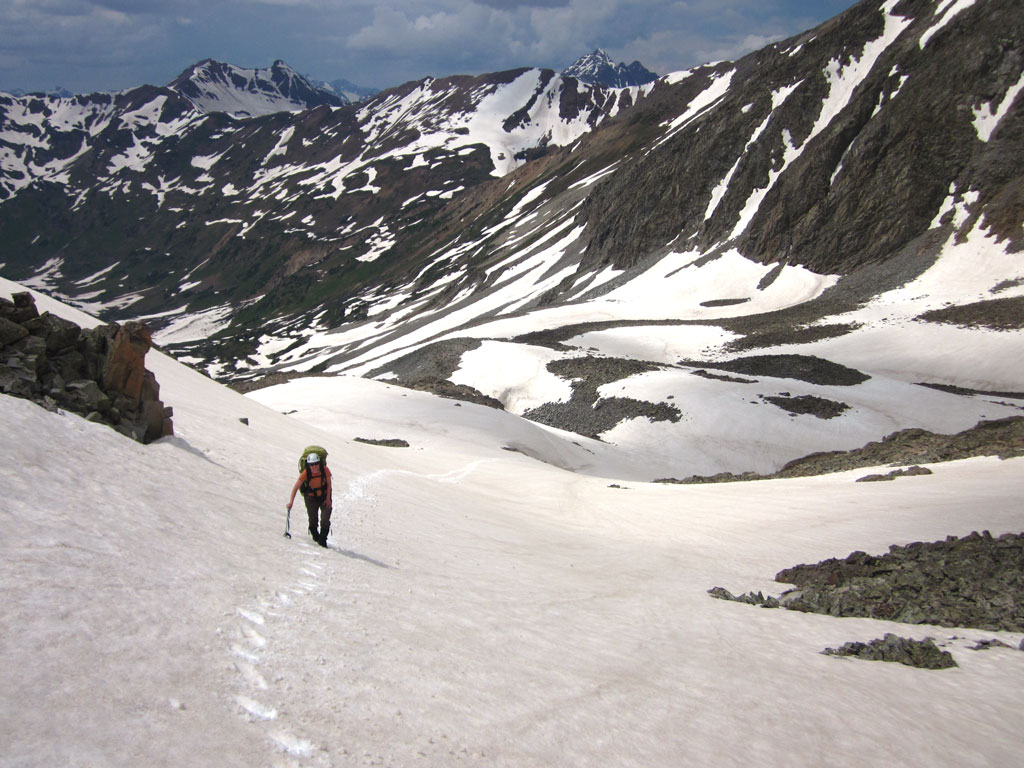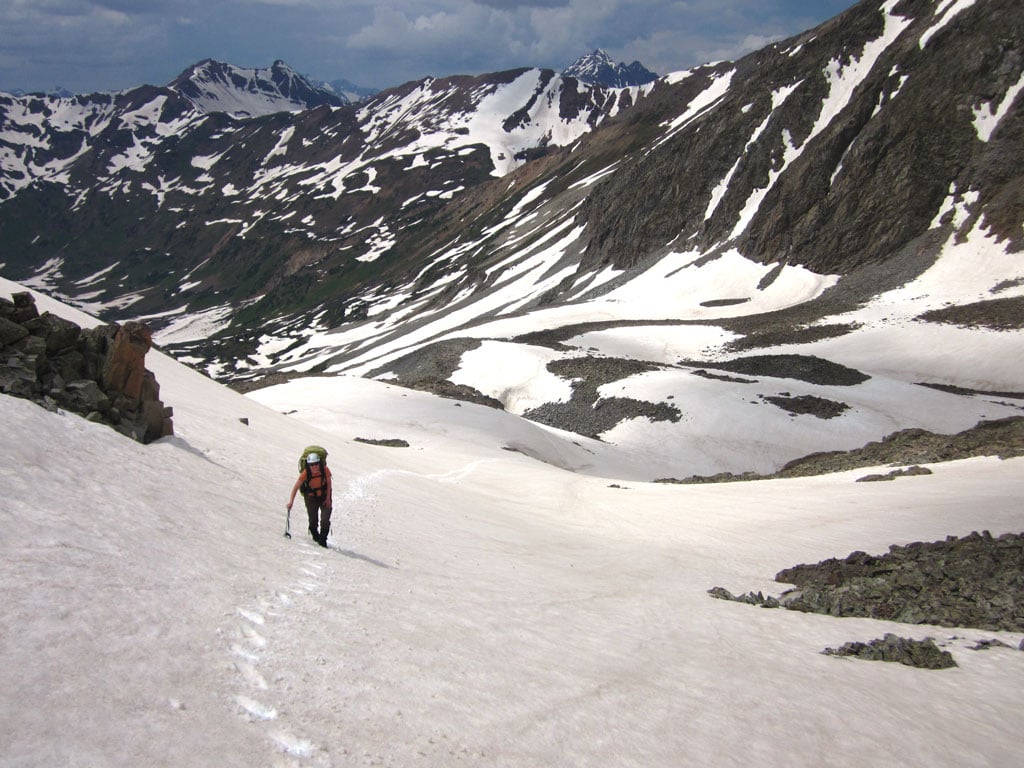 To prepare you for this inevitable situation, here are a few tips to help reduce your anxiety and increase your chances of successfully navigating this snowy section. While you can't control the amount of snow you may encounter, you do have some control over your skills, your equipment, and the time of day you travel in snowy areas.
Kicking steps and using an ice ax are fundamental skills if you like to travel in the high country. To become more proficient moving on snow, you should sacrifice a little bit of free time purely working to improve your skills. Find yourself a gentle snow slope without a bunch of rocks at the bottom that you might slide into. Then practice.
In addition to helping you "survive" the occasional snowy pass, becoming proficient moving on snow really does open a whole new world of travel options. If you are interested in finding solitude in the mountains, feeling confident moving on snow allows you to travel on routes earlier in the year. This makes visiting popular areas more feasible because fewer people apply for permits when routes are snow-covered. Also, don't forget about other places in the country and the world. Many beautiful volcanoes are covered in snow year-round, and some amazing treks in the Andes, Europe and the Himalayas may have some snowy sections.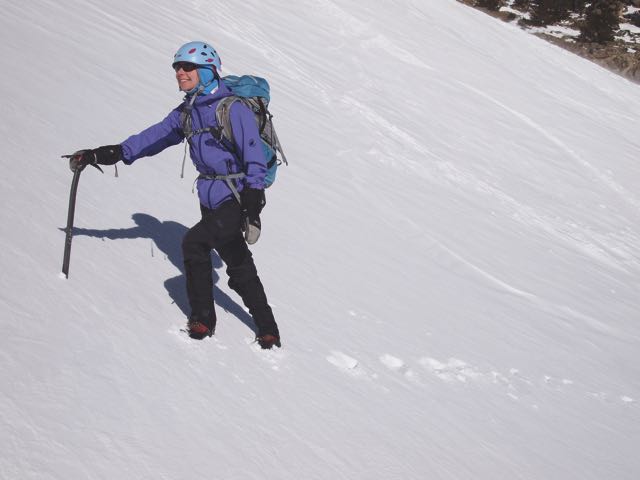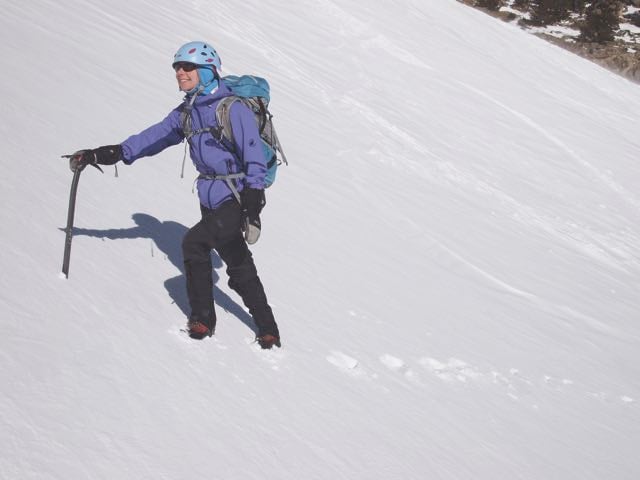 As a general rule, stiffer boots will perform much better than soft ones for kicking steps.  The biggest emphasis on gear today is weight, but if you are likely to encounter snow, choose a heavier boot. Traction devices have gained in popularity, but with a little practice, you should be able to improve your technique to the point that these are unnecessary. Mountaineering crampons, on the other hand, are an essential item for climbing mountains.
An ice ax adds a little weight to your pack, but it is an essential tool. An ax is superior for chopping steps into hard snow, helping you stop if you fall (self-arresting), and helping you control your speed as you slide down a long slope of soft snow (glissading).  A ski pole or stick, except in the softest snow, provides little more than balance. Some hikers plan for snowy terrain by mailing their ax and stiffer boots to a point prior to technical terrain. Because finding yourself in the high country without an ice ax happens, you should learn techniques to help you successfully manage these situations by lowering your likelihood of falling and improving your chances of stopping if you do.
When it's time to get on the snow, plan for the worst. If you're not sure how firm the snow will be, presume that it will be difficult; you don't want to get 20 feet up with a dangerous landing below and wish you had planned accordingly. Get out your ice ax (or pole/ stick), put on your gloves, tighten your laces, cinch up your gaiters and put on a jacket if the snow crossing is going to take a while.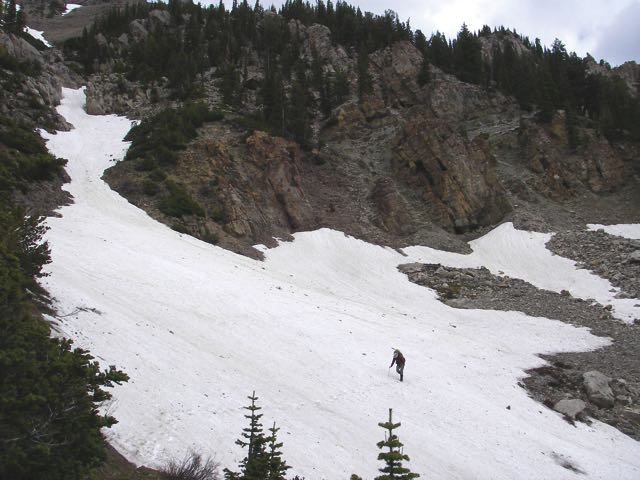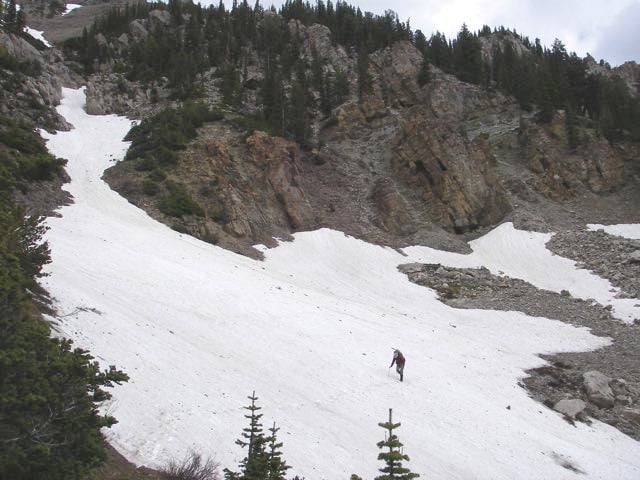 For very firm snow, if you don't have an ice ax, find a dagger- or wedge-shaped rock to assist you in creating steps. This technique may sound desperate, but I've used it on multiple occasions, though only over very short distances.  Kicking good steps should be your primary means of security. One of the most common pieces of feedback I offer to people learning to climb snow is that they don't kick hard enough. Kick like you mean it; this is not the kind of place for treading lightly. Also realize that you may need to kick multiple times to make a good step.
Of course, traveling off trail on dry ground may be an option, but I encourage you to avoid it because you may unnecessarily trample fragile alpine vegetation. Other hikers' steps in snow may seem an obvious choice, but these may be very firm or icy, especially in the early morning. Follow their path only if the steps are large enough to step on or soft enough so that you can improve upon them. Trying to tiptoe on icy steps is a recipe for falling. Instead, choose the shortest route, with the lowest consequences of falling, and the softest snow. The softest snow is usually on slopes that face most directly toward the sun. Don't underestimate this variable. The consistency of the snow can vary dramatically over a few feet if one area receives more direct sunlight. East-facing slopes will soften first each day, then south facing, and finally west-facing slopes. North-facing slopes will be the slowest to soften, especially after a cold night.
Besides describing the technical skills of moving safely on snow, my book addresses the important decision-making processes that will help you choose a safe route and avoid the common mistakes that lead to accidents. If you are interested in spending more time in snowy places, I've written my book for you.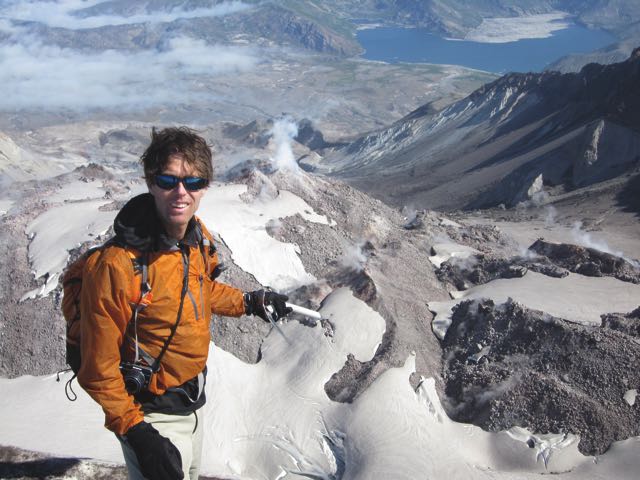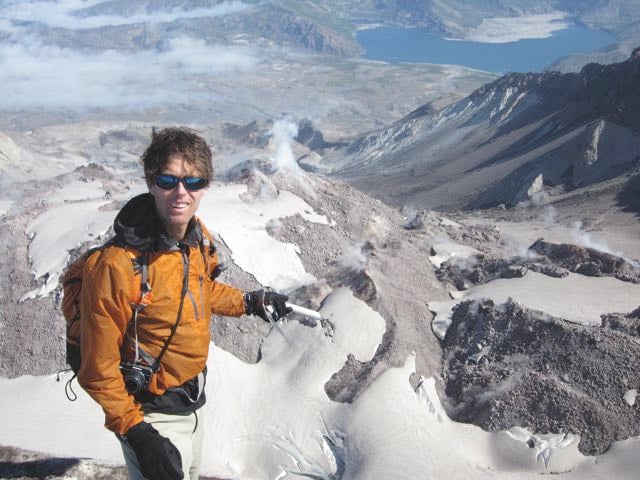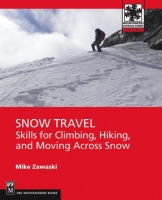 Mike Zawaski is the author of Snow Travel: Skills for Climbing, Hiking, and Crossing Over Snow, published by The Mountaineers Books. He has been climbing mountains around the world for 20 years, has taught mountaineering courses for Outward Bound and the Wilderness Medicine Institute of NOLS and worked with Yosemite Search and Rescue. He also is the founder of The Observant Naturalist, www.observantnaturalist.org, a science education nonprofit. He lives in Boulder, Colo.