J.J. King is one of our ten P3 Hikers on the trail this summer. Currently around Agua Dulce, J.J. recently sent us these initial impressions of his thru-hike. A retired captain in the Navy Medical Corps, J.J. is also a seasonal ranger with the National Park Service. Read more about J.J. here.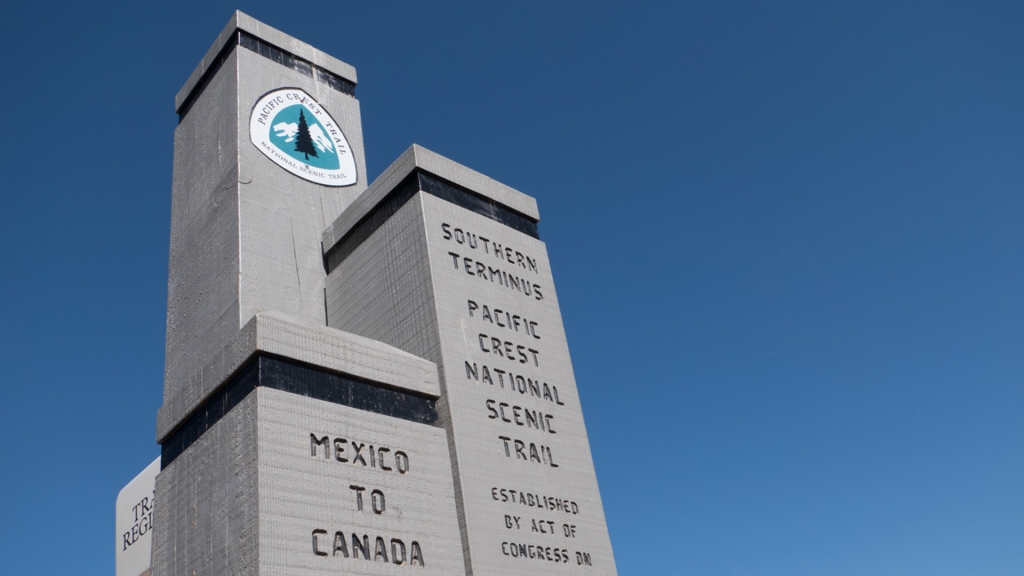 My ambitious journey on one of America's 11 National Scenic Trails commenced on a sunny morning on April 25, 2017.  The iconic Pacific Crest Trail wanders northward from the tiny town of Campo near the border with Mexico. For the next 22 days, it provided a stunning traverse through a wide variety of ecosystems. It presented unlimited and inspiring vistas in deserts and mountain ranges alike. And it challenged my senses to endure both drying heat and bone-chilling cold. Having arrived at Cajon Pass on May 16, any sense of accomplishment in completing this initial 342 miles was tempered by the fact that 87 percent of the Pacific Crest Trail remain, as it stretches further north toward Canada.
"Every twenty minutes on the trail, Katz and I walked further than the average American walks in a week.  For 93 percent of all trips outside of the home, for whatever distance or whatever purpose, Americans now get in a car.  On average, the total walking of an American these days—that's walking of all types from car to office, from office to car, around the supermarket and shopping malls—adds up to 1.4 miles a week. That's ridiculous." —Bill Bryson, "A Walk in the Woods"
Walking seems like such an elementary and basic physical activity. A skill most of us, with the blessings of health, had the good fortune to master within a year or so of our birth.  Yet by Bryson's observation, it appears to be an increasingly foreign concept to lace a pair of boots or shoes and go on a walk—of any duration or length.  Completing the entire 2,650 miles of the PCT in a single hiking season demands considerable commitment, determination, and time.  At the rate of 1.4 miles a week, it would require 244 weeks, or 4.7 years!  Gratefully with many answered prayers, my fellow hikers and I hope to reach its terminus at the Washington-Canada border by mid-September 2017, if not sooner.
"If the path be beautiful, let us not ask where it leads."  —Anatole France
I have formed some initial impressions of this grand trail. The generations of hikers who previously embarked on its winding way have demonstrated a commendable degree of responsibility and stewardship toward its protection and preservation. As one treks further away from highway bridges, paved roads, and parking lots, an absence of graffiti and litter is heartening. Far away from towns (distances that demand more than a day to traverse by foot), the community of hikers reduces to those hearty souls who plod along each day, covering double-digit mileage.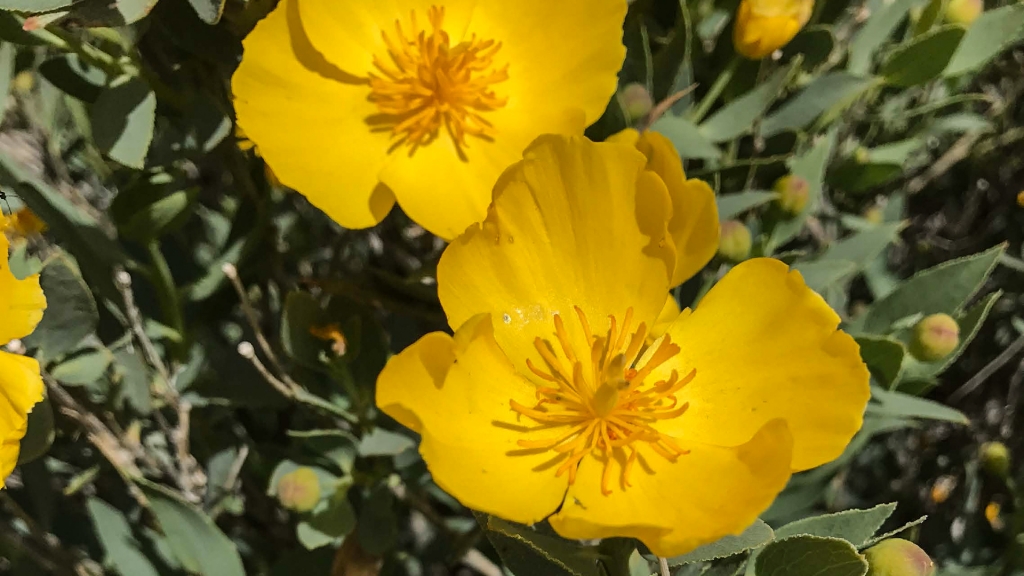 I have concluded that these particular sections of the PCT are not only the most serene to behold, but also reflective of hikers aspiring to uphold "Leave No Trace" principles. Campsites are on durable surfaces away from crystal-clear creeks. Essentially no litter was discovered on the trail. Less than a dozen campfire rings were observed, and no hiker was seen kindling a fire.  The peace and silence of the backcountry was preserved by hikers using earbuds while listening to music. Indeed, I found my fellow hiking community aspiring to leaving this trail untrammeled, as encouraged by the Wilderness Act of 1964. They should be commended for their love of this land—a most impressive land.
"It is fortunate, perhaps, that no matter how intently one studies the hundred little dramas of the woods and meadows, one can never learn all of the salient facts about any one of them."  —Aldo Leopold
The Pacific Crest Trail challenges you to pause and consider its beauty.  Regardless of determined pace, it can arrest you to stop, observe, smell, and delight in its scenery—vistas that you may never have previously witnessed. To plod along without due consideration of a patch of colorful flowers, or the inquisitive lizard, or a couple of dueling ravens soaring on the thermals overhead, would be less than a complete immersion into your surroundings.
My observations of hikers is that they do take such measured action. They pause for deliberate reflection.  Quietly and almost reverently, they sense the span of geological time required to create this wonderland of flora, fauna and varied terrain. For do they truly know if they will have another chance to repeat this epic adventure?  While cameras capture these scenes for future reflection, it is only in this present moment that any true sense of direct association can be fully and tangibly perceived.  Indeed, we are a minority of citizens who are most fortunate to witness the land in this manner, all due to the winding course of our beloved Pacific Crest Trail.
"The love of all living creatures is the most noble attribute of man."  —Charles Darwin
In just over three weeks of hiking, my sense of compassion for human kindness and genuine goodwill has been rekindled. Hikers are quick to flash a smile, even if they are also grimacing under pain of a swelling blister. A friendly hello. A hearty good morning greeting. An offer to share some food or water. Encouragement to keep a steady pace up that slope. Warning of a rattlesnake lurking behind a pile of rocks. Friendly advice to reduce the weight of one's backpack. Exchanging impressions and observations noted during their hike, while enjoying a communal supper to conclude another day…another day of freedom.
One scene on the trail presented a stark contrast to this joy we hikers have enjoyed for the past 342 miles. I was struck by the total absence of freedom of a large grizzly bear. Sentenced to a chain-linked cage no longer than three body-lengths of this docile bruin, it helplessly paced back and forth. To and fro. Back and forth. Again and again. Unresponsive to my muffled hand claps. Unaware of my gentle voice. It was truly disheartening to see its facial expression of helplessness and resignation. Just ten paces from the trail, it was a misplaced scene in an otherwise tranquil community of towering ponderosa pines, blooming manzanita bushes, and polished granite boulder fields.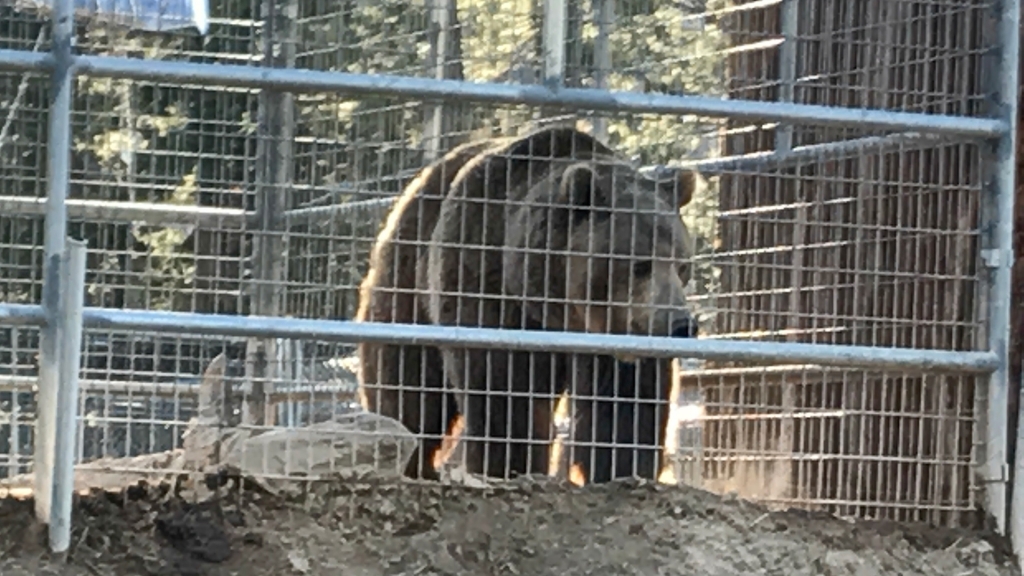 As I resumed my hike, the realization of how essential the Pacific Crest Trail is to habitat for countless species of wildlife was further reaffirmed. If not for the national forests and wilderness it intersects, perhaps we humans would be resigned to see wildlife only in artificial settings. We must never forget those visionary souls who had the foresight to preserve these special lands, and also demonstrated the necessary leadership and resolve to build these iconic trails.
"Thousands of tired, nerve-shaken, overcivilized people are beginning to find out that going to the mountains is going home; that wilderness is a necessity." —John Muir
So just how fortunate should my fellow hikers and I feel about commencing such a challenging, yet fulfilling hike? My vote is that we should truly celebrate completing no less than 342 miles upon reaching Cajon Pass. What a remarkable achievement! And why am I considering Cajon Pass? Similar to Interstate 10 further south, Cajon Pass is defined by interstate 15. Before hikers reach the modern support services of lodging and diners, they are greeted by a simple white monument honoring pioneers of the Santa Fe Trail. They walk on a small portion of historic Highway 66. And the constant drone of ten lanes of interstate traffic suggest yet again why we should feel honored to hike the Pacific Crest Trail.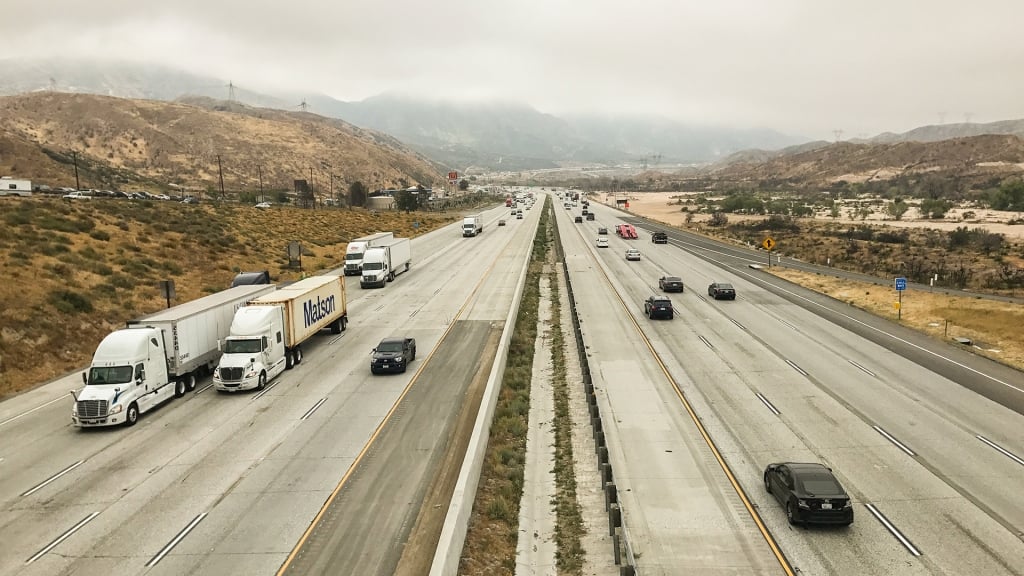 As the ageless wisdom of Muir proclaims, we do need to preserve wilderness, and have the means to access the tranquility it offers.  For within a century of time, consider how the rate of change has taken place as demonstrated by these varied trails and motorways through Cajon Pass.  (How will Cajon Pass appear in 100 years from today?)  I look forward to departing this place, after my earned reward of refreshment and rest, to the north side of Interstate 15, and resume my saunter for another 2,308 miles to Canada.  Oh Canada!