I've been following Ryosuke 'Sketch' Kawato (河戸良佑) on Instagram since he first hit the Pacific Crest Trail. I just love how he captures the beauty and the experience of the trail. With great spirit and generosity, he gave us a design of his and we put it on a t-shirt. We're thrilled to sell it in our store.
Let's meet Sketch. (I've edited his responses slightly for readability.)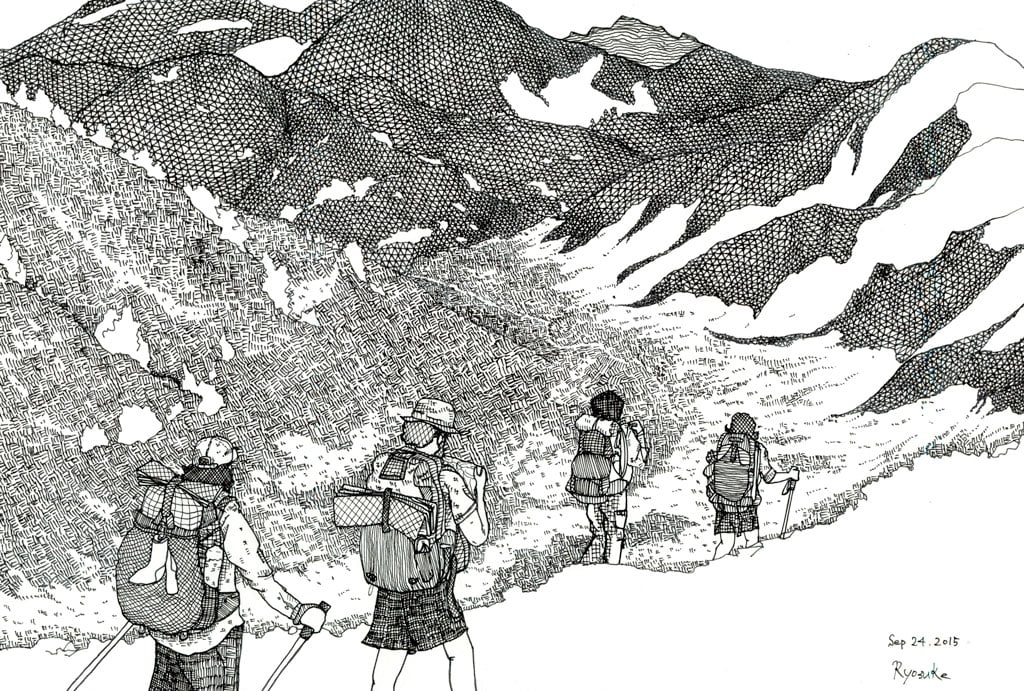 Can you tell us a little about yourself? Where do you live? Are you a professional artist?
I live in Japan and am a freelance illustrator. I thru-hiked the PCT in 2015. During my hike, I sketched many mountains and hiker trash and when I got back I continued my drawings.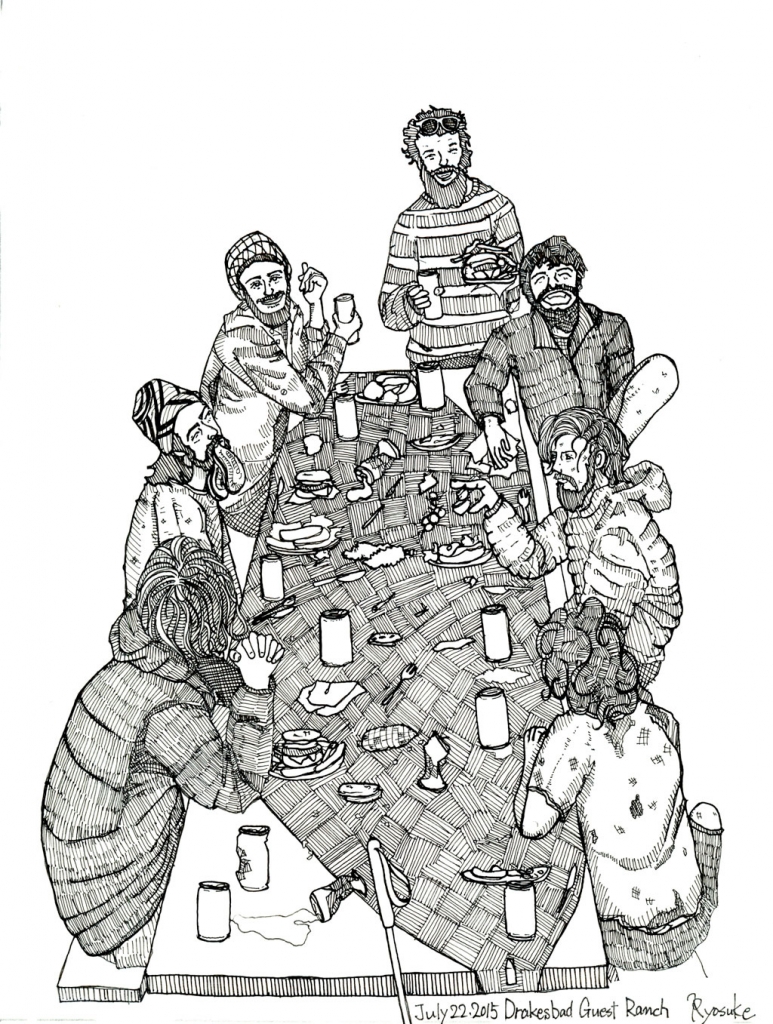 Why did you decide to thru-hike the Pacific Crest Trail? Where did you hear about it?
I have backpacked Asian countries since I was 20.
A while ago, I found an article about Pacific Crest Trail by chance in a book store. I knew I had to do it. In the magazine, I saw thru-hikers who were carrying all of the stuff that is necessary for living in a backpack. I thought this was an extreme backpacking style. I should try it! That is why I decided to thru-hike the PCT.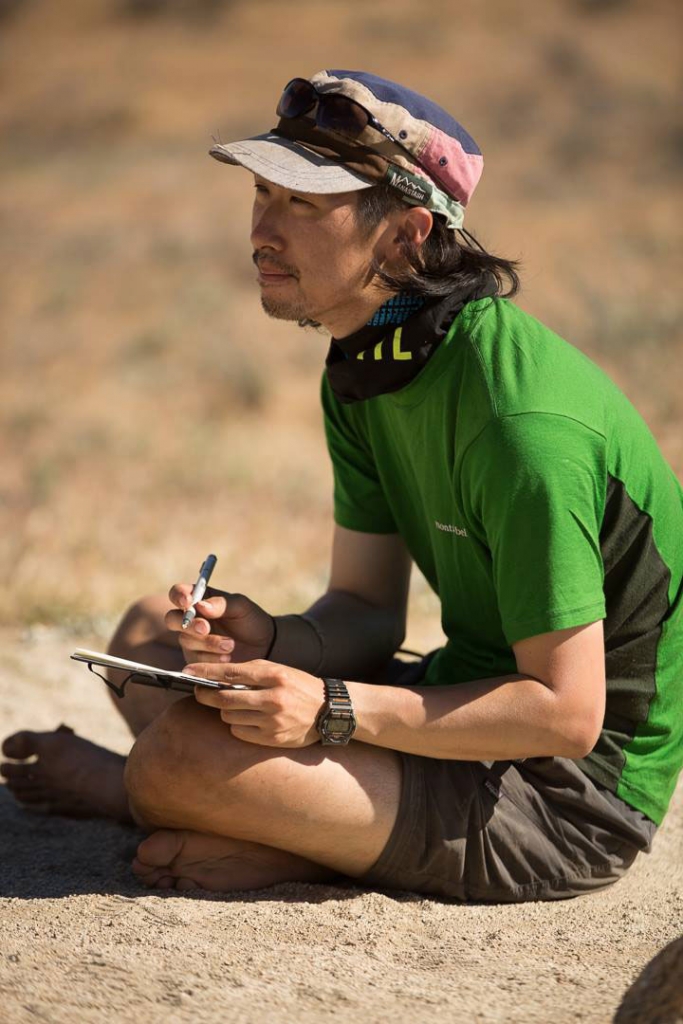 It was neat to see your sketches evolve and change along your hike. It really felt like we were traveling with you and could sense when you took longer breaks and lingered in places that you found special. What sort of reaction did you get while you were on the trail? Your trail name is "Sketch," surely other thru-hikers were interested in your art?
Before hiking I planned to sketch while taking coffee breaks on the trail. I could not do that because it was pretty busy every day. My hike was so social that I did not have long times for sketching. That is why I did quick drawings or just rough sketching. After that, I finished it in my tent. I did not really show my art to other hikers. Some hikers knew of my work from Instagram or Facebook. They were interested in them. My art helped me communicate with other hikers because my English is not so good.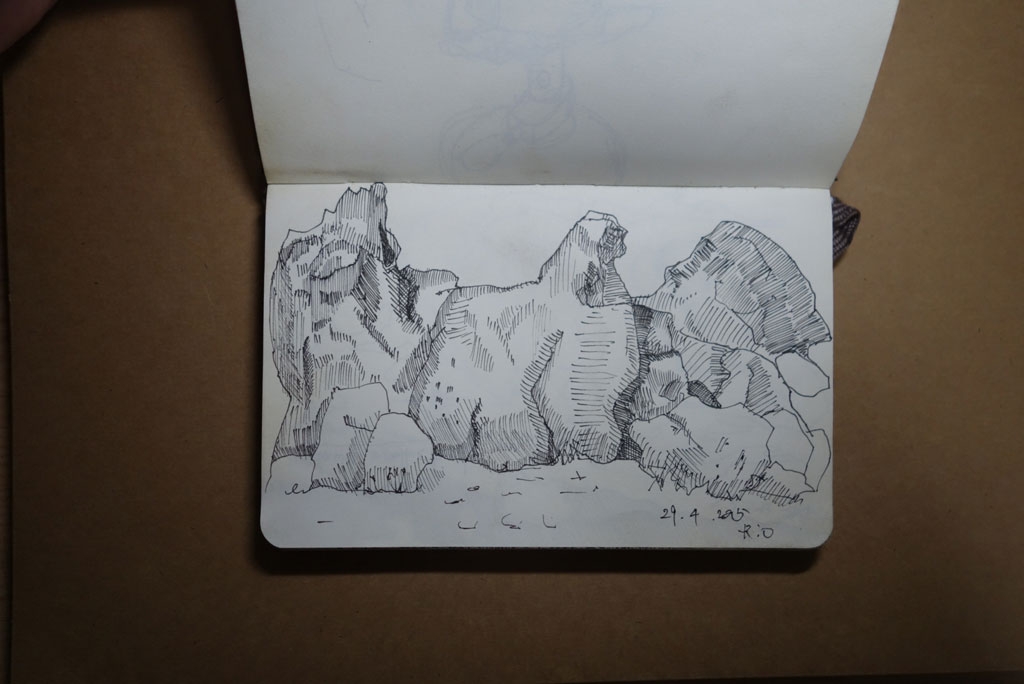 How did you decide which scenes to draw?
I just drew a picture while I was resting  and I thought that it was beautiful. I like it when the scenery is clear of clouds during a sketch. It's a great feeling.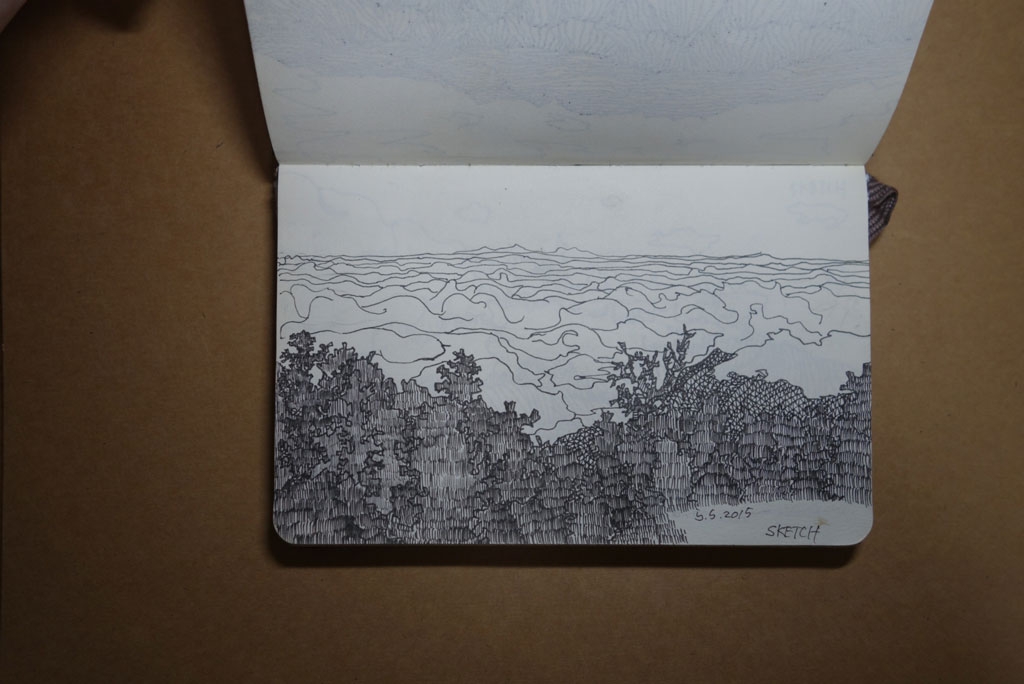 Did you hike mostly alone or with friends?
I mostly hiked alone. But sometimes I hiked with other thru-hikers or section hikers. I especially liked to hike with people who could play frisbee with me because I carried a nice one from Japan.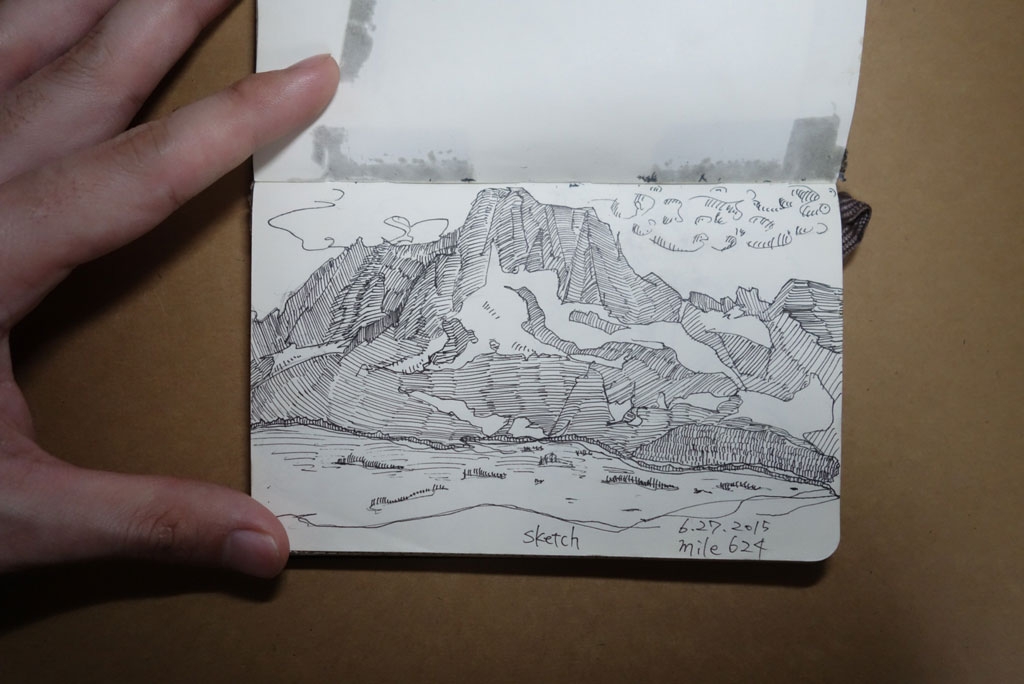 Can you tell us about your hike? Was it hard? Did you love it, or was it not what you were expecting? Any fun stories?
Hiking the PCT is a precious memory in my life. I knew real freedom for the first time. Sometimes it was exhausting, but it was not tough on me mentally.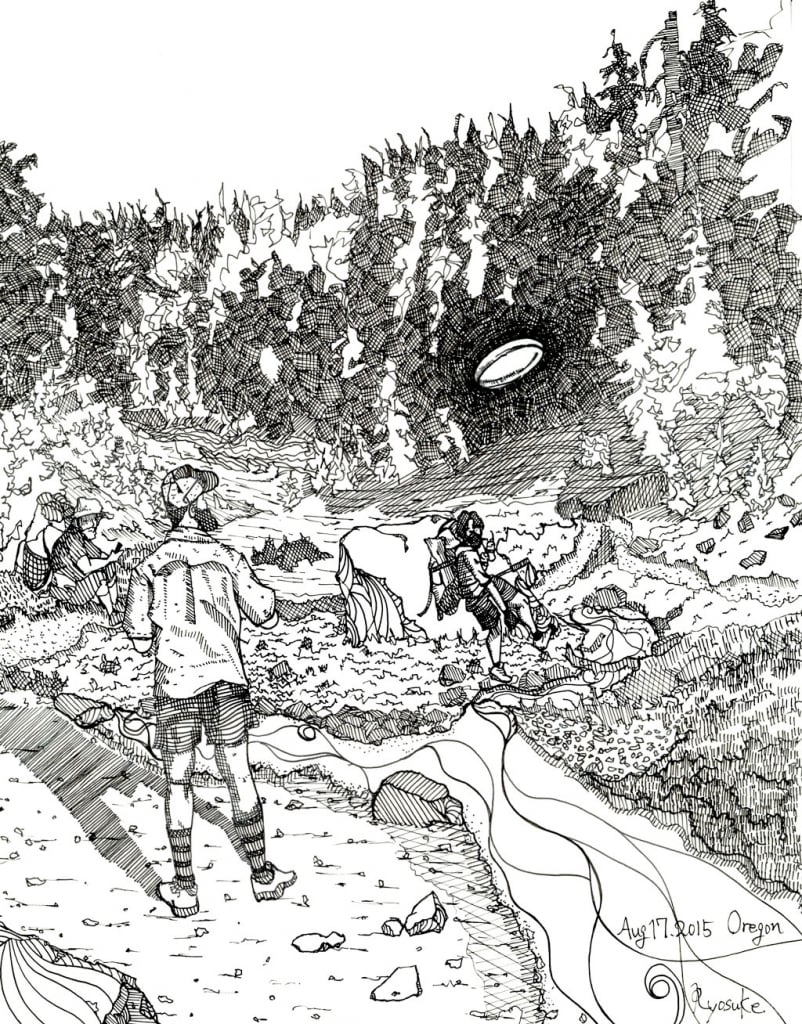 I really love and appreciate the PCT, hikers and trail angels. Actually I did not know much about PCT until I came to the U.S. I thought California didn't have rain and cold weather. But the day after the kick off party I got a terrible storm and I got snow before Wrightwood. I had to buy a new sleeping bag and rainwear.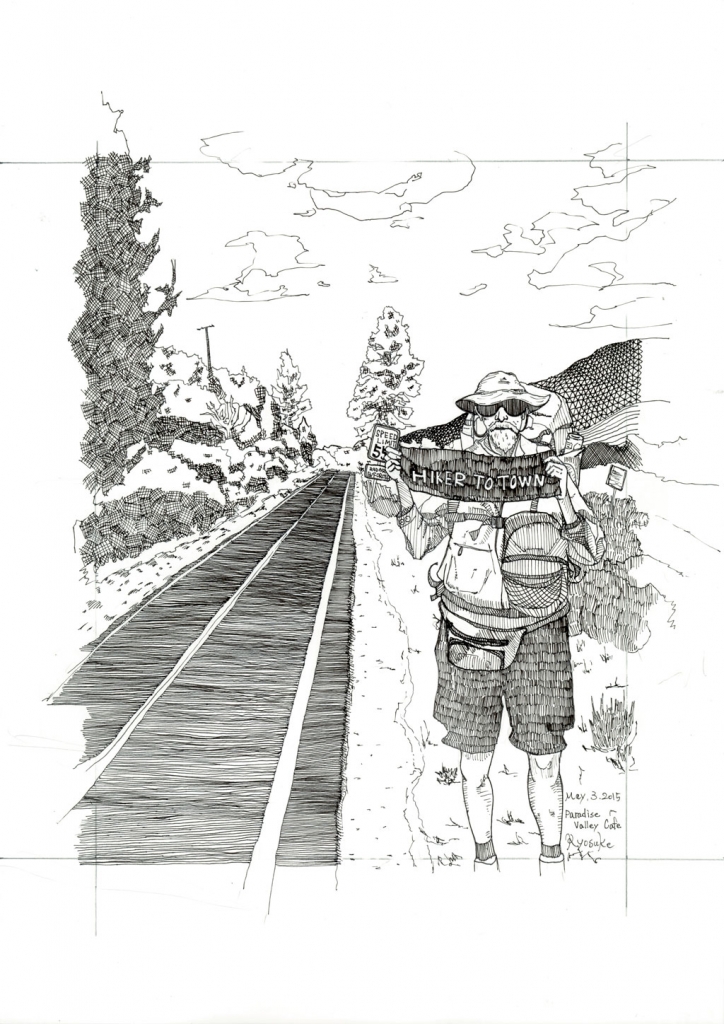 Another story is that I ate all of my food too early on the JMT. I still had 50 miles to Muir Trail Ranch. Some JMT hikers gave me a lot of food because I was eating wild onion beside the trail.
You're Japanese, but your English is fairly good. Were there any added challenges to hiking as a foreigner?
In fact, I am not good at English, but I can communicate with people on the trail because they are pretty kind and friendly.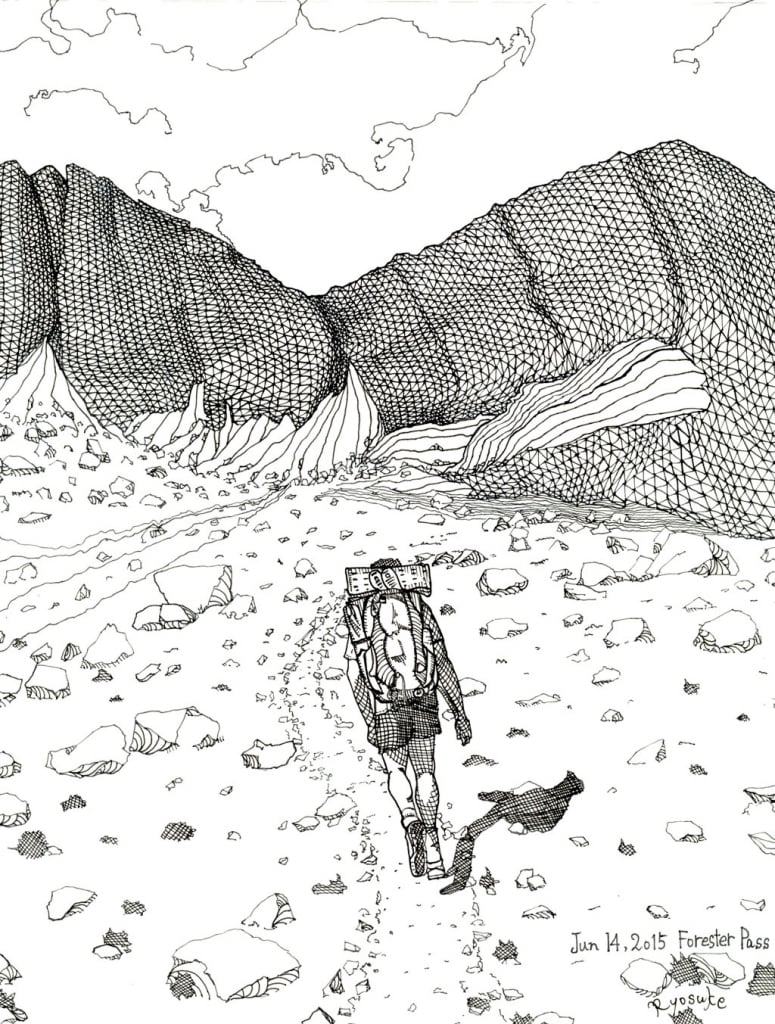 I never got home sick on the trail. I didn't have special hiking experience or knowledge. To join the PCT was a big challenge for me. I expected to get in a lot of trouble on the trail. But actually I didn't get any serious trouble. Mostly I did not feel stressed. I was lucky maybe.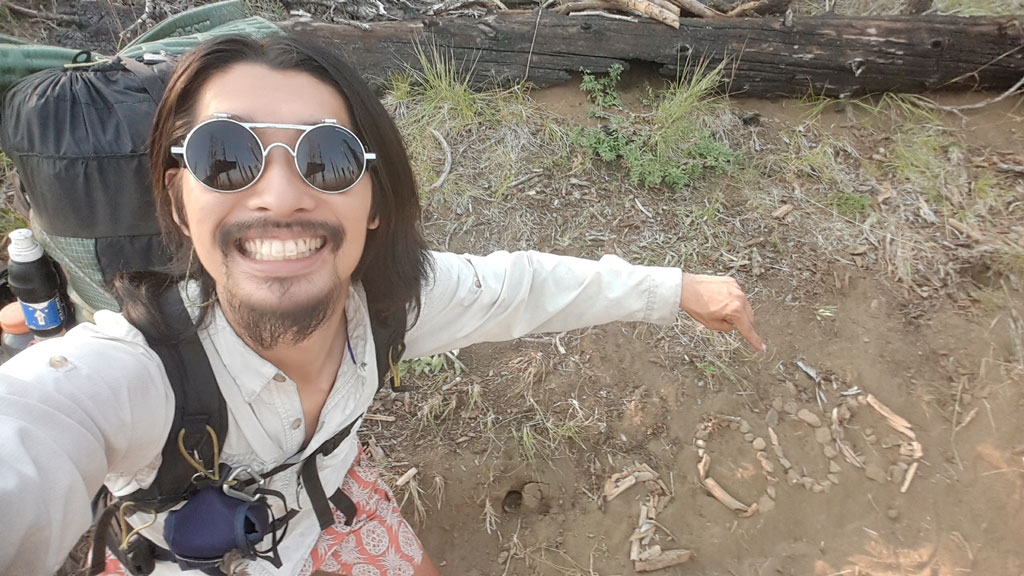 What are you up to these days? How do you keep your PCT experience with you?
The PCT really stays with me. Sometimes I remember a flash of gorgeous memory. I am planning to do the CDT this year but I do not have enough money yet. I am trying to sell my works and make money. Both things are my big new challenges.
How can we follow you? Website? Instagram?
I have an Instagram, Facebook, and a website. Take a look!