1st Place – Thru-rider on Knife's Edge by Clare Major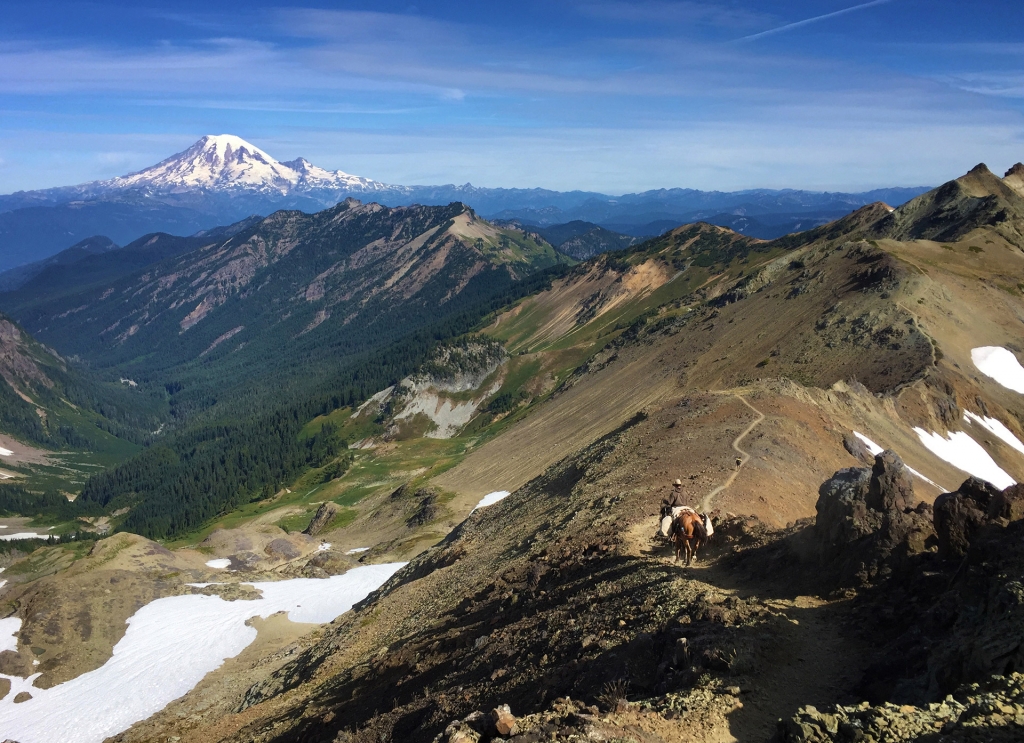 The majestic Pacific Crest Trail through the Goat Rocks Wilderness provides the backdrop for this year's top photograph in the Pacific Crest Trail Association's annual photo contest. Photographer Clare Major titled the picture "Thru-rider on Knife's Edge," but the image also shows a backpacker on the trail.
"We get a lot of really beautiful photos of the Goat Rocks Wilderness in the contest, but this one is unique in that it combines the elements of three contest categories," said lead judge David Thurber. "The photo is very well composed and not only illustrates the majesty of the PCT, but it also shows an equestrian and a backpacker sharing the trail (human spirit)."
The sizes of the equestrian and hiker were not lost on judge David Velasquez.
"It illustrates how small we really are in such a vast wilderness. Even so, we can have a huge impact on the preservation of the wilderness," he said.
2nd Place – Sara by Jennifer Gift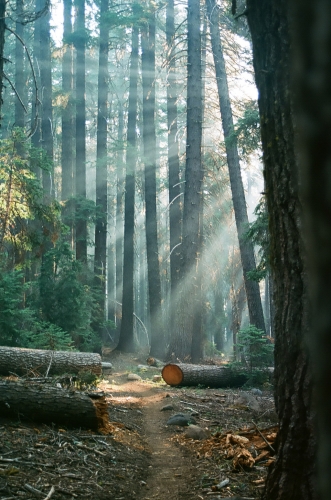 Jennifer Gift is the second-place overall winner for a picture she titled "Sara." The image captures sun filtering through trees with the rays focused on the PCT.
3rd Place – Butterflies on Hiking Pole by Larry Bettinger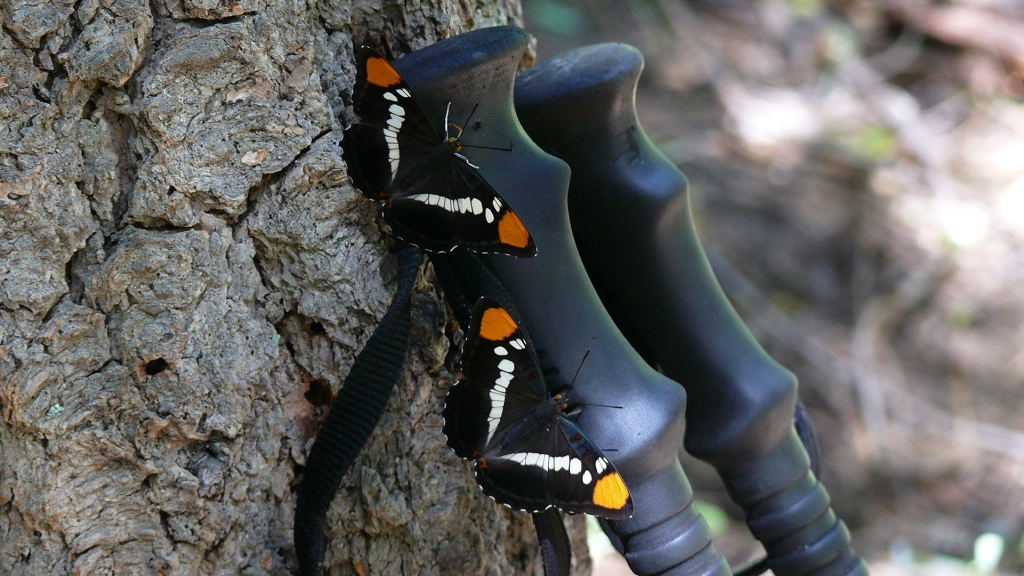 Larry Bettinger captured a unique image of two colorful butterflies that landed on his hiking poles to win the third prize overall.
Slideshow
Contest Judges
In addition of Thurber, a retired commercial photographer, and Velasquez, a professional photographer and former high school photography teacher, the judges included Roger Gong, a professional photographer and Madelyn Serpa, who describes herself as an amateur photographer.
Lee Terkelsen, a retired photography teacher and former editor of the PCT Communicator, has coordinated the judging since the first contest in 1995.
"More than a thousand entries in this year's contest made the judges' decisions very difficult," he said. "There were many great images that could have placed amongst the winners."
Thank you
The PCTA wishes to thank our volunteer judges for their effort. It's a gargantuan task to consider all your submissions. Special thanks to Lee Terkelsen for 23 years of volunteerism coordinating and judging this contest. Words cannot describe our appreciation, Lee.
Many thanks to our contest sponsor, LEKI. The company's dedication to conservation and outdoor recreation is amazing. LEKI provided prize packages totaling $1,000 that are being awarded to the top three overall winners.

Finally, to all our photographers, thanks for your contributions. Your photos will be used in perpetuity to promote the PCT and the important work we all are doing at the PCTA to protect the trail.
Here is the complete list of winners in each category:
OVERALL
First Place – $500 worth of LEKI gear — Thru-rider on Knife's Edge by Clare Major
Second Place – $300 worth of LEKI gear — Sara by Jennifer Gift
Third Place — $200 worth of LEKI gear — Butterflies on Hiking Pole by Larry Bettinger
MAJESTY
Stars of the Sierra by Dustin Stensland
Sierra Lake Reflection by Ellen Ballantine
Mount Jefferson Framed by Abel Rojas
Honorable mentions:
Washington's Beauty by Dustin Stensland
Fog on Grizzly Peak by Michael DeYoung
Ice Bridge South Fork Kings River by Martin Gatrost
Perspective by Ben Fullhart
Sunset at Hikertown by Ed Arnfield
Sunrise at Thousand Island Lake by Alexander Lee
HUMAN SPIRIT
Mystical Atmosphere by Natascha Birnboeck
Up and Over by Alex Brown
Seasonal Stream by Cody Howell
Honorable mentions:
Trail Takes Its Toll by Patty Duffy
Volcanic Rocks by Chloe-Landes-michelli
Into the Night by Justin Helmkamp
Siestas by Jennifer Gift
Speechless by Florian Astor
Sunrise by Amanda Morten
The Survivor by Maria Geraldine Ignacio
FLORA AND FAUNA
Leaf Spigot by Martin Gatrost
Butterfly by Rosemary Garcia
Curious Bear by Ed Lyons
Honorable mentions:
Skypilot by Clifton Reeder
Laura and the Lupines by Simon Prendergast
Dew on Fungus by Larry Bettinger
Trail Slug by Martin Gatrost
Comical Deer by Randy Godfrey
Deer at Sunset by Clifton Reeder
Anna's Hummingbird by Molly Elwell
EQUESTRIAN
Pack Train Passes Rae Lakes by Jennifer Johnson
Home on the Range by Cindy Whitaker
Saddle Break at Goat Rocks by Matthew Odierna
Honorable mentions:
Neighbors by Jennifer Gift
Horses by Rosemary Garcia
Packer Crosses Siberian Outpost by Marty Maine
No Left Turn by Jerry Heitzler
TRAIL WORK
After A Day of Trail Work by Dave Fleischman
Spreading Rocks in Cispus Basin by Clare Major
Giving Back by Maria Geraldine Ignacio
Honorable mentions:
Trail Crews Headed Back to Camp by Martin Gatrost
Shaping Your Journey by Cindy Whitaker
Logout Crew on the PCT by Mark Ainsworth
PCT Near Snowgrass Flats by Jeff Klay
Washington Trail Crew Workers by Michael DeYoung
Leaving a Trace by Anne Dios