Dear PCTA Community:
I'm proud to present our latest Strategic Plan. For the next four years, this plan will guide the Pacific Crest Trail Association in its mission to protect, preserve and promote the Pacific Crest Trail while strengthening our ability to meet ongoing and future challenges.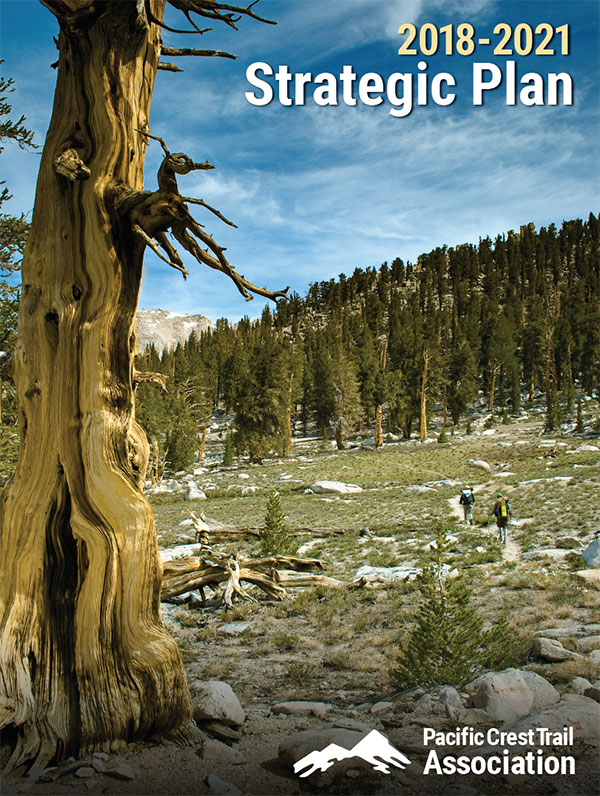 The plan, recently developed and approved by the PCTA Board of Directors, sets goals, priority objectives, success measures and strategies for seven work areas:
Trail protection through land acquisition
Trail Protection through land and trail management planning
Trail maintenance, construction and infrastructure
Awareness of the PCT and PCTA
Fundraising
Staff and volunteer resources
Partnership and relationship development
Even as we continually improve as an organization in our collective effort to advocate and care for the PCT, the accelerating pace of change and ongoing pressure on the trail and surrounding landscapes makes a clear strategic plan essential to keeping our work on track. As new challenges happen, our vision and values remain constant. That's why our strategic plan always has been—and will continue to be—a living, working document.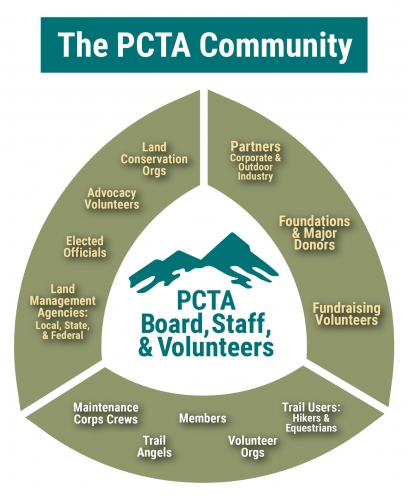 Think of the plan as a map that guides us as we push ahead into the unknown. Threats and pressures will arise and we'll consult this plan as we address them.
For example, since we introduced our last strategic plan in 2014, the trail has become famous around the world and the number of trail users has risen steadily. We are addressing related issues through collaboration with our partners in government agencies who manage the trail. In 2017, record snowfall made summer passage through the Sierra Nevada difficult and dangerous. Additionally, huge wildfires closed the trail at various times through much of its northern half, and many questions remain about the amount of damage to the trail and when it might reopen.
As challenges like these come up, we'll look to our goals and strategies to help us determine how to address them. Looking back at some of the goals in the previous four-year plan adopted in 2014, we can clearly see progress:
We committed to accelerating the pace of land protection along the PCT. Today we have a full-time director of land protection, and in 2016, permanently protected 2,612 acres of land along the trail, with other projects in the works.
We committed to maintaining the PCT experience through involvement with federal agencies that manage land along the trail. Today we have a deeper working relationship at all levels with our government partners and provide expertise that influences management plans impacting the PCT.
We committed to increasing awareness of the PCT and PCTA, especially in arenas where our interests and concerns are being discussed. Today we have our first full-time director of communications and marketing, a strengthened identity, and an expanded focus on advocacy for the PCT with elected officials and decision makers.
Taking care of the PCT is a community effort. It could not happen without each of you. We have done so much together, and we should be proud of the effort. This plan enables us to use our resources more effectively. We are well prepared to meet new challenges and improve our abilities, ensuring that the PCT experience will be there to inspire future generations of hikers and horseback riders.