Come fall and winter, trail maintenance heats up in Southern California. Over the last few weeks, volunteers and corps crews have been maintaining significant stretches of the southern 500 miles of trail. Here are just a few highlights:
Trail Gorillas: San Diego Chapter
Volunteers with the Trail Gorillas: San Diego Chapter tend to 77 miles of the PCT, from the Southern Terminus at the U.S.-Mexico border north to Scissors Crossing. In early November, 17 employees from TD Ameritrade spent a day maintaining and reconstructing trail tread, clearing overgrown brush and improving drainage along the trail.
This is the third year a team from TD Ameritrade has volunteered on the PCT, helped in part because the company pays every employee for up to eight hours of volunteer time per year.
Thank you to Richard Leahy, our San Diego Chapter Chair (and TD Ameritrade employee), Trail Crew Technical Advisor Landon Coates-Welsh and TD Ameritrade for all your efforts on the trail.
Trail Gorillas: Cajon Pass Chapter
Your Cajon Pass Chapter cares for the trail near (you guessed it) Cajon Pass! These Trail Gorillas are dedicated to 71 miles of the PCT, centered around the Interstate 15/Cajon Pass crossing.
On Saturday, Nov. 9, in the company of 20 volunteers, the Cajon Pass Chapter hosted its final large project of the 2019 season. The group maintained 1.5 miles of trail that day. Volunteers removed trash, repaired damaged trail tread, improved drainage and reconstructed trail sections erased by small slides.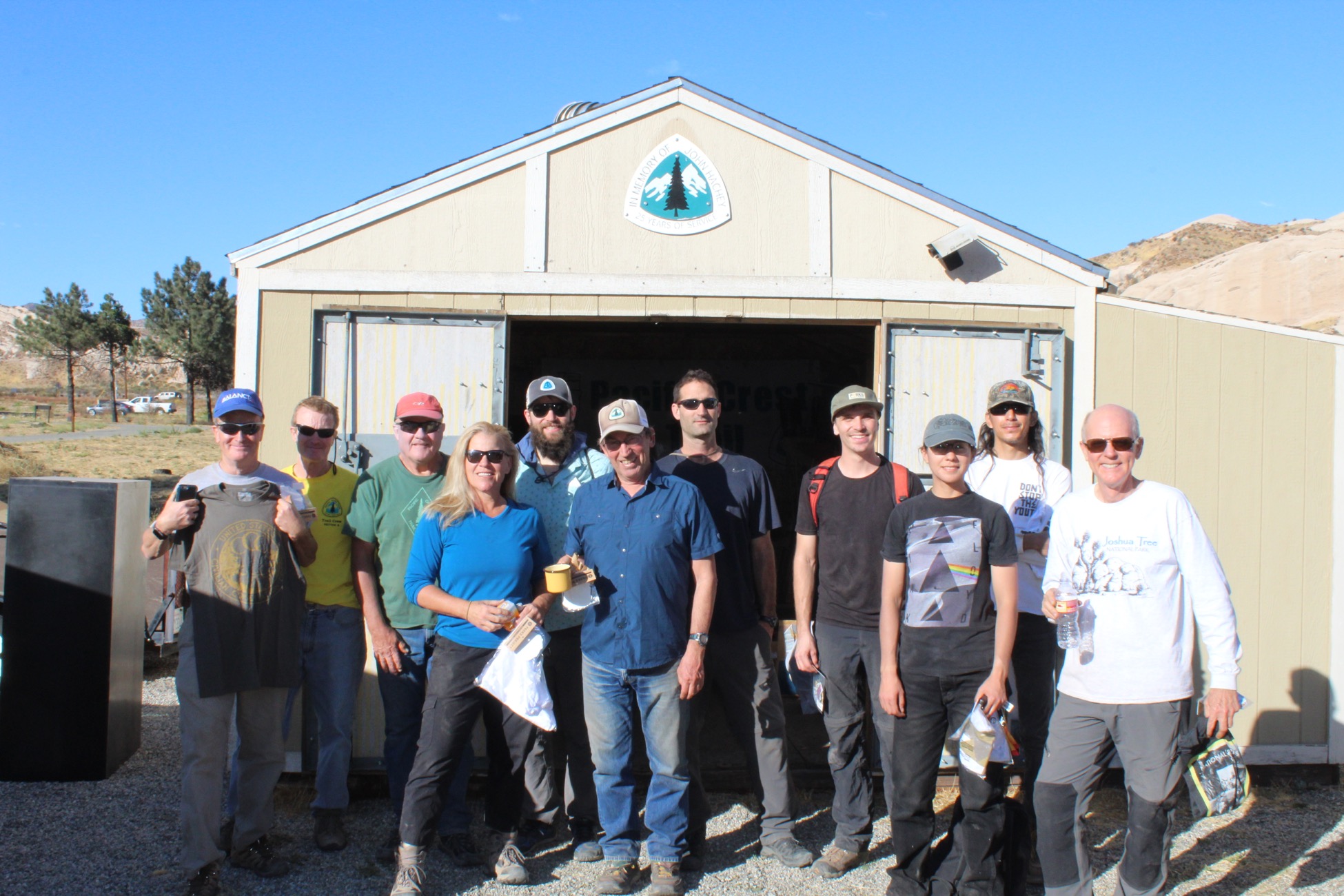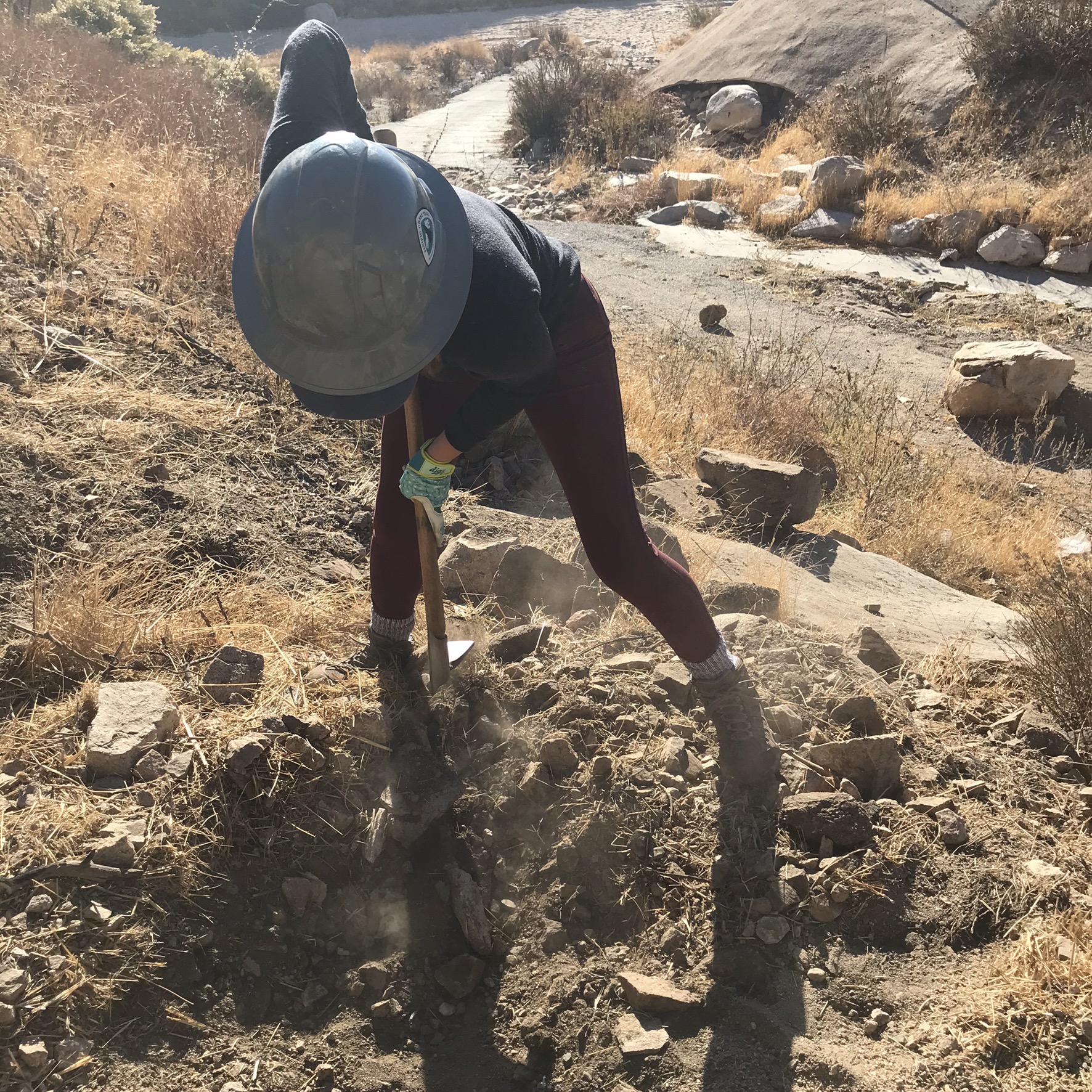 The Cajon Pass Chapter traditionally dedicates one Saturday each month to major trail projects near Mormon Rocks. These are great opportunities for first-time volunteers to try their hand at trail work. Come January, expect to see their 2020 schedule on our website!
The Cajon Pass Chapter experienced big changes this year when longtime and beloved Trail Gorilla, John Hachey, passed away in April. Many thanks to John's fellow volunteer leaders, especially Tim Morris, Bill Karp and Jim Banks, for carrying on his legacy and leading the Cajon Pass Chapter during this difficult time.
Trail Gorillas: L.A. Gateway Chapter
Volunteers with the Trail Gorillas: L.A. Gateway Chapter help maintain 73 miles of the PCT from Soledad Canyon Road to Highway 138. Over the course of a week in October, 19 volunteers dedicated nearly 800 hours of sweat equity (!) into a .75 mile stretch of trail that was rapidly eroding.
Volunteers spent a significant portion of the week building drainage structures at eight water crossings. The drainage structures, comprised of concrete "dog bones" and rock fill, help stabilize the trail so that as water flows through and doesn't wash the trail away.
Volunteers spent hours excavating each of the eight drainages, transporting and assembling multiple (heavy!) "dog bones" per drain, quarrying and crushing enough rock to fill between the "dog bones" and installing larger stone rip rap where water will exit each structure. No small feat!
In addition to building the "dog bone" structures, the Trail Gorillas installed 13 rock steps, six rolling dips, cleared heavy brush and performed the annual tread maintenance across the entire .75 mile stretch. Many thanks to LA Gateway Chapter Chair Jim Richter for coordinating and leading this great effort!
American Conservation Experience
Since April, two American Conservation Experience (ACE) crews have been traveling the state of California, restoring the PCT. We've shared a few of their stories along the way:
The crews wrapped up their PCT season on Oct. 30, but not before completing a masterful and much-needed 19 step (!) stone staircase along the PCT access trail, reestablishing the route from Whitewater Preserve to adjacent BLM lands, the Sand to Snow National Monument, the San Gorgonio Wilderness and the PCT.
Much of the PCT access trail was washed away in the Valentine's Day storm. When the crews returned to Southern California in the fall, the PCTA, Wildlands Conservancy staff, BLM staff and ACE determined they'd build a hardened staircase structure to remediate a steep wash out.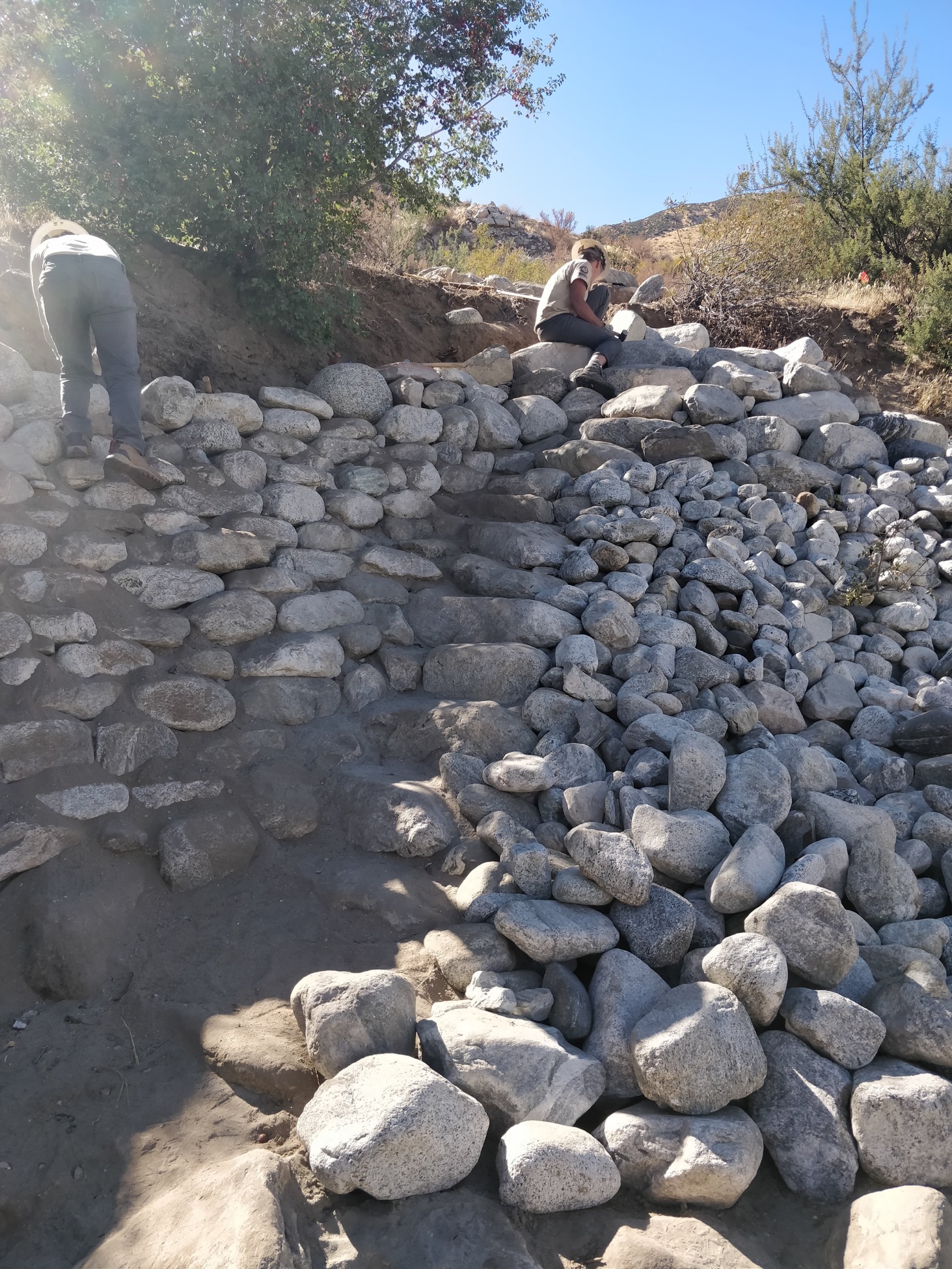 Over the final 16 days of their PCT season, the crew built 16 tiers of retaining wall with a step for every tier, totaling 2,058 cubic feet of stone. In addition to the retaining wall and steps, the structure included significant backslope retention and rip rap armoring.
"The crew did such an amazing job on rebuilding the trail and the construction of their epic staircase and retaining structure," said Lucas Wilgers, Assistant Preserve Manager. "We get compliments every day and are quick to inform folks of who built it for us and the public."
Thanks in part to ACE's work, Whitewater Preserve recently reopened to the public.
Trail Skills College
The PCTA hosts free training events annually along the trail at which volunteers learn and refine their trail skills. Trail Skills Colleges are taught by professionals and volunteer leaders who have extensive trails and leadership experience.
In November, we organized seven day-long Trail Skills Colleges in Southern California, and 30 volunteers joined us! Volunteers chose from the following classes:
100 Intro to Trail Maintenance was available for first-time volunteers interested in learning the basics of trail maintenance
201 Drainage Design and Drain Dips helped experienced trail maintainers gain a better understanding of hillside hydrology, drainage principles and how to "think like water"
203 Waterbars and Checks built on those hillside hydrology and drainage principles and taught advanced trail maintainers how and where to construct effective rock waterbars and checks, including safe quarrying and transport of rock and safe use of rock bars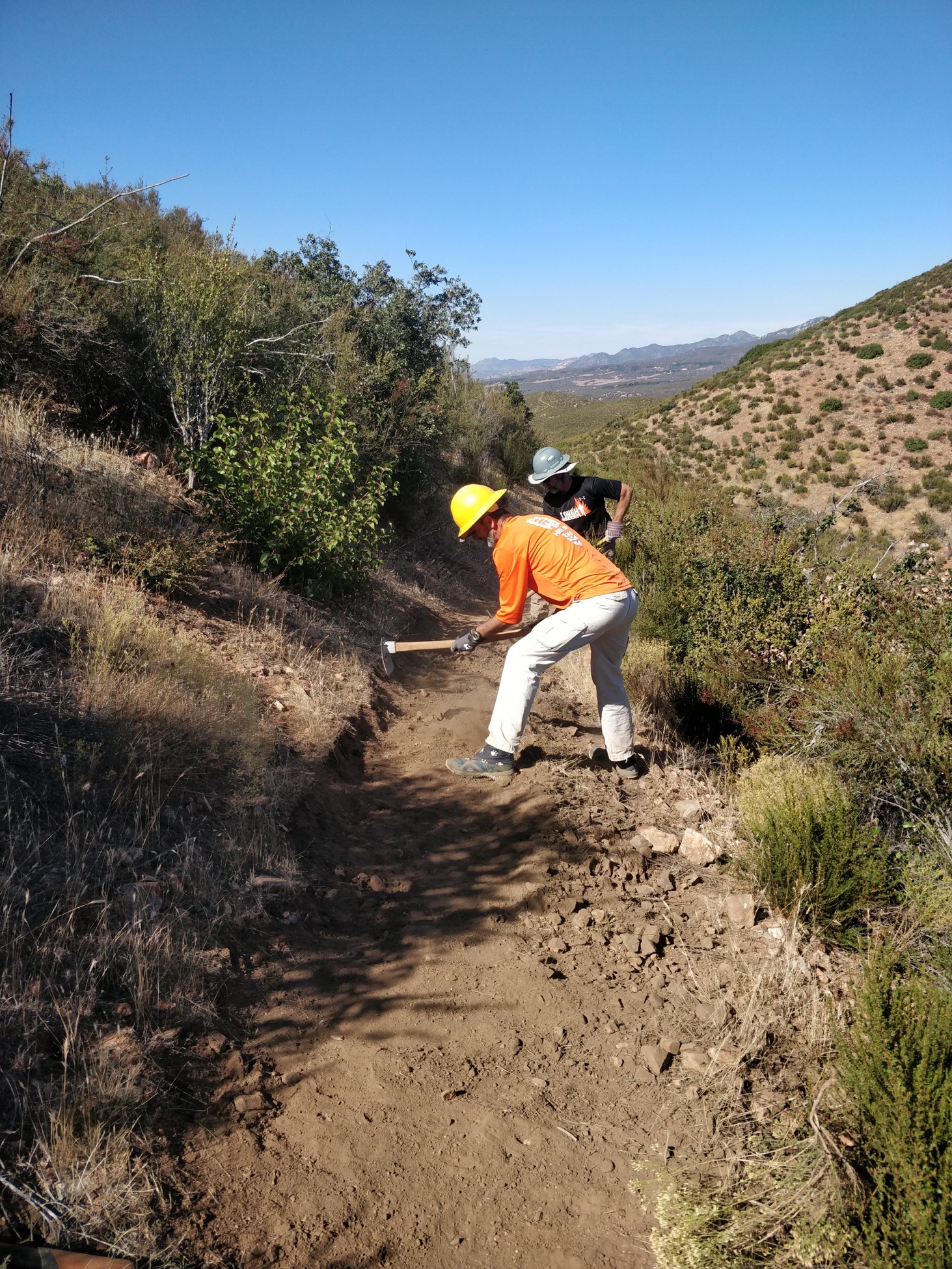 Many thanks to Landon Coates-Welsh, our lead instructor and Trail Crew Technical Advisor, for providing these important trainings. And thank you to the Southern California volunteer community for joining us!
Environmental Charter School
The Environmental Charter High School (ECHS) is an award-winning, public school in southern Los Angeles that educates and prepares students for four-year colleges using the environment as a lens for real-life learning.
Each year, students strengthen their understanding and application of environmental practices through sustainability-minded coursework, service learning, internships and capstone projects related to social or environmental issues. Since 2007, ECHS students have volunteered on the Pacific Crest Trail during weekend service projects.
In November, 22 students spent a weekend camping and maintaining the trail. All together they dedicated 485 hours to rehabilitating a half-mile of trail. For many students, this was their first experience hiking and camping. We look forward to seeing more students on the trail in spring!
Thank you to the Southern California volunteers who help ensure the southern 500 miles of trail are open and safe for hikers and equestrians. Many thanks to our Southern California agency partners, too, including the U.S. Forest Service, Bureau of Land Management, and California State Parks.
***
To get involved, fill out a volunteer application and visit the online schedule to find upcoming opportunities.