Nothing matters more than your safe return from the PCT. Be prepared. Please take the trail's dangers seriously. Understand and manage the risks so you can get out safely. We're so grateful to Doug for turning his tragedy into a lesson for us all.
A son's newfound passion for hiking
My son Trevor, a computer science major at The Ohio State University had just shared with me that he wanted to graduate early and hike the Pacific Crest Trail.
I knew he loved hiking. He was introduced to it in Yosemite National Park in the summer of 2016. After seeing nature in all its glory, he went from seeing a world in black and white to one that was filled with vibrant colors.
It was a passion that took me years to understand and appreciate. Trevor loved hiking, and I loved spending time with him, so inevitably, hiking became our "thing."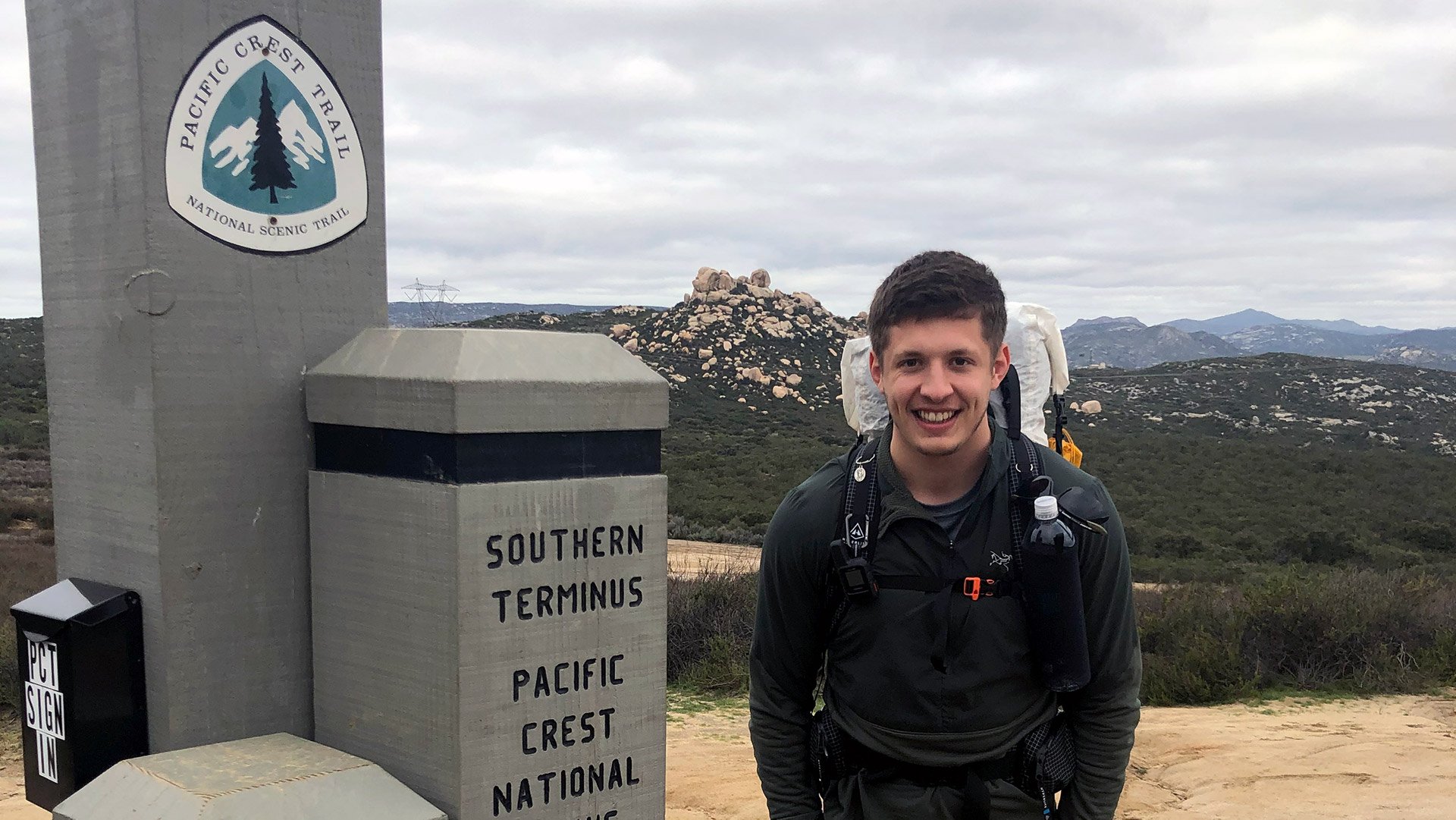 But when Trevor told me that he wanted to delay the start of his career (he had a job offer at Microsoft) to hike the PCT, I did not get on board with that plan. At least not right away. "Are you crazy? Who's going to pay for this? Get a job and start paying off those student loans." If I continued to "slow play" his request and push him towards his career, I was confident that others would communicate the absurdity of this dream and it would die. Boy was I wrong.
His urge to hike the PCT got stronger. It only intensified during weekend trips to the Smoky Mountains with his friend Chandler.
Drawn in by the PCT experience
I too was a graduate of Ohio State where I joined Delta Upsilon. Chris Lichtenberg became my "little brother" in the fraternity. We went our separate ways, but Facebook brought us back together. Like Trevor, he planned to hike the PCT too.
Chris started in April 2019 and blogged about it. He posted daily with a photo or two. I wanted to do some recon and learn more about thru-hiking the PCT so I followed along. If my college buddy wanted to do it, perhaps it wasn't such a crazy idea after all. One day Chris mentioned another hiker: an overweight, 400 lb. thru-hiker who had the energy to light up a room. I began religiously watching the YouTube channel of "Second Chance", who became a sensation.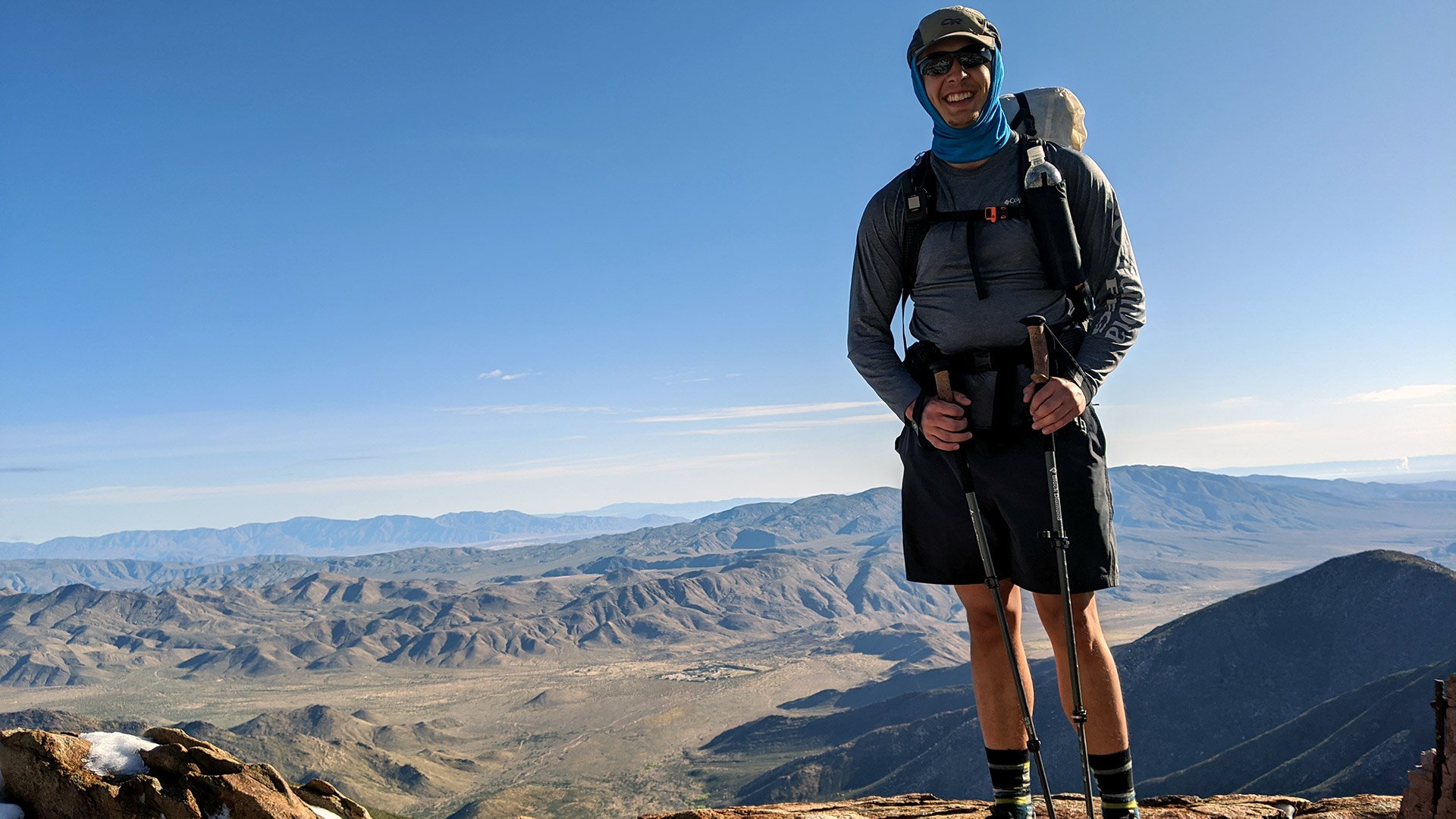 He was likeable, honest and transparent about his experience. The further Second Chance hiked, the more I watched. The more I watched, the more intrigued I became with the PCT. Every evening was spent immersing myself into the hiking culture through YouTube. Suddenly, I had this incredible urge to see my son hike the PCT. I was all in! If Trevor was going to hike it, I was going to be his trail manager.
Planning for Trevor's 2020 thru-hike
I obsessed about the PCT. I watched gear reviews, read books, researched clothing and started purchasing all of the ultralight gear Trevor would need. He was well on his way to a successful thru-hike.
We spent countless hours planning. We planned his resupply strategy, strategized about difficult sections like Fuller Ridge, secured everything he would need and went on training hikes together. He was in the shape of his life and I knew he was going to succeed. If it's even possible, I wanted the PCT for him more than he wanted it for himself.
A convergence of dangers
Trevor started on March 16, 2020. He hiked to Lake Morena on day one and made it to Mount Laguna by day three. He hiked through snowy mountains and desert heat right from the start. He bypassed Julian because of the new virus, COVID-19. He had a beer at Montezuma Valley Market, hiked to Eagle Rock and charged his batteries in Warner Springs. He stayed at a trail angel's and grabbed a burrito at Paradise Valley Cafe. He was having the time of his life.
On March 26, Trevor and his new friends left the cafe for the long, steep and dangerous climb into the San Jacinto Mountains. He texted me saying they hit 6,100 feet and were heading back into snow. Trevor slept that night at mile 166.5, near where the Fobes Saddle Trail hits the PCT.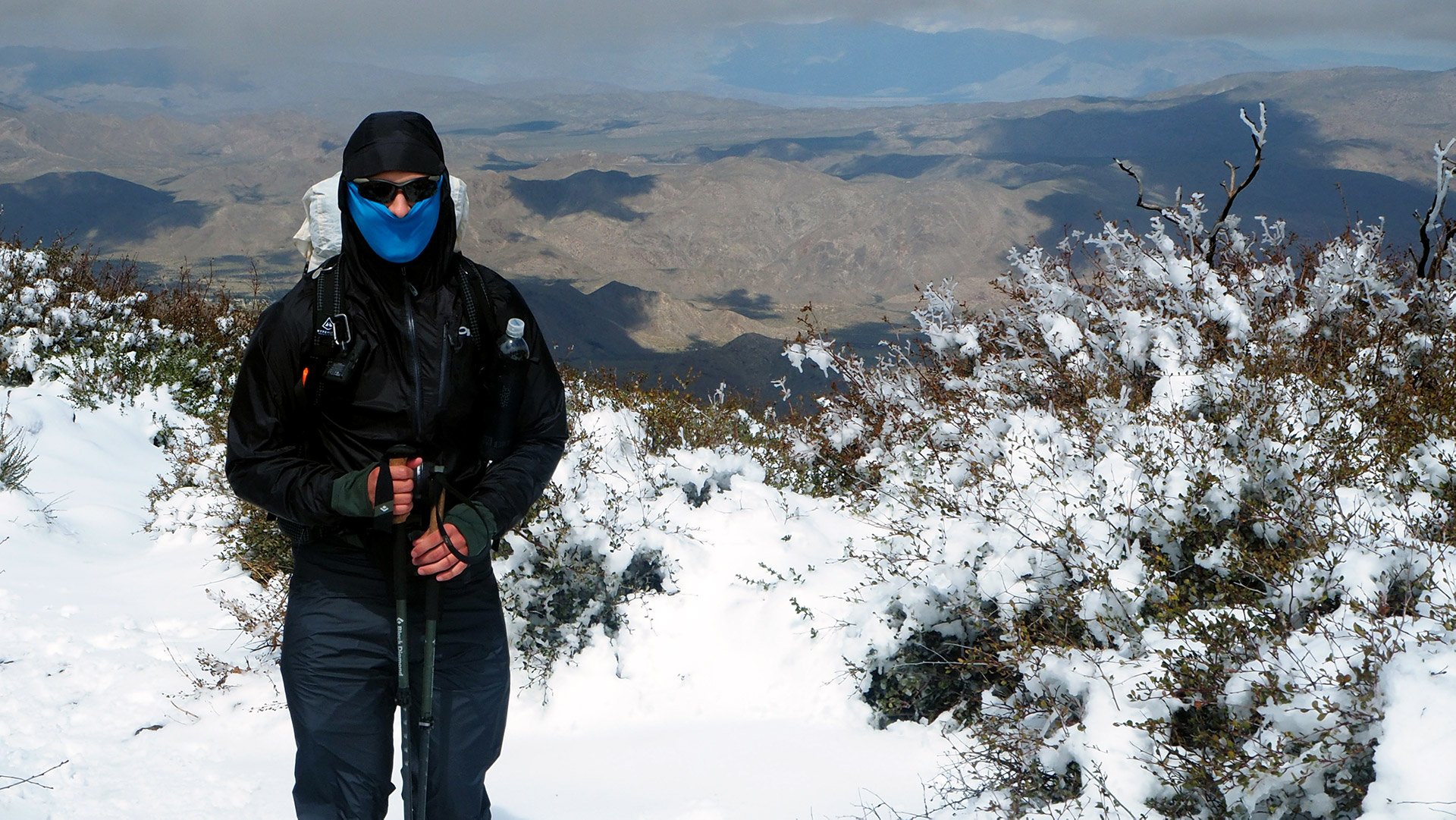 It snowed 3-4 inches. On March 27, 2020, Trevor crawled out of his tent like he had done every morning for the last 10 days, packed up all of his worldly belongings and was off to Idyllwild. He planned to take a day off, like so many other thru-hikers have done before.
It was a wintry morning. The winds were fierce, blowing low clouds over the Desert Divide. It was still snowing when they got to the Spitler Peak Trail at just after 9:00 a.m.
In recent years, the Spitler Peak Trail served as a detour for hikers wanting to make their way into Idyllwild as a section of the PCT had been closed because of forest fires. Forever into the future, I hope everyone remembers it as the last bail-out point before what is often steep, dangerous snow up ahead.
Tragedy
After more climbing, Trevor and his "trail family" arrived at Apache Peak under blue skies. Relieved, a flat section came to view wrapping around the north-east face of the mountain. The PCT, no more than 2 feet wide, was cut into the side of the mountain with a very steep drop-off. The trail was barely visible. It was covered with fresh snow, which my son probably didn't know covered a sheet of ice. That's common in the area when snow melts during the day and refreezes at night.
Before his hike, Trevor and I were laser-focused on his pack weight. We were obsessed by ounces. While we would never compromise safety, we were confident he would not need his ice axe or crampons until Fuller Ridge. They were waiting for him at the Idyllwild Post Office, just 15 miles ahead.
With no snow safety equipment, Trevor and his friends proceeded across the slope of Apache Peak. The fresh snow covered the ice and creating an illusion of strong footholds. Hiking single file and 50 feet apart, Trevor and his two partners were confident, yet cautious.
In an instant, Trevor was gone.
Trevor slipped on snow-covered ice and fell down a 600-foot chute. He had been doing what he loved: living his dream on the PCT far above Palm Springs. In seconds, he lay motionless on the mountain. My son, Trevor, succumbed to his injuries before search and rescue could get to him.
Questions and what-ifs
I've seen photos of the accident site taken by the rescuers. While confident and competent, Trevor had no business traversing extremely steep snow slopes—especially with no safety equipment to prevent or catch a fall. But that is what the PCT holds at that time of year.
Trevor's death has been the most painful, difficult, agonizing thing to ever happen to my family.
"Why wasn't it me? How could this happen? What if COVID-19 had hit 10 days sooner and he cancelled his hike?" I ask myself these questions every day. I know there is no answer, and I know I will ask the same questions again tomorrow.
Most days I drift, merely existing in a world when everyone else is living. This Christmas was like hiking through a fog. My brain didn't need to remind my heart that Trevor was no longer; my inner soul simply knew. I've had visions of a world where I am no longer able to experience happiness. Maybe the best I can hope for is to occasionally feel good.
But this helps: the idea that Trevor's death didn't happen in vain. There must be something good that rises from our tragedy.
My mission: prevent further accidents on the PCT
Since the accident, I've devoted my time to helping hikers. I've been on podcasts, written articles and volunteered with nonprofits. My purpose is to make sure this never happens to another hiker.
Our thru-hiking community has showered me in condolences, telling me that Trevor's story has saved their life or changed their mindset while on the trail. You are my new family whom I must protect.
Messages like this get me out of bed, "You will never know the lives you've impacted, but it doesn't mean you've had no impact by sharing Trevor's story. How many lives will you/he save? You'll nag people for the next several years to bring their 'spikes and ice axe' into the early peaks because 'that's what you do'. You will never know, but the universe will know. Trevor will know. You'll just have to wait until you meet again when he can tell you how many." – Divemaster Tracy, December 19, 2020.
Trevor and I discussed trail safety at length, but it was often one-sided. "I've got this Dad," and to his mother he would recite safety statistics: "There's only been twelve deaths. The likelihood of something happening to me is astronomically small. It's safer than driving to work." The worst scenario didn't just happen, it became our reality.
As you prepare for your next hike, wherever it is and whatever the distance, I beg you: allow Trevor's story to keep you alive.
I beg you: allow Trevor's story to keep you alive
Don't roll your eyes like Trevor did, as though I'm lecturing. These tips very well could save your life.
Never cut weight from your pack at the expense of safety. Go light, but make sure you have what is necessary. Know how to use your gear: they are tools that may save your life.
Carry an emergency beacon. They can save critical time if something goes wrong and they can take the "search" out of "search and rescue". But don't let your caution slip because you have a beacon. Don't take extra risks because of it. Rescue might come too late or might not be enough.
Learn how to navigate and read the landscape and the conditions. Carry paper maps, a compass and a smartphone with digital maps already loaded. These tools and this knowledge is critical.
Communicate with loved ones at least every town stop and let them know where you are and when and where you will check in from town next. Create a communication plan. Let family/friends know that if they don't hear from you after "x" number of days, call for help.
Hiking with others is safer. While that didn't save Trevor, his friends were still able to call for help immediately. If not for them, we'd still be out in the wilderness searching for our son.
Research and prepare carefully. Don't just watch videos from last year. Research incidents on the PCT over the course of several years. Because of forest fires, trail closures and different weather conditions, the trail changes from year-to-year. Part of the reason we didn't know about the dangers of the Desert Divide and Apache Peak was because it had been closed from 2013-2017. Some of the hikers I watched on YouTube bypassed Apache Peak and hitched into Idyllwild. We just didn't know how dangerous it could be.
Jon King's San Jacinto Trail Report is an immense resource for the area and is dedicated to the safe passage of PCT hikers. Share it with others.
Most hikers won't know they're in danger until they're in danger. Exercise good risk management strategies while on the trail. If your skillset is not commensurate with the conditions ahead, don't go forward! Turn around or find a way around. Apache Peak, Fuller Ridge, fording rivers in the Sierra or the Knife's Edge in the Goat Rocks Wilderness are just a few of the perpetually dangerous situations that can crop up on the PCT. Even if you don't hike every step, you're still a thru-hiker in my book.
Your #1 goal should always be to return home safely. As a friend once said, "you can't finish the trail if you don't finish the section".
Join Doug Laher in improving trail safety
If you'd like to join in my efforts to save lives on the PCT, I can be reached at [email protected], on Facebook or on Instagram. I'd like to thank all of the volunteers who have helped, and I'd like to encourage you to pitch in too. Special thanks to PCTA's trail maintainers, the volunteers and staff of Riverside County Search & Rescue Unit who helped recover Trevor and showed me so much care, and the Fowler-O'Sullivan Foundation, founded by and to support fellow families who have lost children on the PCT.
Stay safe everyone and remember… see the danger ahead and make a decision to turn back or go around.
Safety awareness is one of your best lines of defense and your brain provides one of your best weapons. Please click over to the trail safety portion of our website.