Since 2017, Bend, Oregon-based Hydro Flask's Parks For All program has donated $1.9 million in grants to nonprofit organizations focused on building, maintaining, restoring, and providing better access to parks and the outdoors. Among these grant recipients is the PCTA—and we're thrilled to announce the release of a Limited Edition Scenic Trails Bottle Series. Sales of the bottles supports the stewardship of three legendary scenic trails: the Pacific Crest Trail, the Continental Divide Trail, and the Appalachian Trail.
Through their Parks for All program, Hydro Flask donates $1 per bottle, up to $65,000, towards the stewardship of three of America's longest scenic trails by supporting the Pacific Crest Trail Association, the Appalachian Trail Conservancy and the Continental Divide Trail Coalition.
Developed in partnership with each trail organization, the bottles are offered in two sizes with simplified map designs featuring iconic scenery and wildlife. Each bottle includes the elegant touch of the trail's path engraved through the design, showing the bottle color beneath.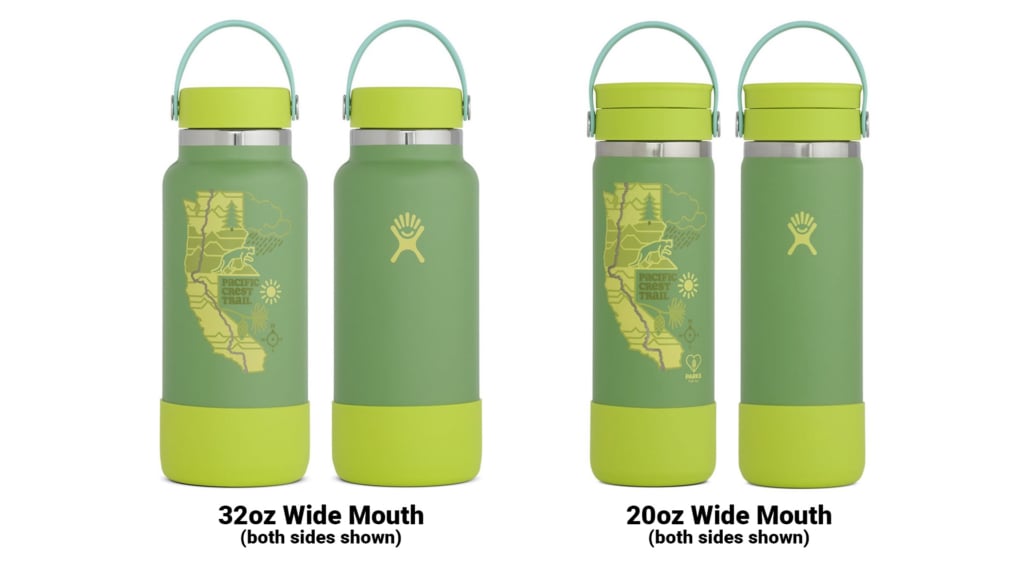 "Hydro Flask has been a generous corporate partner," says Angie Williamson, PCTA's director of philanthropy. "We've received two grants from them through their Parks For All program, with a total value of $65,000. These grants were in support of our volunteer trail crews and Trail Skills Colleges. We're grateful for their support, and with each of the PCT bottles sold, that support just continues to grow." Thank you Hydro Flask!
To see all of Hydro Flask's stainless steel water bottles, go to https://www.hydroflask.com/bottles