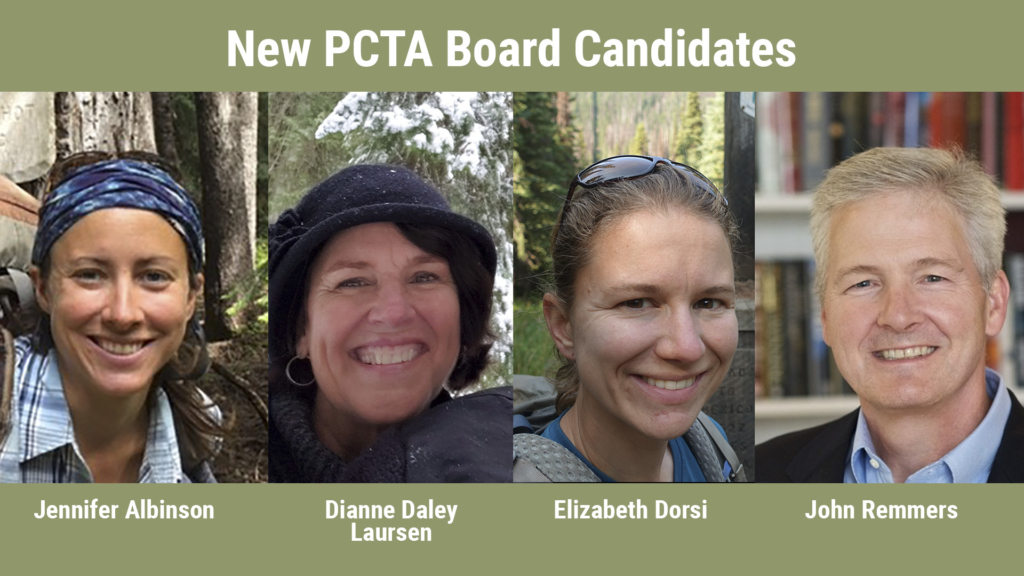 We're excited to announce four new candidates for the PCTA Board of Directors. Each of these accomplished individuals brings a passion for the PCT and a depth of experience that can benefit the organization—from long-distance hiking and conservation to federal land management agencies and law.
Appointed to partial terms by the board in January to fill vacancies, each candidate will be presented for election to full three-year terms by members via a ballot in the spring issue of the PCT Communicator magazine.
Jennifer Albinson – Sacramento, California
An East Coast transplant who found her home in Northern California, Jennifer and her husband have thru-hiked the PCT one and a half times, including a full border-to-border hike in 2016, with a few "zeros" in the middle for their wedding in Sierra City. Jennifer is a manager at McKinsey & Company. She was previously a teacher in San Francisco and Oakland. Jennifer loves camping with her family and is proud to say that both her daughters were sleeping in tents by the time they were 3 months old.
"I'm deeply passionate about the trail and the life-changing experiences it can afford," says Jennifer. "As a former educator in low-income communities, I'm likewise passionate about broadening access to outdoor recreation to diverse and underserved communities. And as an American citizen and parent, I care deeply about our public lands and ensuring their protection. I'd love to help think through and advise on how the PCTA can safeguard and expand access to this national treasure for generations to come."
Dianne Daley Laursen – Moscow, Idaho
Dianne had a 22-year career in natural resources working for industry, the State of Montana, the US Fish and Wildlife Service and the US Forest Service. Her favorite assignments included positions with the Interagency Grizzly Bear Committee, liaison to the Appalachian Mountain Club and national operations director for the Smokey Bear and Woodsy Owl programs. Dianne is the recipient of a US Forest Service Wilderness Award and Montana Forester of the Year. Additionally, she was a project manager for large international climate change grants for the University of Idaho and Washington State University. She is a member of the Chickasaw Nation. Her passions include community volunteering, travelling, and spending time with her husband and two college age children outdoors.
"I was very fortunate that my vocation matched my passion and love for the outdoors, especially wilderness areas," says Dianne. "I want wilderness experiences and nationally designated trails to be available for generations to come. The possibility of serving the PCTA ignites my fire, as it would align my volunteer service with my passions. I am most interested in nurturing collaborations, development of new partnerships, and especially interested in improving access to the PCT for diverse communities."
Elizabeth Dorsi – Mill Valley, California
Elizabeth grew up on the Central Coast of California going on family vacations to state and national parks. Her love of hiking and backpacking blossomed when she moved to the San Francisco Bay Area for college and intensified when she learned that her backpack didn't need to weigh 30 pounds. In 2017, she took a break from practicing law and thru-hiked the PCT. She quickly learned that it's hard to beat a sunrise on the PCT and looks forward to the opportunity to enjoy more in the years to come. She is currently an attorney practicing business litigation at Farella Braun + Martel LLP.
"Thru-hiking the PCT was a life-changing experience for me," says Elizabeth. "The PCTA's role in facilitating my thru-hike was invaluable, from providing a single-stop permitting process to conveying information regarding trail conditions and emergency closures. I am most interested in exploring how the PCTA interfaces with current and aspiring hikers. Playing a role in strategic planning for the PCTA offers a powerful way for me to serve the PCT and future hikers so that others can have the same life-changing experience as I did."
John Remmers – Pewaukee, Wisconsin
John is a business executive with 35 years of experience in medical devices, as well as building and consumer products. He serves on numerous non-profit, university, and economic development boards. John's passion for the outdoors and the PCT started at a young age with backpacking trips to Philmont Scout Ranch, later progressing to Outward Bound and the John Muir Trail. He and his wife, Cathy, are passionate section hikers of the PCT and have enjoyed sharing the experience with small groups of family and friends. John is a graduate of Missouri University of Science and Technology and University of Chicago's Booth School of Business.
"This is an opportunity to connect my passion for backpacking with service," says John, "and the opportunity to give back for many years of PCT enjoyment. I traveled to Philmont at age thirteen with the Boy Scouts and have been a backpacker ever since. This is the first time since college that I have sought a board member role rather than serve by invitation. I am most interested in trail preservation and maintenance, and it would be great to work with a group of people with a shared passion for the PCT."