On March 3, the USDA Forest Service took the rare action of closing the entire San Bernardino National Forest in California—adding to a previous closure of Mount San Jacinto State Park and Wilderness. The closures included more than 800,000 acres of land and 212 miles of the Pacific Crest Trail. The decision was unpopular with some winter recreationists but was done out of caution and concern for public safety in what has been one of the biggest snowfalls in Southern California history.
On February 26, an incredibly rare avalanche rolling down the slopes of Mount San Jacinto was captured on video, and two teenage hikers in the San Bernardino Mountains were rescued from an area with 5-foot snow drifts.
According to U.C. Berkeley's Central Sierra Snow Lab, 2023 is the 5th biggest snow year on record at the lab's Donner Pass location since the lab began tracking in 1946. Snow continues to fall at the pass.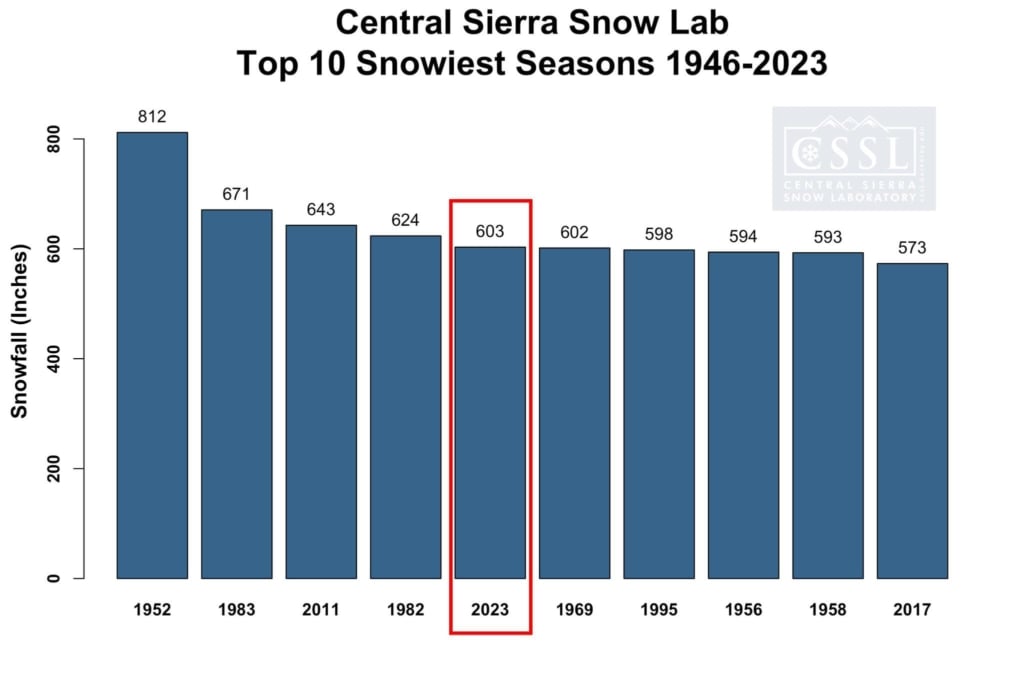 While winter can be a fantastic time to snowshoe and cross-country ski on the PCT, this year's snowfall has been destructive to people in trail communities in the San Bernardino Mountains like Crestline (roughly 4 miles south of the PCT) and Idyllwild (roughly 3 miles from the PCT), where the roofs of local businesses collapsed under the weight of snow and communities were isolated for several days until roads could be cleared. Impacts from record snowfall are also being experienced throughout the entire Sierra Nevada Range and the Lake Tahoe region.
On the first of March, just as long-distance hikers prepared to head north on the PCT from the Southern Terminus in Campo, California, many had to postpone their hikes. "We recognize that people have planned for months and made sacrifices to start their PCT journeys, only to find those plans suddenly up in the air," says Justin Kooyman, Acting Director of Trail Operations.
"The PCTA encourages everyone to make good decisions regarding trail conditions and travel within their level of skill and experience. If someone isn't comfortable with snow travel, they should change their plans. Having a PCT long-distance permit doesn't require you to use it.  You can change your schedule, get local permits where required, and still have a great hike on the PCT."
The Pacific Crest Trail exists on extremely steep slopes in avalanche terrain on Mount San Jacinto. Many hikers have ignored the risks in the past and been seriously injured or have tragically passed away. Winter travel requires extreme caution even when conditions improve because the snow pack is deep. San Jacinto will likely remain the realm of mountaineers and serious winter travelers much later than normal this year.
In fact, deep snow conditions will remain on most of the trail all the way to Canada well into July. While snowfall has been higher than average in California, snow on the PCT isn't unusual—and anyone traveling the trail has to be prepared for it. [Learn more about snow safety on our website.]
As of Friday, March 11, flood watches and wind advisories are in effect in many places along the PCT in Southern and Central California as another series of atmospheric rivers dump warm rainfall onto already deep snow. Later in the season—in May, June, and July—snowmelt will result in particularly dangerous stream crossings along the PCT. [Read more about stream crossing safety and avalanche danger on our website.]
While trail maintenance is a core part of the PCTA's work, volunteer crews will be delayed this season. In many places they won't be able to begin trail maintenance until mid-summer at best. And for the first time in many years, those delays will also apply to normally snow-free sections of the trail in Southern California.