"Climber had a passion for adventure. Andrea Basque… died last week in a climbing accident on Dragontail Peak in the Alpine Lakes Wilderness near Leavenworth, Washington." The Oregonian, Portland, Oregon, August 13, 2008.
Do you recall? The last Communicator introduced new PCTA Board member Andrea Basque. On these pages, Liz Bergeron, Pacific Crest Trail Association (PCTA) Executive Director, lauded "Andy," a 1994 and 1995 PCT thru-hiker. She was a volunteer Pacific Crest Trail (PCT) lobbyist who twice traveled to Washington, D.C., for the PCTA's Hike the Hill advocacy week. No one dreamed that the Communicator's next words about Andy would be headed "In Memoriam." On Thursday, August 7, 2008, Andy Basque fell nearly 300 feet to her death. She was 45 years old.
"All of us on the PCTA Board are in a state of shock. We've lost a family member, friend, thru-hiker, and voice for the trail," says PCTA Board member, Henry Shires.
Who was Andy Basque? Under the high vaulted ceiling of Cheatham Hall at Portland's World Forestry Center, 300 gathered for an answer. Andy's Memorial Service was standing room only. All had traveled though unseasonable 100-degree heat. Three hundred, it's an auspicious number for two bookends of Andy's life — climbing and hiking. In climbing, 300 will summit Everest this year. In hiking, 300 set out to thru-hike the PCT this spring. On Everest, just as at the PCT's start, all are rapt, focused. So too were the 300 at Andy's memorial. I remember thinking "Did two hours really just pass?"
Who was Andy Basque? Andy was Jeff Gamer's wife. When Andy returned from the Peace Corps in Mali, she told Jeff she wanted to hike the PCT. He wasn't about to see her go off solo again. So, 14 summers ago they spent their honeymoon thru-hiking the PCT. Andy was a favorite aunt. One of Andy's nieces was living with her when she died. Andy was the friend who'd dote on your kids, the one who never slowly drifted away because she had no kids of her own. Andy was a fervent recycler. Andy sewed her own gear, much of it in patterns more akin to sleepwear than REI khaki. Friends would ask, "Andy, are you climbing in your pajamas again?" Andy could hold her own in the button-down world, in the halls of Congress, in a PCTA board room, and in the Dilbert-like cubicles of Intel and Arthur Anderson.
She found her last great passion in 2002. She and Jeff took a Mazamas mountaineering club climbing class. Climbing instructor Mike Holman recalls that in a class of 45, Andy was the best.
Who was Andy Basque? She was an avid sportswoman, one who was just as much at home in a racing shell, on a horse saddle, and on a bike seat as she was clipped in to a rock face snug in her climbing harness. Of late, Andy had shed the business world, devoting the last years to climbing, to her aging mother, to friends and family, and of course to her causes. She and Jeff at one point set a goal of donating 100 hours every year to the Mazamas, teaching rock climbing and mountaineering. We were so lucky that high among Andy's causes was our own Pacific Crest Trail Association.
"You don't always reach the peak. That's why it's called climbing, not summiting," Andy said in July during her last hike on the PCT.
Andy set out climbing on Thursday, August 7th. Dragontail Peak is seven miles east of the PCT. Andy and Jeff had climbed it just the weekend prior. Andy knew the peak's 15 steep pitches and she wanted to tackle them again. On the approach, before the first pitch, a six-foot boulder barred her way. A "wrinkle in the granite," Jeff called it. Andy's climbing partner asked if she wanted to rope up. Andy flashed him a grin. All of us who knew her know that infectious grin. I think it meant "No, I can climb this." Andy stepped up with her left foot and her right hand broke free of the granite wrinkle. She tumbled backward, her heavy pack catapulting her down the 20-degree slope and over the cliff's edge. Andy fell… "it's called climbing, not summiting."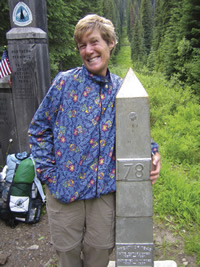 Three days before her death, Andy sent this e-mail to the parents of a young adult climber: "I have been meaning to tell you that I went out climbing with [your son] last week. Not that you need to mention this to him, in fact, probably better if you don't — climber's code of coolness does not include reporting to parents… — but I wanted you to know that he is a very safe and careful climber and very competent. I know my Mom used to worry so much about me going off and doing all these things and I think if she had just had someone tell her I was being safe and was good at what I was doing, she would have felt a little better."
I can't end without saying that Andy had a wide prankster streak. She was not above sneaking a rock into a fellow hiker's or climber's pack. But to label Andy a puckish imp is like calling Leglolas, from The Lord of the Rings, a mere elf. Andy, like Legolas, was fiercely competitive, a fearless protector of the little folk around her, and she was intensely loyal to her fellowship, be it climbers, hikers, schoolmates, or family.

Please trust me, dear reader, these are not just glowing words for the dead. I last wrote glowingly about Andy online two weeks before her death. My wife and I hiked with Andy in early July. We were lucky. For five days it was just the three of us in the North Cascades on the PCT. Here is a portion of my journal from that hike: "Andy leaves me hard choices. The question is,what do I most extol about her? Is it Andy's climbing and snow travel skills? My gosh, she teaches the stuff, and she dances on the snow-covered trail like Cinderella in the Ice Capades. Is it Andy's font of stories? She casts out an endless web of tales." I know Andy read this before she died. Just days before heading up Dragontail Peak, Andy thanked us for the "kind comments" and with wry tongue firmly planted in her cheek, continued "Jeff thinks you must have hiked with some other person named Andy."
I confess. Writing this was hard. I so wanted to capture Andy, to let you know who Andy was and how much she will be missed. I wanted to write something one last time that Andy would have read and said, "Thanks for the kind words; you must have been writing about some other Andy."
Jeff has this request to family and friends. "Andy wouldn't want you to send flowers; instead, you can send a donation 'In memory of Andy Basque' to the Pacific Crest Trail Association. And, if you want to do more, go out and plant a tree in Andy's name, and send a picture of it to me."
By Barney "Scout" Mann
---
Cedar Mill woman was experienced climber; August 12, 2008