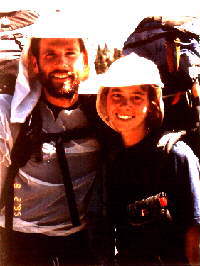 Members of the Pacific Crest Trail Association today joined all those who seek to find themselves and adventure on the 2,638 mile trail in mourning the deaths near Pearblossom last Sunday, November 19, 1995, of Jane and Flicka Rodman, two young long distance hikers from Worcester, Massachusetts.
Speaking for members, PCTA President Ben York, said "Our hearts go out to the Rodmans' families. How tragic that these two young people, having hiked through high streams and snow-filled passes at elevations up to 13,180 feet above sea level, would meet their demise in the flatlands of southern California."
According to the association, Jane and Flicka reversed the usual hike and started at the Canadian border instead of at Campo on the Mexican border. They began their hike in July and hiked south, allowing this year's unusually heavy Sierra snows to melt ahead of their arrival.
As "through hikers," they had traveled approximately 2100 miles of the Pacific Crest Trail. They had left the trail, apparently trying to catch up with another southbound couple who were a few days ahead of them. While walking eastward on a path along Highway 138, some distance from the trail itself, they were struck and killed by a driver who lost control of his westbound vehicle.
Some of the couple's family members are planning to finish the hike to the Mexican border in their memory.
A memorial fund has been established by the PCTA in Jane and Flicka's name. Interest earned by the fund will be used to further the work of the PCTA, primarily to maintain the Pacific Crest Trail and promote its use by individuals from around the world.