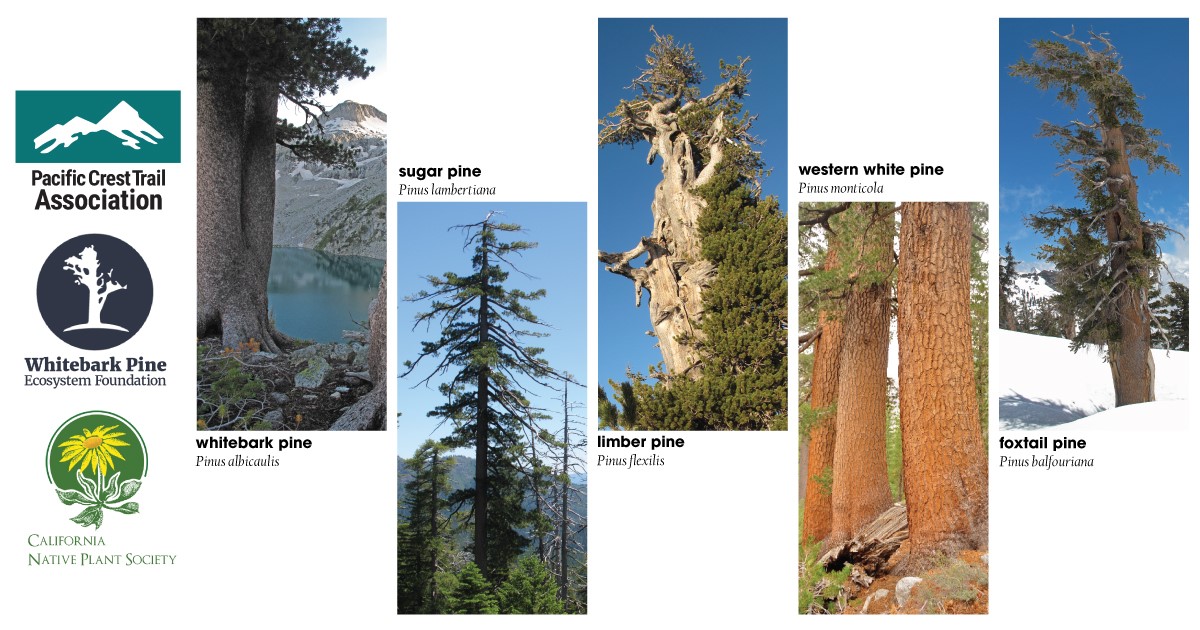 All is not well with the five-needle pines of western North America. Let's help them.
Five-needle pines along the trail include the sugar pine, limber pine, foxtail pine, whitebark pine and western white pine. Crucial to their mountain ecosystems, these trees face an uncertain future, and scientists are trying to learn more.
You can help and are invited
PCTA has partnered with the California Native Plant Society and Whitebark Pine Ecosystem Foundation to raise awareness about the plight of five-needle pines and conduct this community science project. The goal is to get thru-hikers, section-hikers, and everyone who visits the Pacific Crest Trail to map and inventory five-needle pines along the PCT.
By participating, you will help increase awareness of the changes affecting our world while improving connections to nature. Working together to document what's happening is a positive step toward recovery.

Watch the project kickoff webinar to learn more
Read the full article announcing the project
The forests along the length of the PCT showcase unparalleled conifer diversity – for trail users who are tree aware – and are home to about 10% of the world's conifer species. Click the image below to read the full project feature that was published in our Communicator Magazine.
How to participate in the "5-Needle Project"
Join iNaturalist and put the app on your phone. You can upload photos from your phone to the app or from a camera to iNaturalist using your computer at home.
Join the "5-Needle Pines Along the Pacific Crest Trail" project.
Take pictures of five-needle pines along the PCT. Include the whole tree, bark, and needle close-ups clearly showing the number of needles per bundle and cones (if present). If you don't see cones, look closely around the base of the tree for cone fragments and photograph those (if present). If the tree is showing signs of decline like top or branch dieback, include a picture of that, too.
Upload the photos for each of your tree observations to iNaturalist. Once an observation is uploaded, scroll down on the observation page and click on "Projects" on the right-hand side of the screen. Select the "5-Needle Pines Along the Pacific Crest Trail Project". You can learn more about adding observations to iNaturalist projects here.
Do your best to identify trees (use our nifty identification guide (PDF)) to the species level – but don't worry, experts and iNaturalist can help with the right pictures.
Spend even more time on the trail and add more observations. Thank you!
Resources