Quality PCT maps are essential for anyone who hikes on the trail. Information changes frequently and you should assume that your map isn't 100% accurate.
Carry paper maps while on the PCT
Please carry paper maps. Smartphones are great but they break and their batteries die. Maps are a safety tool.
National Geographic PCT maps
The National Geographic Maps series of 11 Pacific Crest Trail map booklets are convenient, detailed, up-to-date and designed for use on the trail. They are made in partnership with PCTA. Waterproof and tear-resistant, they include information on water sources, resupply options, camping, road crossings and more.
Each 3-ounce map booklet covers a 240-260 mile section of trail, with two-page map spreads showing a 10-mile wide corridor, along with elevation profiles. These maps are the evolution of the famed Halfmile Maps.
They sport a 1:75,000 scale (1 inch = 1.2 miles).
U.S. Forest Service PCT maps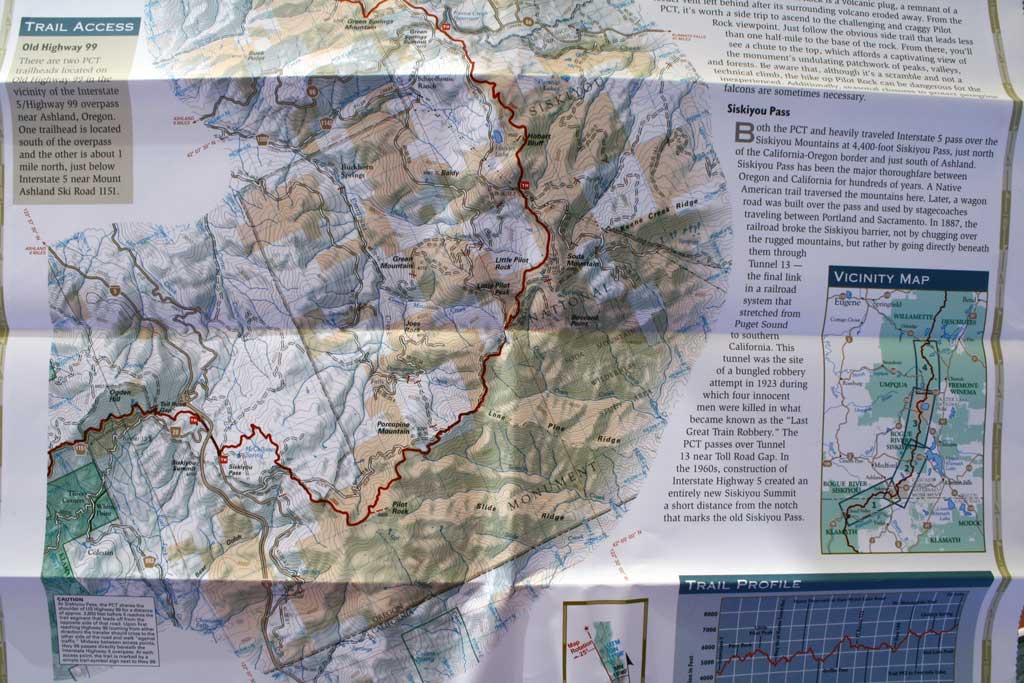 The U.S. Forest Service series of 10 Pacific Crest Trail maps are plasticized and come with descriptions and photos. They are made in partnership with PCTA. The maps feature recommended hikes, elevation profiles, and historical notes. They are great for planning adventures, getting an overview or for shorter hikes. They are a little large and are designed to be cut in half for easier use.
They sport a 1:63,300 scale (1 inch = 1 mile).
Overview maps of the Pacific Crest Trail
Magellan's trail-wide PCT overview map
Magellan's two-page PCT overview maps with public transit
More free maps of the PCT
Digital mapping and GIS data
At the PCTA offices, we use Google Earth heavily. Short of being in the backcountry, it's often the best way to experience a section of the trail. Visit the link for tips on how to load the PCT in Google Earth.
The U.S. Forest Service stewards a digital centerline for the PCT. The files below are hosted on the US Forest Service PCT webpage.
Halfmile's PCT data is also available for Google Earth and GPS.
Other information
Lots of other sources of information exist for the PCT. This page is far from comprehensive.