Quality PCT maps are an essential item to have along. Information changes frequently and you should assume that your map isn't 100% accurate.
Please carry paper maps. Smartphones are great but they break and their batteries die. Maps are a safety tool.
National Geographic PCT Maps
The National Geographic Maps series of 11 Pacific Crest Trail map booklets are convenient, detailed, up-to-date and designed for use on the trail. They are made in partnership with PCTA. Waterproof and tear-resistant, they include information on water sources, resupply options, camping, road crossings and more.
Each 3-ounce map booklet covers a 240-260 mile section of trail, with two-page map spreads showing a 10-mile wide corridor, along with elevation profiles. These maps are the evolution of the famed Halfmile Maps.
They feature a 1:75,000 scale (1 inch = 1.2 miles).
U.S. Forest Service PCT Map Series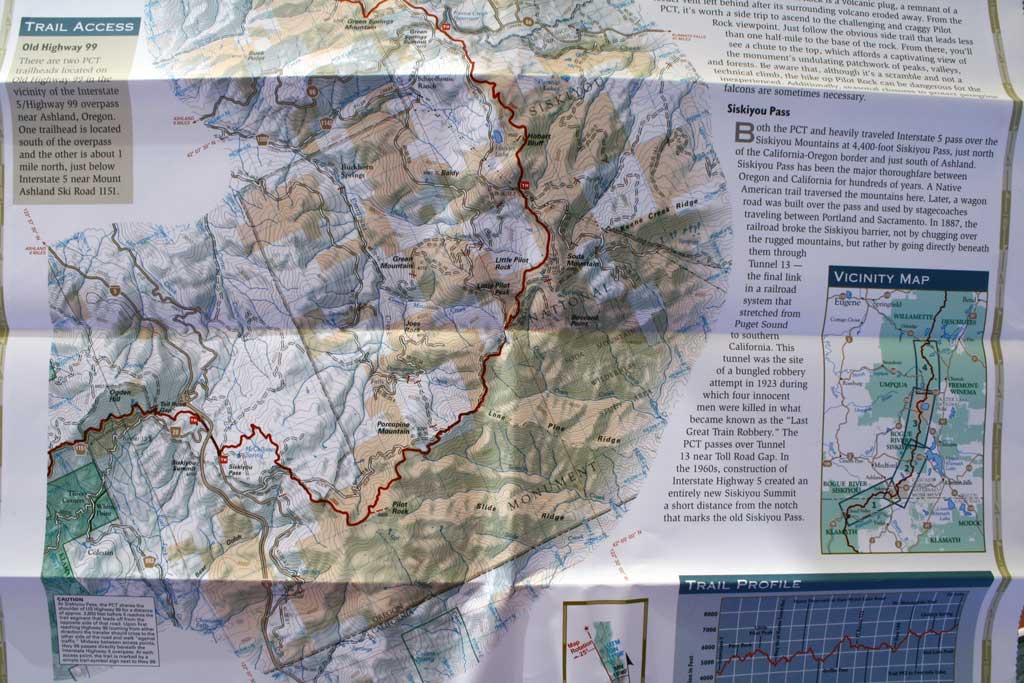 The U.S. Forest Service series of 10 Pacific Crest Trail maps, also produced in partnership with the PCTA, beautifully showcase the PCT's natural and human history—and are a great introduction to the trail. Ideal for families or anyone looking for dayhikes, weekend trips or longer journeys, these maps are water- and tear-resistant and are packed with information, elevation profiles and photos from the trail. Each large map uses a 1:63,300 scale (1 inch = 1 mile), and they are designed to be cut in half if desired for easier use along the trail.