Mountain Fire closure on Mt. San Jacinto
February 22nd, 2018
The Pacific Crest Trail is closed for 8.7 miles from Spitler Trail (mile 168.6) north to Tahquitz Valley Trail (mile 177.3). This closure will remain in place for the foreseeable future. The Mountain Fire started on July 15, 2013 near the junction of Highway 243 and Highway 74.
The Pacific Crest Trail was extensively damaged during the fire. Years of work has gone into reopening the PCT and the effort continues. The trail is reopening in three phases. Phase 1 opened in November 1016 and phase 2 opened in November 2017.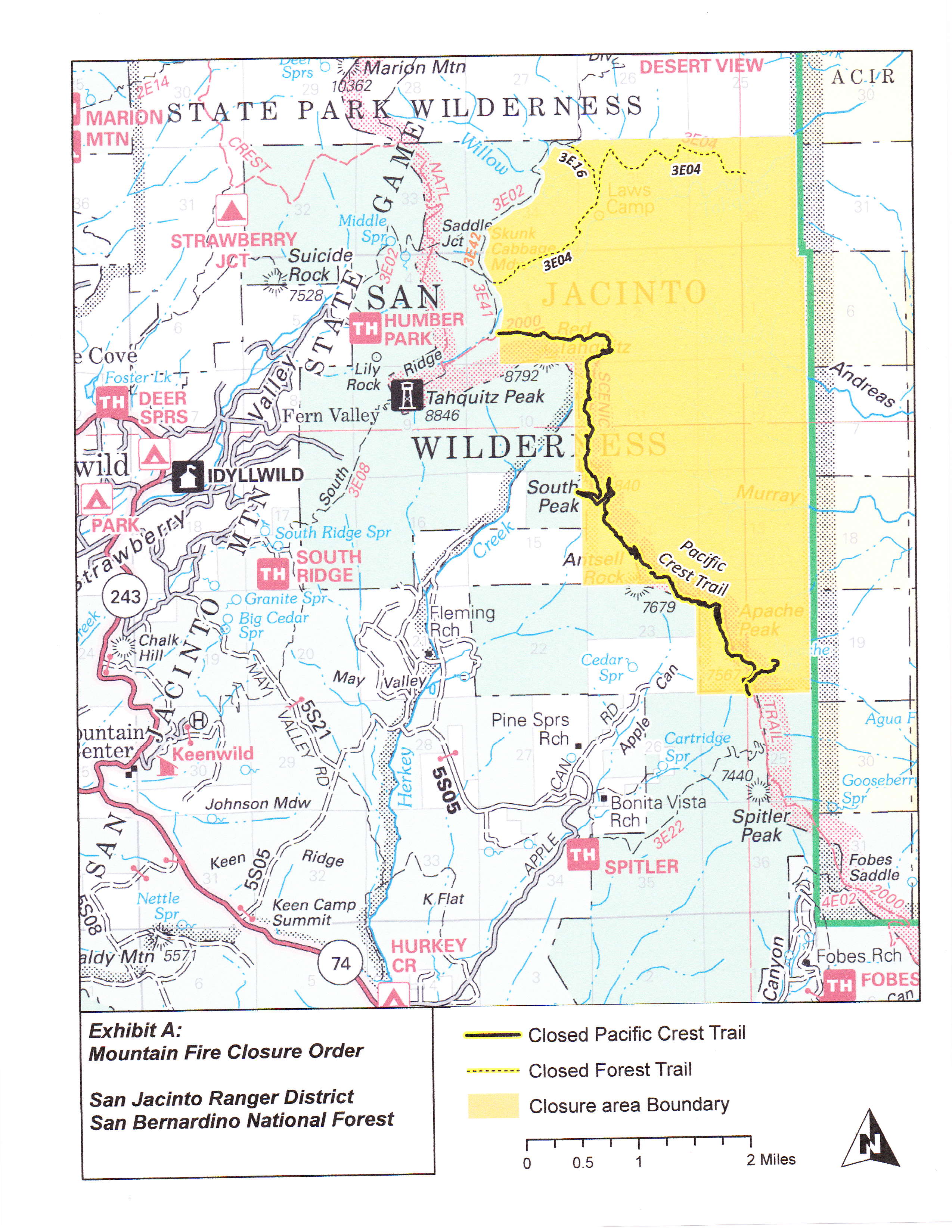 Official documents
The Mountain Fire closure is administered by San Bernardino National Forest and closure order, map, and other documents can be found here.
Spitler Peak to Idyllwild Detour
You'll find maps of this detour in the California Section B map pack on the Halfmile Project website.
This 14.1 mile detour bypasses 10.8 miles of the PCT. It's a beautiful walk.
Mile 0 – SpitlerTR – At the Spitler Peak trail junction with the PCT go left down the west side of the mountain – 7047 ft
Mile .9 – Spring – small spring – 6538 ft
Mile 4.7 – SpitlerPeakTH – Spitler Peak trailhead, parking, go left on paved Apple Canyon Road – 4905 ft
Mile 6.4 – YellowPost3 – Yellow Post with arrow pointing north to primitive campsite number 3. Campsite is 2/10 mile N of Apple
Canyon Road – 4397 ft
Mile 6.9 – ACCenter – Apple Canyon Center, Ronald McDonald camp gate – 4376 ft
For the next 2.9 miles this detour follows unmarked mountain bike trails. Read the descriptions carefully and follow the map
to navigate.
Locate the gravel road that runs N from Apple Canyon Rd next to the Apple Canyon Center, Ronald McDonald camp gate. Follow this gravel road N along the fenced eastern edge of the Herkey Creek Group Camping area. After 2/10 mile turn W and follow the lesser used road that skirts along the fenced northern edge of the group camping area. Shortly after this turn you see a metal water tank through the trees on a hill in the distance that you will walk near. In 1/10th mile you will see another gate that blocks vehicle traffic, but allows hikers to pass on the left. Continue 2/10 of a mile past this gate to the water tank.
Mile 7.4 – Water Tank – Metal water Tank N of the Herkey Creek Campground [no water for hikers from the tank] – 4471 ft
Mile 7.6 – HerkeyCreek – Cross Herkey Creek – 4436 ft
Continue 2/10 mile past the water tank and at the unmarked trail junction go W to cross Herkey Creek. You will encounter
several unmarked trails on the W bank of Herkey Creek. Go N along the W bank of the creek and within a hundred feet you will
find a well established mountain bike trail about 5 feet wide in an abandoned dirt roadbed. If you miss the turn, just cross Herkey
Creek and find the abandoned road on the W bank of the creek.
–
Alternatively, at the Apple Canyon Center, Ronald McDonald camp gate a hiker could continue W on the paved road 4/10 mile to the Herkey Creek Campground entrance near Hwy 74. Once in the campground, you can hike 1/2 mile N to the hiker gate next to site 130. Rejoin the detour 400 feet N of this gate. Or, you can deviate from the detour below by continuing from the campground up a trail that parallels Highway 74. Once you reach May Valley Road (#5S05), you can take May Valley Road uphill to rejoin the detour below.
Mile 8.5 – Fork1 – Keep left at the unmarked fork in the trail – 4619 ft
The trail climbs about 80 feet up a rutted and washed out section of the abandoned road to the top of a very small ridge. At the
small ridgetop keep left at Fork1 toward San Jacinto Peak, the most dominate feature on skyline. Do not take the fork down the
other side of the ridge to Herkey Creek.
Mile 8.6 – DarrenMemorial – Pass a small memorial for Darren York who died
after becoming ill mountain biking in 2006 – 4689 ft
Mile 8.8 – Fork2 – Keep left at the unsigned fork – 4721 ft
Depart the abandoned road and take the mountain bike trail left toward the
power line on the hill.
Mile 8.9 – Footbridge – Cross a small wooden footbridge – 4727 ft
Mile 9.2 – Powerline – Go under a small power line – 4856 ft
Mile 9.7 – MayValleyRd – Unpaved and unmarked May Valley Rd – 5092 ft
Turn right on May Valley Rd. The road is unmarked, but if you travel a short
distance N you will see a large wooden sign marking the junction of May Valley
and Bonita Vista roads. May Valley road is closed to vehicle traffic.
Mile 9.8 – BonitaVistaRd – Keep left at the junction with unpaved Bonita Vista
Rd. Follow the sign toward Saunders Meadow – 5088 ft
Mile 10.2 – Spring – Pass a spring and trough on the left – 5296 ft
Mile 10.6 – MayValleyGate – Go under the locked Forest Service Gate – 5428 ft
Mile 10.7 – SouthridgeTr – Continue past Southridge, Tahquitz Peak trailhead
on the right – 5469 ft Or, if you would like to skip Idyllwild, you can take the steep South Ridge Trail uphill to rejoin the PCT.
Mile 12.1 – Road Junction – Keep right at unmarked junction of unpaved roads,
the road becomes paved in about 100 yards, you begin to see cabins shortly
after that – 5643 ft
Mile 12.3 – SaundersMdwRd – Right on paved Saunders Meadow Rd – 5618 ft
Mile 13.5 – Hwy243 – Right on Highway 243 – 5248 ft
Mile 14.1 – Arrive in central Idyllwild, Village Market, North Circle Dr. The State Park campground is 1/10th mile farther N on Hwy 243. See the Black Mountain Alternate maps if you want to continue N using an alternate route. – 5350 ft