Multiple fires are now burning along the PCT in the Three Sisters Wilderness. The Pacific Crest Trail is closed between Elk Lake (mile 1,950) and Lava Camp Lake (mile 1,980) near McKenzie Pass and Highway 242. Much of the rest of Three Sisters Wilderness is also closed and will remain closed at least through the eclipse.
Update at 8:25 pm on 8/17/17: we no longer recommend walking from Elk Lake to Sisters. The fires in this area are growing. It's probably best to sit tight. Read more about how to react to wildfires.
Resources
Closure map
As of 8/17/17 there is no current closure map. We are told that the closure is expanding. Stay tuned for an updated map from the Forest Service.
How to get around the closure
This closure, combined with the Whitewater Fire closure on Mt. Jefferson, means that it is hard to hike much of the PCT in Central Oregon.
There are lots of ways to handle these closures. Here are a few ideas.
If you are in the area during the eclipse, note that significant overcrowding is expected. Hotels and campgrounds—anything reservable—is already reserved. Traffic will be bad on days around the event. On eclipse day, gridlock is predicted along highways in the totality zone. This can seriously affect people trying to start a hike, end a hike, or resupply. Long-distance hikers hoping to pass through Sisters or Bend immediately around the event will be impacted.
1) Hike north from Elk Lake on the east side of Three Sisters to the town of Sisters, Oregon
Update: the Milli Fire grew towards Sisters and we no longer recommend walking any alternate from Elk Lake to Sisters. We recommend leaving the trail at Elk Lake. We're leaving this information up for a while in case any hikers are already on the alternate.
Map from the afternoon of 8/17/17 shows thick smoke on the alternate (green line)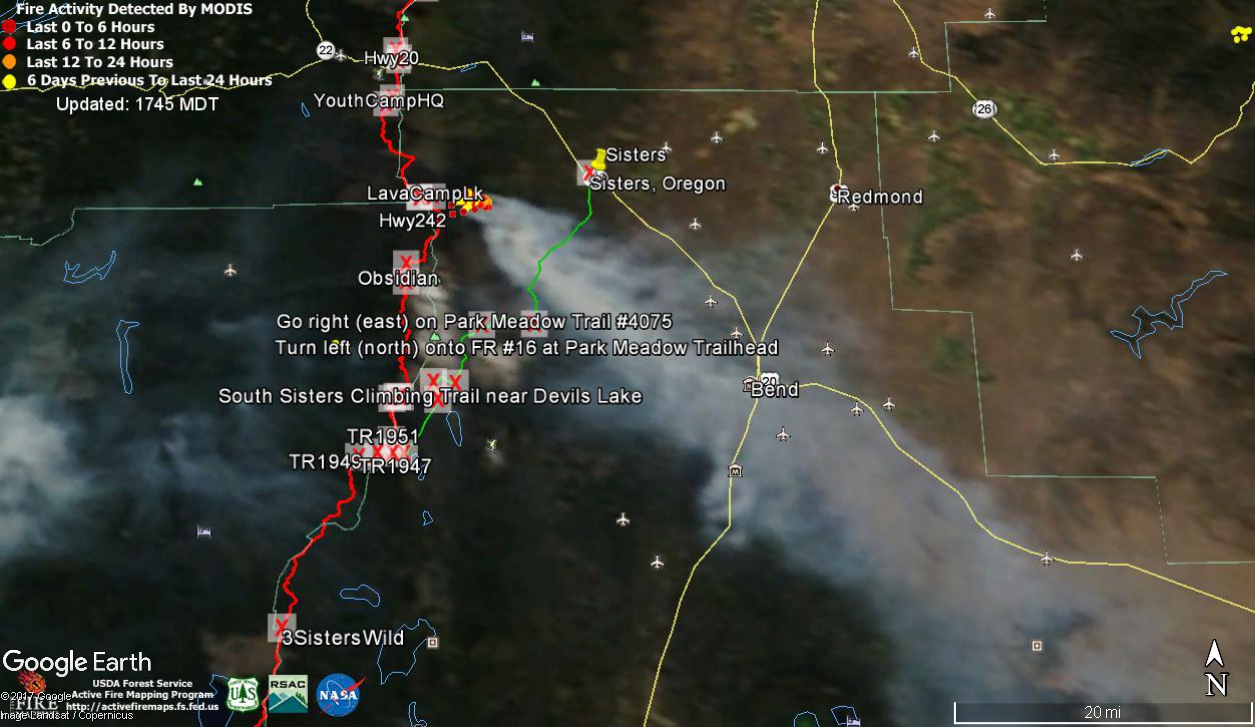 Download and print this detour map: Elk-Lake-to-Sisters-PCT-detour-map-8.17.17 (21mb PDF). This is a GeoPDF that can also be opened in the Avenza app.
This route combines some very scenic hiking with some road walking.
Exit the PCT at mile 1950.1 by heading east on Island Meadow Trail #3 for one mile (towards Elk Lake)
Take Cascade Lakes Highway Forest Service road #46 to the north  approximately 5 miles to Devils Lake
Head North on South Sisters Climbing Trail #36 (located at the turn in the Hwy) for 1.9 miles
Head East (turn right)  on Moraine Lake Trail #17.1 for 2.5 miles
NOTE: This alternate was modified from here north on 8.17.17 as the Milli Fire grew. Ignore previous directions and go this way instead:
Head north (turn left) on Green Lakes Trail #17  for 7.9 miles to Park Meadow Trail #4075
Head east (turn right) on Park Meadow Trail #4075 for approximately 5.6 miles to the Park Meadow Trailhead
Travel north on Forest Road #16 for approximately 16 miles to the town of Sisters.
Then, either walk up Highway 242 (not recommended unless the road closes to cars) or shuttle north in a car. To resume walking north and the open portion of the PCT (a 28 mile section, from mile 1980.1-2008.7, is open before you get to the Whitewater Fire closure), head west on 242 to the Lava Camp Lake trailhead.
Doesn't sound like something that you want to do? You might just head to Bend from Elk Lake and skip walking to Sisters.
2) From Sisters, Oregon
Evening update on 8/17/17: Highway 242 is now closed due to the Milli Fire. Some residences in the Sisters area are apparently under evacuation.
A) The "hike as much of the PCT as possible" option still requires car support
The trail is open from Highway 242/McKenzie Pass (mile 1980) to Marion Lake Trail (Trail # 3437)/Minto Pass (mile 2008.5). It's a beautiful section if it's not smokey. Highway 242 is a twisty mountain road that we don't recommend walking. To get back to the PCT from Sisters, we recommend getting a ride in a car.
Because Highway 242 is closed, you won't be able to walk from McKenzie Pass to Santiam Pass. If you make it to Santiam, you could head north for a bit. But realistically, with these fires, you probably should just wait for the situation to evolve or skip north.
You'll then hike north to the Marion Lake Trail. Take the Marion Lake Trail and then the road, west to Highway 22 near Marion Forks. From there, you should get in a car and travel through the town of Detroit and then back to the PCT at Britenbush Lake. We don't recommend walking the highway in this area. From Detroit, drive up road 46 to road 4220 (a somewhat rough dirt road) and up to Britenbush Lake.
From Britenbush Lake, hike north and have a wonderful time!
B) Take public transit further north to near Mt. Hood <- perhaps the best option at time of writing
Depending on the day of the week, you can take a series of buses from Sisters, through Bend and/or Redmond and on towards Government Camp near Mt. Hood. It seems like using public transit will require overnighting in Redmond, Oregon.
Try asking the last bus driver to drop you off where the PCT crosses Highway 26. It's at Wapinitia Pass, 7.2 miles before Government Camp. There is a trailhead parking area there. It's near Frog Lake. This is mile 2084 on the Pacific Crest Trail.
For public transit information, here's some information
C) Get a ride north to Britenbush Lake
If you have someone to drive you to Britenbush Lake, it's a pretty good option. You'll skip the Whitewater Fire closure, rejoining the PCT at the northern boundary of the closure.
D) How about going to Eugene and up the west side?
To us, it seems easier to stay on the east side of the Cascades. But if you have some other good idea, go for it!
How about continuous footsteps?
We've spent considerable time looking into obscure trails and dirt roads to get you around these closures and have come up short. Especially for the Whitewater Fire, we couldn't find a good, safe, legal and efficient way to walk around the closure. The idea of walking the Deschutes River all the way to the Columbia River Gorge has been floated, but it's so, so far away from the trail that we won't be exploring its feasibility.