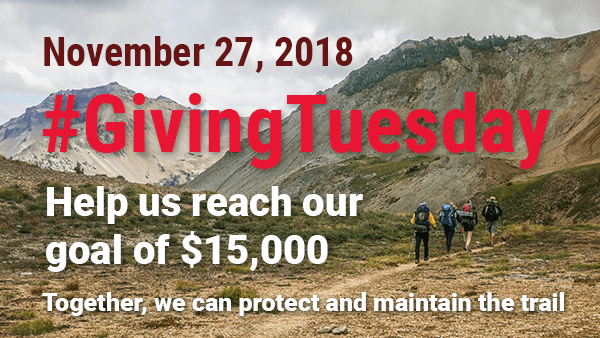 The trail unites us! No matter our backgrounds or interests, our love of the wilderness brings us together and makes us a powerful community.
On this #GivingTuesday please give a gift to the Pacific Crest Trail Association and support efforts to preserve the trail and the wonderful experiences it provides.
We've set a goal to raise $15,000 today, and we hope you'll give a tax-deductible gift of $35, $50, $100 or more.
Your gift today not only helps us reach our goal but protects the trail now and for future generations.
Thank you!
Thank you!
Thank you for making a gift on #GivingTuesday and for ensuring the future of the trail. You will receive an email acknowledgement of your gift shortly and an official receipt for your tax records within the next week.
If you have questions regarding your gift or the work that we do, please do not hesitate to contact us at (916) 285-1846 or [email protected].