Landers Meadow

You saved a fragile wet meadow along the Pacific Crest Trail.
Landers Meadow is a southern Sierra property that contains 245 acres of rare open wet meadow. It provides scenic views along the trail with abundant spring wildflowers ringed by sagebrush and forest. It's an important habitat for 78 bird species, black bears, mountain lions and mule deer.
Make a gift to our Land Protection Fund today to help protect properties along the trail from development!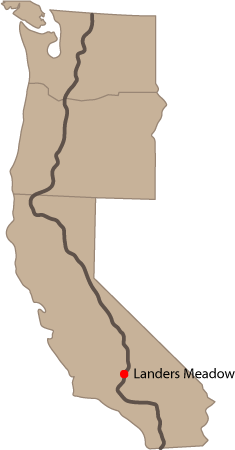 10%
of the PCT remains on private land and is at risk for development that would change the landscape of the PCT forever.
245
You helped to permanently protect 245 acres that parallels the Pacific Crest Trail.
Your gift to the Land Protection Fund protects properties such as Landers Meadow.
The Pacific Crest Trail, widely known as America's wilderness trail, is a gateway to transformative experiences for hikers, horseback riders and other outdoor enthusiasts. Our goal is to ensure that the entire trail is permanently protected.
Through our Land Protection Program, we have identified hundreds of properties in California, Oregon and Washington that, if developed, would irreparably damage the trail experience. The trail you walked last summer might not be the same for your children or grandchildren in future summers.
Today, we have the opportunity to purchase properties through private donations to secure the trail. By giving to our Land Protection Fund, you can save properties like Landers Meadow from development.
Protecting a fragile wet meadow along the PCT
The southern Sierra Nevada section of the PCT takes hikers and horseback riders through scenic mountains and desert wilderness. This unique area in Kern County, California, includes rare and endangered meadows surrounded by pinyon, juniper and ponderosa pine forests. The Landers Meadow property contains 245 acres of open wet meadow with abundant spring wildflowers ringed by sagebrush and forest. Many springs on the property feed Landers Creek, a treatable drinking water supply for day users and distance hikers in the dry southern portion of the PCT, where water availability is as scarce as it is crucial. The PCT runs adjacent to Landers Meadow for a half mile, 607 miles from the PCT southern terminus. By transferring this property to public ownership, you ensured that future trail users have this crucial place to rest and get water.
The view from the PCT at risk
A land investment company sold Landers Meadow to PCTA. If we had not acquired the land, it likely would have been sold for recreational home sites or other incompatible commercial use.
PCTA now will manage the land and work to transfer it to the adjacent Sequoia National Forest, ensuring the trail corridor retains its iconic wilderness character for generations to come.
Donate to our Land Protection Fund