PCTAConnect is our online platform where you can register for projects, update your volunteer profile, and track your entire volunteer history. For crew leaders, this is also where you'll plan projects, submit project reports, and record volunteer hours.
On this page you will find answers to some frequently asked questions. If you have a question not answered below, please email us at

[email protected]

.
General
Having a PCTAConnect account allows you to keep your volunteer profile information up to date, like your mailing address, phone number, dietary needs, volunteer preferences, and more. It also allows you to see your entire volunteer history including your hours, register for projects and submit your own admin hour reports.
If you are a crew leader or a group leader, you will be able to see details and volunteer registration information for projects you are leading or taking place in your group.
You can log in to PCTA
Connect
by typing the URL
connect.pcta.org
into your web browser, and then selecting
"Log in"
, found in the top-right corner of the page. If this is the first time using the system you will need to create an account.

Alternatively, go to pcta.org. Hover over the green button in the upper right corner for "Volunteer" and click "Login to PCTAConnect."
You can also navigate to the "Project Schedule" or "Volunteer Application" and use the login button in the top right.
Finally, you can navigate to the "Crew Leader Center" and a link to PCTAConnect is available alongside other resources on that section of PCTA's webpage.

PCTA
Connect
accounts allow individuals to maintain their contact information, volunteer history, volunteer hours, sign up for projects and more. Since many of these details are specific to each individual, accounts should not be shared.
Each PCTAConnect account is linked to a unique email address. If you share an email address, you may be able to modify your email address and create separate PCTAConnect accounts. For example:
Try a quick online search to see if your provider allows you to modify your email address.
Please note the examples above work in Gmail, but not Google Apps.

Yes. If your plans change and you're no longer able to volunteer, please let us know as soon as possible. You can find instructions on how to cancel your registration
here. 
There are three different permission levels in PCTAConnect. The three levels are Volunteer, Crew Leader and Group Leader.
With "Volunteer" permissions, you can log in, manage your profile, register for projects, see your volunteer history, and submit your own admin hour reports. Most of the PCTA's volunteer community will have "Volunteer" permissions.
With "Crew Leader" permissions, you can do everything Volunteers can do, plus plan trail maintenance projects, view who's registered for your projects and submit project reports.
With "Group Leader" permissions, you can do everything Volunteers and Crew Leaders can do, plus view details and registrations for all projects in your volunteer group and submit admin hours for groups of volunteers. Group Leaders also receive emails for each posted project and project report for their group.
Please contact the PCTA Regional Representative in your area or email [email protected] if you wish to plan a PCTA project but don't have "Crew Leader" permissions associated with your PCTAConnect account.


Those with "Volunteer" permissions will be prompted to reset their password once a year. Those with "Crew Leader" or "Group Leader" permissions will be prompted to reset their password twice a year (every 6 months).

Yes. Full instructions to join a waitlist are available on the Crew Leader Center, and
here
.
If space opens up on the project, crew leaders and PCTA staff must work together to change a volunteer's registration status from "Wait List" to "Registered."

Some projects will allow for partial attendance (for example, volunteers could attend one day of a two-day project).
If the crew leader has enabled partial attendance, volunteers will see an extra field when registering, marked "Days I Plan to Attend". If you plan on attending the entire project, you may leave this blank. Otherwise, enter the days that you will take part.

Yes. Volunteers will receive email reminders immediately after registering, plus 2 months before the project, 1 month before the project, 2 weeks before the project and 2 days before the project. They will also receive emails to complete their e-paperwork.

In March 2022, the PCTA added a Volunteer Code of Conduct to our volunteer program. This accompanies the existing pre-trip paperwork for volunteers, found in PCTAConnect. The goal of the Code of Conduct is to explicitly state the rights and expectations for PCTA Volunteer Program participants, leaders, and partners.
Volunteers must read and agree to the volunteer code of conduct before registering for any project via PCTAConnect. This applies to both PCTAConnect users and guests. The "I agree" checkbox will not work until the user has clicked the link/opened the Code of Conduct, which will automatically open in a new tab in your web browser.
Navigate to your Volunteer Profile within PCTAConnect by going to the Home page (select the icon in the top-right and click "Home"), and then selecting "My Volunteer Profile". From there, you can select "Edit" and change the "My Pronouns" field.
You may select as many pronouns as you wish, and if your pronouns are not represented you may add them in the "My Pronouns More Info" field below.
Your pronouns will be visible to crew leaders on projects that you register for.
When registering for a Saw Certification Class, you will be prompted to submit your First Aid/CPR certifications as part of the registration process. If you are logged in to PCTAConnect, the registration page will show which current certifications we have on file for you, along with instructions on how to submit missing certifications.
The following page in the registration process will ask you to provide a description of any prior saw experience you may have, along with the number of seasons/years you have used a Crosscut or Chainsaw in the past. This will not affect your application; it is extremely helpful for our instructors to understand the experience level of their students.
PCTA staff will process your application and approve your registration (per class capacity) once your certifications have been received and reviewed.
First Aid/CPR certification is required as part of the Saw Certification process, as per OSHA regulation.
After logging in to PCTA
Connect,
select "Volunteer Profile". On each tab, you can scroll down to the bottom of the page and select
Update
to make all the fields on that tab editable. After entering information or making changes, scroll back down to the bottom of the page and select
Save
to save your changes. Select
Cancel
to cancel any changes you have made, restoring your profile to how it appeared before selecting Update.
For example, to change your Mailing Address, select Update on the "Contact Information" page, enter your updated Mailing Street, City, and Zipcode, and then select Save.

Crew Leaders
On the
public project schedule
, all volunteers can see the meeting & end dates for your project, the project description, map location and elevation, hiking and backpacking miles, fitness level and fitness level notes, camping type, and if trail maintenance experience or 4×4 high clearance vehicle is required.
After registering for your project, they will receive a series of automatic emails with additional details from your planning form, including: meeting location and time, project end date and time, driving directions and road conditions to meeting location, crew leader and Regional Rep name and contact information, other notes and other area opportunities. These emails also include links to PCTA's Volunteer Guidebooks and Covid-19 safety information.
Volunteers will receive emails with this information immediately after registering, plus 2 months before the project, 1 month before the project, 2 weeks before the project and 2 days before the project. They will also receive emails to complete their e-paperwork.
The following details on your planning form are not automatically emailed to volunteers: camping location and details, meal and water source details, environmental and work-related/other concerns. Staff and crew leaders should work together to provide this information to volunteers before arrival.

Absolutely. Feel free to submit fake project plans or reports so you can test and learn the new system. Instructions for submitting and reporting on projects are available on the Crew Leader Center, under "PCTAConnect Instructions." Please choose PCTA as the Agency/Land Manager, so that agency partners do not receive unnecessary emails. For project planning forms, consider using the "Private?" checkbox to clearly indicate that the project isn't meant for the public project schedule.

E-Paperwork in PCTAConnect (Volunteer sign-in sheets, Job Hazard Analysis forms, Risk Assessment Worksheets, and Covid-19 Release-of-Liability forms) allow volunteers to sign the required forms online, as part of the registration process for a project. These documents are automatically generated, pre-filled, and sent to the volunteers using information from the project.
A detailed overview of this functionality can be found here. 

Easy – Moderate: This project is suitable for a wide range of physical abilities. It's great for individuals new to trail work. The project site will be close to a trailhead, trail work will be slightly demanding, and the total hiking distance each day is typically less than 3 miles over flat or gently rolling terrain.
Moderate: This project is suitable for individuals in good physical condition who participate in a semi-exercise routine. Most people who are physically active can participate at this level. The components of this project may v. Oct.4, 2021include one or more of the following: hiking 1-5 total miles each day, elevation change of 1000 ft or less over the course of the hike, and moderately physical work activities.
Moderate – Difficult: This project is suitable for individuals in good physical condition and participate in a regular exercise routine. Project components will include one or more of the following: hiking 3-8 miles each day, the trail may be rough, steep, and/or rocky, elevation change over 1000 ft over the course of the hike, moderately physical work activities, and/or backpacking. This project may be physically challenging to some people, participants need to be in good physical condition and aware of their physical abilities and limits before joining this project.
Strenuous: This project is for advanced participants looking for a demanding and physically challenging project. This project is suitable for individuals who are fit and have a regular exercise routine. The project will include multiple challenges from the following: hiking 5-15 total miles each day, significant elevation change over 2000 feet on steep and/or rugged terrain, long distance backpacking, high elevation, physically arduous trail work, and/or off-trail work. Participants need to be in excellent physical condition and know their physical abilities and limits before joining this project.

The report system recognizes 0.25, 0.5 and 0.75 as quarter hour entries but not 0.50. Please remove the 0 and the error message should disappear.

Yes, you can use this edit button on your project screen:

We encourage you to keep your project plans up to date in PCTAConnect so that staff, agency partners and volunteers all have the same information.
Note that if your project is "Posted" and you edit certain details, your project will be hidden from the Project Schedule until the changes are reviewed and approved. This review and approval typically happens within 24 hours by your local Regional Representative or Volunteer Programs Coordinator.
These are the fields that trigger the review: Project (name), Project Region, Partial Attendance Allowed, Volunteer Group Name, Volunteer Date, Volunteer Time, Project End Date, Project End Time, Agency/Land Manager, Project Description, Trail Maintenance Experience Required, Camping Type, Fitness Level, Fitness Level Notes, Project Duration.


No, once reports are submitted in PCTAConnect, only staff can edit them. Please contact your local Regional Representative or the Volunteer Programs Coordinator to make the necessary changes.

When creating a new Trailwork project, crew leaders have the option to make the project "private". A private project will not be posted publicly on the PCTAConnect schedule.
After the project has been reviewed by PCTA Staff, the crew leader will see new text on their project page– "You can send this link to interested volunteers for registration: [link]". You may share this link as you please– via email, text message, social media, etc. Anyone with this link will be able to register for your project!
When you open a project that you are leading, you will see a button at the top marked "Email Volunteers". Select this to send an email to volunteers who have signed up for your project.
You will have three options: to email Registered Volunteers, Waitlisted Volunteers, or All Volunteers.
You may provide the email subject, body, and add any attachments you would like. Attachments and emails will be saved on the "Project Files & Emails" tab of your project.
All recipients of the email will be Bcc'd and will not see one another's email addresses. The crew leader will be copied so that recipients can respond to them. Responses will go to your personal email inbox, where you can continue the conversation– responses will not be captured in PCTAConnect. 
On a project page, crew leaders can select the drop-down arrow on the top right of the page (next to "Submit Project Report") and select "Printable Sign-in/JHA/EAP" to access a printable version of these required project forms.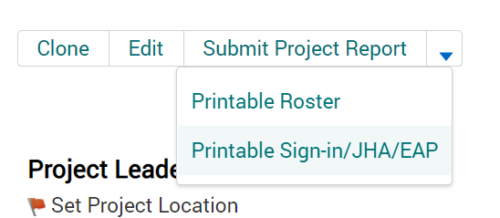 The document will open in a new tab and will contain all three documents in a single file. Project details (name, dates, location, agency partner) will be automatically filled. All registrant names will also be automatically filled, along with their e-signatures/dates if they have signed online. This should make it a lot easier to collect missing signatures at the trailhead!
When creating a project, crew leaders will see a checkbox marked "Additional Requirements for Registration". Selecting this checkbox will mean that registrants are required to answer additional questions when registering– specifically: shirt size, medical conditions, medications, allergies, dietary needs/restrictions, trail work appetite, hiking/camping/backpacking experience, tool/manual labor experience, and physical activities.
If the project has a "Strenuous" fitness level, is multi-day, or includes meals, this box will automatically be checked upon saving.
If this box is checked, registrants will also be required to create a PCTAConnect account in order to register.
As a crew leader, navigate to your Crew Leader dashboard. On the "Projects I'm Leading" and "Past Projects" tabs, you will see a column marked "Has Media?" If this column has a green check mark in it, the project has files/photos attached.