North Cascades Trail Skills College
The North Cascades Trail Skills College is a free weekend event for volunteers to learn about trail maintenance and stewardship. Beginners and experts alike can benefit from Trail Skills College courses like Crew Leadership, Tread Reconstruction and more.
Trail Skills College is offered free of charge in an effort to inspire stewardship of trails. In exchange for attending the training, we encourage you to volunteer at least 16 hours of work on trail projects in the coming year.
The 2023 North Cascades Trail Skills College took place July 7th-9th.
Registration is now closed.
When is it?
This year's North Cascades Trail Skills College was held July 7th-9th, 2023.
Where is it?
This year's event will again be hosted at the Washington Alpine Club's Guye Cabin. See here for more details and directions. Classes will meet at the cabin each morning, before travelling as a group to the trailhead where their class will take place.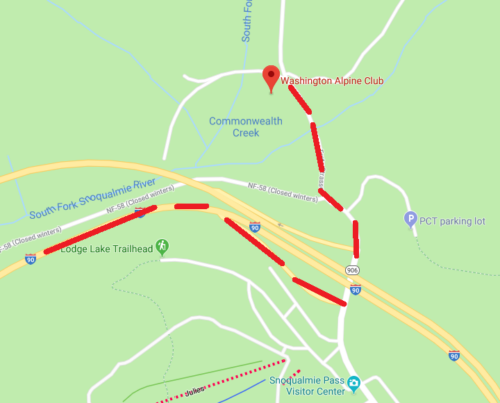 Are meals and lodging available?
We have reserved a number of bunks in the cabin for participants staying overnight– there are three dorms: a male dorm, a female dorm, and a mixed-gender dorm. Tent camping will also be available outside. You will be able to select your lodging choice when registering for the event.
We will be providing meals throughout this year's event– from Friday dinner (7/7) through to Sunday lunch (7/9).
How much does it cost?
PCTA Trail Skills College events are free for all participants.
What classes are offered this year?
In 2023 we offered the following classes (stay tuned for 2024!):
Intended for those new to trail work who want to learn how to cut brush and small logs to help clear a trail to proper specifications. After discussion of general safety protocols, students learn about safe and effective use of hand saws and loppers. This class also includes how to complete an early-season trail survey to identify and report major problems, especially blown down logs – their numbers, locations, and sizes.
Water and gravity constantly threaten our trails and thus we must learn how best to deflect them. This course begins with basics of hillside hydrology and how trails work when they shed water properly.
Includes introduction of "trail eyes" and basic trail design concepts, as well as how to recognize tread erosion patterns. Hands-on practice removing slough and berm, and effective cleaning and maintenance of existing water bars and grade dips.
Are you interested in helping certified sawyers to clear trails, but don't have much experience working with or around saws? Regardless of if you aim to become a certified sawyer yourself, learning to be a safety-conscience saw crew member is an important place to start. This class provides field experience with crosscut saws and axes, but most of the principles are also applicable to chainsaws. Therefore, this class is the place to start, no matter what trail clearing tools you expect to use in the future.
The session begins with an introduction to crosscut saws and axes of various types, and how they work. It then covers their safe and effective use, including a review of trail clearing specifications, safety equipment, the forces of tension and bind, and the practice of situational awareness.
This class is an introduction; it does NOT provide saw certification, which is required for those who wish to be lead sawyers.
Learn how to care for trail tools and protective gear. Keeping tools sharp is critical for working efficiently and safely. We'll cover how to properly sharpen basic trail tools and discuss why we don't sharpen others. Class may also involve re-handling and repairing broken tools. 
Intended for someone who has taken 102 Tread & Drainage and/or has experience doing drainage work. Learn how to design and locate effective drainage structures. After a comprehensive explanation of hillside hydrology and how trails work when they shed water properly, this class shows students how to design and construct long, rolling drain dips as a way of reducing erosion on existing trails.
Learn contemporary techniques to build rock steps, and how to install them where tread is gullied and cannot be drained, or in other situations requiring tread armoring. This class serves as a great introduction to dry stone masonry (rock work). 
For students with moderate to extensive trail building experience who want to lead trail crews and work parties. Not a construction techniques class; this is about effective leadership. Students will have classroom and field work in the following topics: work day responsibilities, risk assessment and safety, tool
safety and tool talk, leadership and team building, practical experience leading volunteers.
This class is for all skill levels, but particularly targeted for those who would like to feel more confident and competent. It's a chance to get together and practice with the tools we love…or could love if we got to know them better. Join us out in the woods for a day to celebrate the joy of chopping wood!
This is a skill building class for participants to get familiar with handling the chainsaw. It is appropriate for those with little or no experience. We will cover starting the saw, body positioning, some basic information about binds in trees, and different types of cuts, and cleaning the saws at the end of the day. We'll take our time and make sure everyone is included and comfortable.
What should I bring?
Layers work best as outdoor temperatures, weather, and your activity level will vary through the day. Follow
the layering system for your work and camp clothes. Long pants are required to conduct trail work. Long
sleeve shirts are recommended for sun and insect protection and in some areas are required for trail work.

Layer 1: Long underwear tops, bottoms, and socks; made of lightweight wool or synthetic material.
Layer 2: Mid-weight wool or synthetic pants and shirt. Can be more than one layer; bring additional
layers if you get cold easily. Cotton is not advised.
Layer 3: Rain coat or other water/wind resistant coat or poncho and rain pants.

Sturdy boots with slip-resistant tread that offer firm and flexible support. No sandals or sneakers
while working on the trail but you may want these in camp. Saw students have specific footwear
requirements. See the Crosscut & Chainsaw Training page.
Warm hat and warm gloves while at camp.
Tent
Sleeping bag
Sleeping mat
Pillow
Sealable plastic container to pack lunch in
Plate / bowl for breakfast and dinner
Silverware
Cup / insulated drinking mug
Water bottles / hydration pack
Sun protection: sunscreen, sunglasses, hat, lip balm
Insect repellant
Flashlight or headlamp
Daypack
Alarm clock
Camp chair (compact)
Supplemental snacks
Camera
Bandana
Safety gear (i.e. hard hats, gloves) will be provided throughout the weekend. However, if you have safety gear that you would prefer to use, please bring it with you.
What should I leave at home?
Please do not bring pets to Trail Skills College.
As with any camp, please do not leave valuables in your tent during the day. Plan on either storing your valuables on you, in your vehicle, or leave them at home
When will registration open?
Registration for the 2023 event is now closed.
Can't wait?
Don't forget, you can learn new trail maintenance skills by volunteering on a PCTA trail crew any time. Most crews don't require any previous trail maintenance experience. Knowledgeable and experienced crew leaders are on site to teach you the necessary skills.  Visit PCTA's online schedule and the North 350 Blades Facebook to find trail projects near you.
If you have questions about Trail Skills College, contact PCTA's Volunteer Program at [email protected].
Partners