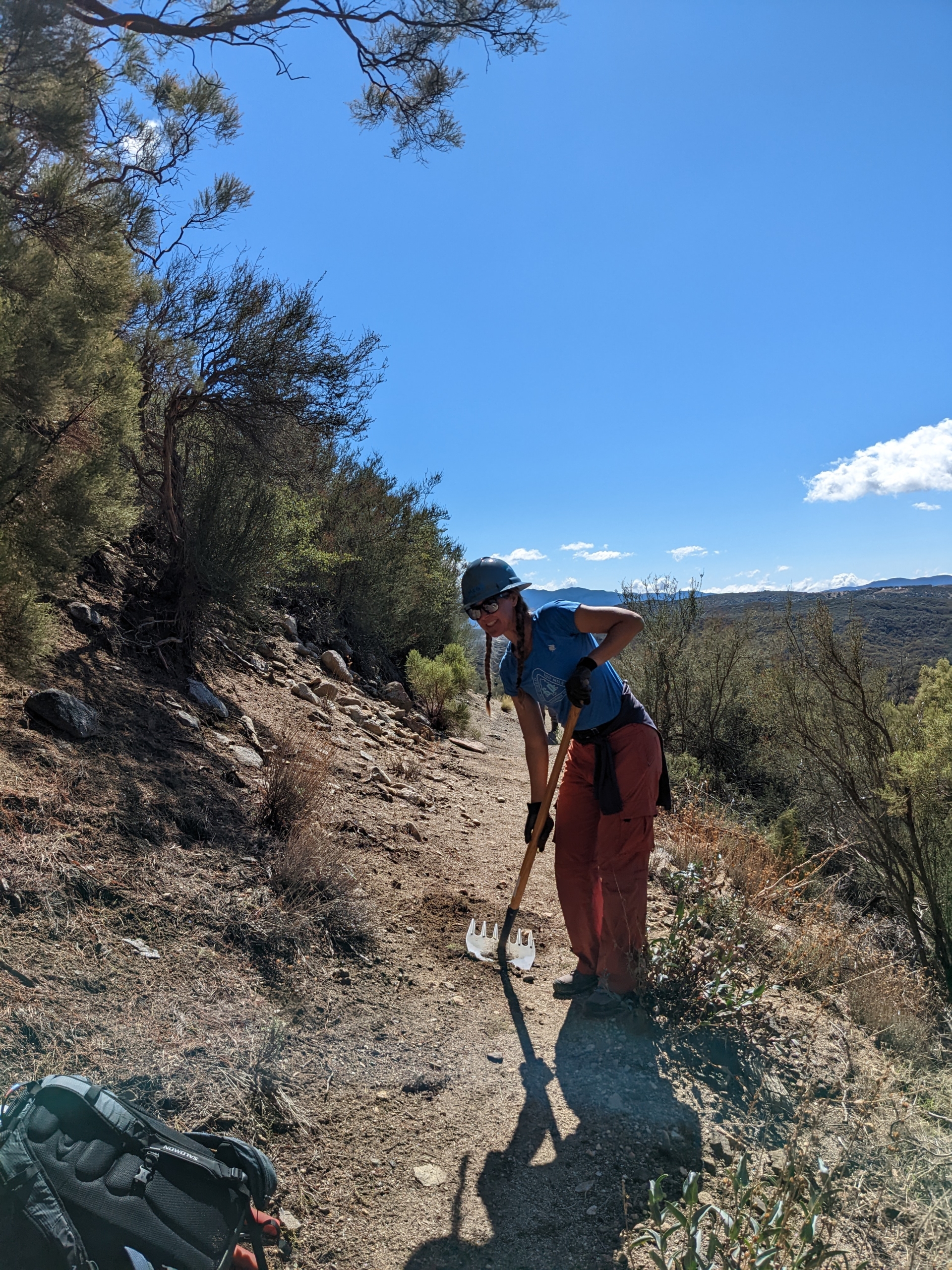 2023 Southern California Trail Skills College
The Southern California Trail Skills College is a free weekend event for volunteers to learn about trail maintenance and stewardship. Beginners and experts alike can benefit from Trail Skills College courses like Intro to Trail Maintenance, Waterbars & Checks and more.
Trail Skills College will be offered free of charge in an effort to inspire stewardship of trails. In exchange for attending the training, we encourage you to volunteer at least 16 hours of work on trail projects in the coming year.
The 2023 Southern California Trail Skills College will take place October 20-22.
Registration is now open! Click here to register.
Remember, Trail Skills College is offered free of charge in an effort to inspire volunteer maintenance of trails. In exchange for attending a day-long training, we encourage you to volunteer at least 8 hours of work on trail projects in the coming year. Visit the online volunteer schedule to learn more.
When is it?
The 2023 Southern California Trail Skills College will be held October 20th-22nd, 2023.
Where is it?
The 2023 Southern California Trail Skills College will be hosted on Angeles National Forest. Exact location is to be determined based on road damage and trail access. We will keep all registrants updated as we learn more, and will update this website when we have additional information.
Are meals and lodging provided?
Camping and meals will be provided from Friday night through to Sunday.
Can I volunteer at the event?
Yes! When registering, select that you would like to volunteer on the first page. You can register as both a volunteer and as a student! If you select "volunteer", we'll reach out at a later date with more details. Typically we need volunteers to help with set-up, take-down, meal prep and cooking, and photography.
What classes are being offered?
This year we will offer the following classes:
This introductory sampler class is for people new to trail work who want an overview. One quarter of the class covers "how trails work," i.e. basic trail design concepts; one quarter covers trail work safety protocols; one quarter covers hands-on brushing and hand-saw clearing; and one quarter covers hands-on drainage cleaning. This sampler class does not prepare students to work independently. Instead, students will understand a range of trail work tasks and have a good idea of what they want to do under a crew leader, or what class they want to take next.
Intended for those new to trail work who want to learn how to cut brush and small logs to help clear a trail to proper specifications. After discussion of general safety protocols, students learn about safe and effective use of hand saws and loppers. This class also includes how to complete an early-season trail survey to identify and report major problems, especially blown down logs – their numbers, locations, and sizes.
Intended for someone who has taken 102 Tread & Drainage and/or has experience doing drainage work. Learn how to design and locate effective drainage structures. After a comprehensive explanation of hillside hydrology and how trails work when they shed water properly, this class shows students how to design and construct long, rolling drain dips as a way of reducing erosion on existing trails.
Learn the fundamentals of drystone rock masonry (aka rock work). Includes a strong emphasis on effective and safe use of masonry tools. We'll tackle rock selection and transportation; rock splitting and shaping; rock placement, and other fundamental techniques for constructing rock structures to last the ages. This class will focus on either rock steps & waterbars, or rock retaining walls, depending on the project location. 
For students with moderate to extensive trail building experience who want to lead trail crews and work parties. Not a construction techniques class; this is about effective leadership. Students will have classroom and field work in the following topics: work day responsibilities, risk assessment and safety, tool
safety and tool talk, leadership and team building, practical experience leading volunteers.
This is a two-day course offered by Capitol City First Aid. Students will receive a WFA certification, STOP THE BLEED® Certificate, an OSHA approved First Aid/CPR card, and the confidence to provide high-quality care in the backcountry.
With 3 quick actions, you can be trained to save a life. The number 1 cause of preventable death after injury is bleeding. That's why we want to train you how to STOP THE BLEED®
This class will be on Friday (10/20) evening. If you are taking Wilderness First Aid on Saturday and Sunday, Stop the Bleed is included, so you will not need to attend the Friday session. 
Due to Tropical Storm Hilary, we need to reassess work locations. Will update with more information as soon as we can.
What's the schedule?
Schedule below. Classes other than WFA begin at 9:00am and end around 4:30pm. Classes may end earlier on Sunday– if you need to depart early due to drive time/traffic etc., please let your instructor know. Wilderness First Aid participants will be notified of class times prior to event.
| | | |
| --- | --- | --- |
| Friday October 20th | Saturday October 21st | Sunday October 22nd |
| Welcome/social gathering & Dinner (Evening) | Intro to Trail Maintenance (Day 1) | Intro to Trail Maintenance (Day 2) |
| Stop the Bleed training for interested participants (evening) | Rock Work Class (Day 1) | Rock Work Class (Day 2) |
| | Crew Leadership (Day 1) | Crew Leadership (Day 2) |
| | 201 Drainage Design | 101 Trail Scouting |
| | Wilderness First Aid (Day 1) | Wilderness First Aid (Day 2) |
What should I bring?
Layers work best as outdoor temperatures, weather, and your activity level will vary through the day. Follow
the layering system for your work and camp clothes. Long pants are required to conduct trail work. Long
sleeve shirts are recommended for sun and insect protection and in some areas are required for trail work.

Layer 1: Long underwear tops, bottoms, and socks; made of lightweight wool or synthetic material.
Layer 2: Mid-weight wool or synthetic pants and shirt. Can be more than one layer; bring additional
layers if you get cold easily. Cotton is not advised.
Layer 3: Rain coat or other water/wind resistant coat or poncho and rain pants.

Sturdy boots with slip-resistant tread that offer firm and flexible support. No sandals or sneakers
while working on the trail but you may want these in camp. Saw students have specific footwear
requirements. See the Crosscut & Chainsaw Training page.
Warm hat and warm gloves while at camp.
Tent
Sleeping bag
Sleeping mat
Pillow
Sealable plastic container to pack lunch in
Plate / bowl for breakfast and dinner
Silverware
Cup / insulated drinking mug
Water bottles / hydration pack
Sun protection: sunscreen, sunglasses, hat, lip balm
Insect repellant
Flashlight or headlamp
Daypack
Alarm clock
Camp chair (compact)
Supplemental snacks
Camera
Bandana
Safety gear (i.e. hard hats, gloves) will be provided throughout the weekend. However, if you have safety gear that you would prefer to use, please bring it with you.
What should I leave at home?
Please do not bring pets to Trail Skills College.
As with any camp, please do not leave valuables in your tent during the day. Plan on either storing your valuables on you, in your vehicle, or leave them at home
Can't wait?
You can learn new trail maintenance skills by volunteering on a PCTA trail crew any time. Most crews don't require any previous trail maintenance experience. Knowledgeable and experienced crew leaders are on site to teach you the necessary skills. Visit the online volunteer schedule and Trail Gorillas Facebook to find trail projects near you.
If you have questions about Trail Skills College, contact PCTA's Volunteer Training Program at [email protected]
Sponsors